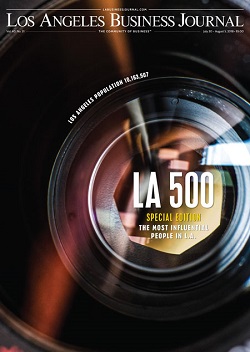 The third edition of LA 500 reflects a comprehensive process of research, reporting and discernment that examined a community of millions and found 500 people whose contributions to the community of business in Los Angeles County merit inclusion on this exclusive annual list. There are 10,283,729 people in the county, according to the California Department of Finance's most recent estimates. Add to that a host of individuals who live elsewhere but nevertheless loom large on L.A.'s business landscape. This year's entries include obvious business and civic leaders alongside others who exercise influence behind the scenes. We considered the year's biggest newsmakers, took suggestions from readers, reviewed the lists our researchers produce each week, and challenged ourselves find up-and-comers, many of whom work outside of the traditional business channels.
LETTER FROM THE PUBLISHER
I am very pleased to present you with this special edition of the LA 500. Each week at the Los Angeles Business Journal, we act as something of a lens, focusing on the people, companies and transactions that have an outsized impact on the business community. This week's cover image illustrates how we have filtered through the more than 10 million residents who call Los Angeles County home, to give you a snapshot of the 500 most influential people in business. The executives featured here were selected after months of extensive research, and represent the diverse array of industries and business categories that define Los Angeles. It was no easy task, but I am proud of the eclectic assortment of professionals we have assembled, and we're confident it will inspire, intrigue and spark conversations. To broaden our scope this year, we've introduced a number of first-time categories. Many of the executives we've named you'll already know, but we believe you'll find some new faces introduced for the first time in these pages. We are also excited to provide this year web-exclusive content, including revealing Q&As with some of the influencers featured in the publication. I hope you find much to explore – both in print and online – amid the fascinating collection of profiles of those who have made an impact in this great city.
Anna Magzanyan
Publisher & CEO
LA500 FEATURES
Nuances of Influence
21st-Century Influence
---
LA500 LIST
See the current edition of the LA500.