Peter Humig
LA500
Wednesday, July 18, 2018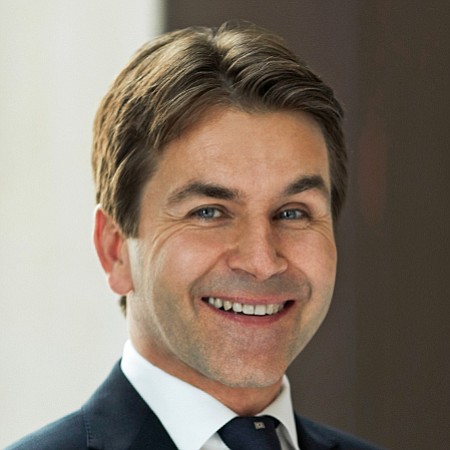 PETER HUMIG
Regional Vice President and General Manager
Beverly Wilshire, a Four Seasons Hotel
Peter Humig is regional vice president and general manager of the Beverly Wilshire, a Four Seasons Hotel. He has been with the Four Seasons company since 1999, working at properties in New York, Berlin, Philadelphia, San Diego, Washington, D.C., and Whistler, British Columbia. Humig recently took over the general manager position from the hotel's longtime GM Ben Trodd, who was promoted to senior vice president of global sales for the company. The Beverly Wilshire opened in 1928 and has been under Four Seasons management since 1992. The property, a frequent film location, houses Wolfgang Puck's Cut steakhouse and THE Blvd, the hotel's all-day restaurant with an outdoor patio overlooking Rodeo Drive. Humig serves as regional vice president for Four Seasons, overseeing properties in Whistler; Jackson Hole, Wyo.; and Santa Fe, N.M.; as well as a new hotel under development in Los Cabos, Mexico. Humig, before joining Four Seasons, worked for hotels in his native Switzerland, where he first developed an interest in hospitality, having grown up at his parents' five-star ski resort in the Swiss Alps.
What was your proudest moment?

My proudest moment is when I married the love of my life, Angelika, who I met at UCLA!

What is your alma mater?

Schweizerische Hotelfachschule, Luzern, Switzerland

What is your next project?

Working with such an iconic property, I look forward to Beverly Wilshire continuing its legacy and focusing on what works, keeping innovation at the forefront by adding new experiences as our guests' desires evolve, continuing our journey of success for the hotel.

Who is your hero?

The founder of Four Seasons, Mr. Isadore Sharp, who not only created the world's most recognized luxury hospitality company, but also understands that the success of our hotels is only possible by respecting each and every employee through the Golden Rule.

What do you like best about Los Angeles?

Los Angeles is a city of experiences both for its residents and visitors alike. From its position as the entertainment capital of the world including awards shows, concerts and performances, museums and galleries, theme parks, iconic beaches, sporting events (Super Bowl 2022, Olympics 2028, possible World Cup 2026). All this with a reputation as being a world class city with unrivaled infrastructure investment, LAX Airport, Silicon Beach, and an innovation culture being home to futuristic endeavors. Personally my family's favorite is taking a nice drive on PCH and soaking in some of the SoCal sunshine.
For reprint and licensing requests for this article, CLICK HERE.
Stories You May Also Be Interested In