Women's Council & Awards 2018
Custom Content from the Los Angeles Business Journal
---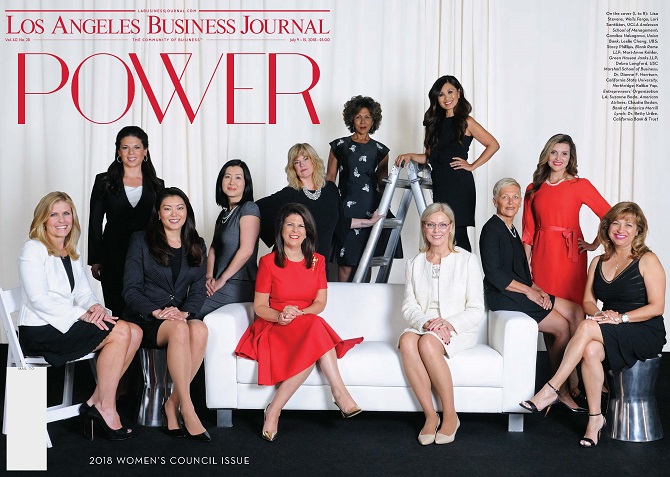 The July 9, 2018 issue featured a special cover wrap for the Women's Council event featuring (L to R): Lisa Stevens, Wells Fargo; Lori Santikian, UCLA Anderson School of Management; Candice Nakagawa, Union Bank; Leslie Chang, UBS; Stacy Phillips, Blank Rome LLP; Mari-Anne Kehler, Green Hasson Janks LLP; Debra Langford, USC Marshall School of Business; Dr. Dianne F. Harrison, California State University, Northridge; Kalika Yap, Entrepreneurs' Organization LA; Suzanne Boda, American Airlines; Claudia Bodan, Bank of America Merrill Lynch; Dr. Betty Uribe, California Bank & Trust
---
Publisher's Letter
To me, this year's Los Angeles Business Journal Women's Council and Awards event was a pretty comprehensive view of what power looks like today. By power, I mean the kind of forward- looking grit and effort that makes a city tick and moves it, ever stronger, toward the future.
Those we heard from and celebrated at this year's event are perfect examples of strong, innovative leaders moving the Los Angeles business community to new heights. We were beyond honored to share the stage with these terrific women.
We also couldn't help but beam with pride as our annual women's event continued to evolve this year – into a genuine think tank and meeting of the minds, where trailblazing women from a wide array of industries and areas of expertise come together to share knowledge, information and best practices we can all learn from.
This year's event at the JW Marriott Los Angeles at LA Live on Friday, June 22nd was a half day of inspiration, education and recognition. Thought-provoking and lively discussion topics included "Risk & Resilience," "Worth," "The New World," "Tomorrow's Workforce," "Success," "Access to Capital – Closing the Gender Funding Gap," and "Women and Wealth – Planning for Uncertainty." The afternoon portion was also highlighted by a powerful keynote presentation by Dr. Betty Uribe and a luncheon awards program where we honored the achievements of powerful women who make a difference throughout Los Angeles. Each of these remarkable honorees and finalists is described in these pages.
Described by attendees as an uplifting and inspirational event, we took the opportunity to honor Los Angeles-based women who "lead by example," successfully blending effective business vision with a passionate commitment to positively "making a difference," both in the world of business and in the communities they serve.
That, my friends, is real power!
PHOTO GALLERY
Anna Magzanyan
Publisher & CEO
---
Honorees
Brenda Acosta
Dorene Dominguez
Deborah Flint
Tracy Samson
Christine N. Simmons
Wendy Spinner
Jordyn Wieber
Donella Wilson
Gillian Zucker
---
Finalists
Emily Allen
Lucie Barron
Kyla Brennan
Ashley Crowder
Aimee Gilbreath
Terri A. Haack
Shay Hughes
Meridith Valiando Rojas
Christina Lee Storm
Alisa Tovmanyan & Eliza Glants
For a list of nominees,
click here.
---
Also in this supplement:
Speakers & Panelists
The Importance of Blazing Trails for Women in all Industries
Women are Driving Positive Change in Business
"Lady Boss" Mugs and Male Surrogates: Persistent Sexism in Business
Women in Research Releases Study Data Examining the Impact of Industry Equality Initiatives
Survey Shows Women Business Owners Plan to Hire More and Expand their Businesses
First Woman Appointed as Los Angeles Area Chamber of Commerce President and CEO
Maria Sharapova Establishes Program to Help Women Entrepreneurs and Business Owners
30 Years Later: Women Business Owners Continue Fight for Equality
Why an NBA Team Is Taking On Gender Equality