Most Influential Lenders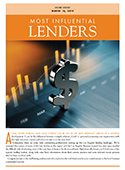 Custom Content from the Los Angeles Business Journal
---
2019 MOST INFLUENTIAL LENDERS
A good lender working with your company can be one of the most important aspects of a business' development. It can be the difference between a simple infusion of cash vs. genuinely preparing your organization with the right resources, capital and advice to take it to the next level.
Fortunately, there are some truly outstanding professionals making up the Los Angeles lending landscape. We've reviewed the careers of many of the best lenders in the region and the Los Angeles Business Journal has once again tackled the difficult task of selecting some of the very best of them to be showcased here. Alphabetically listed, you'll find some of the region's leading lenders, along with some basic information about their careers, practice and some relevant recent projects they've been involved with.
Congratulations to the trailblazing professionals who made this list and thank you for your contributions to the local business community's success.
James Arom - Luther Burbank Savings
Patty Arvielo - New American Funding
Rick Arvielo - New American Funding
David Cameron - City National Bank
Scott Connella - MUFG Union Bank, N.A.
Jacky Dilfer - Business Finance Capital
Natalie Do - Torrey Pines Bank
Keith Drake - Torrey Pines Bank
Adam Feit - MUFG Union Bank, N.A.
Brandon J.E. Ferrera - Fifth Third Bank
Stephen Flynn - BBVA Compass
Jeff Forsythe - Torrey Pines Bank
Tony Garcia III - Wells Fargo & Company
Larry Grantham - Calmwater Capital
David Macdonald - WNB Commercial
Ethan Penner - Mosaic Real Estate Investors
Paul Rahimian - Parkview Financial
Vicky Schiff - Mosaic Real Estate Investors
Brent Williams - City National Bank
---
Inside this supplement:
Banking Relationships from a Small Business Perspective
It's always a good time for small business owners to reassess their company's financial health and their relationship with their bank. The American Bankers Association offers the following tips to help small business owners enhance their current banking relationship or choose the best bank for their needs...
Read More
---