LA500, LA's Most-Influential in 2018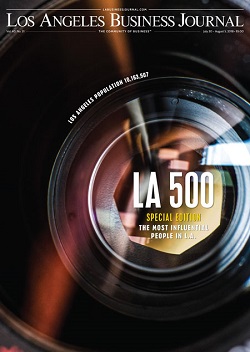 The third edition of LA 500 reflects a comprehensive process of research, reporting and discernment that examined a community of millions and found 500 people whose contributions to the community of business in Los Angeles County merit inclusion on this exclusive annual list. There are 10,283,729 people in the county, according to the California Department of Finance's most recent estimates. Add to that a host of individuals who live elsewhere but nevertheless loom large on L.A.'s business landscape. This year's entries include obvious business and civic leaders alongside others who exercise influence behind the scenes. We considered the year's biggest newsmakers, took suggestions from readers, reviewed the lists our researchers produce each week, and challenged ourselves find up-and-comers, many of whom work outside of the traditional business channels.
LETTER FROM THE PUBLISHER
I am very pleased to present you with this special edition of the LA 500. Each week at the Los Angeles Business Journal, we act as something of a lens, focusing on the people, companies and transactions that have an outsized impact on the business community. This week's cover image illustrates how we have filtered through the more than 10 million residents who call Los Angeles County home, to give you a snapshot of the 500 most influential people in business. The executives featured here were selected after months of extensive research, and represent the diverse array of industries and business categories that define Los Angeles. It was no easy task, but I am proud of the eclectic assortment of professionals we have assembled, and we're confident it will inspire, intrigue and spark conversations. To broaden our scope this year, we've introduced a number of first-time categories. Many of the executives we've named you'll already know, but we believe you'll find some new faces introduced for the first time in these pages. We are also excited to provide this year web-exclusive content, including revealing Q&As with some of the influencers featured in the publication. I hope you find much to explore – both in print and online – amid the fascinating collection of profiles of those who have made an impact in this great city.
Anna Magzanyan
Publisher & CEO
LA500 FEATURES
Nuances of Influence
21st-Century Influence
---
LA500 LIST
Abrams, J.J.
Afalo, Yael
Agus, David
Alemany, Ellen
Alghanim, Bassam
Allen, Bill
Allred, Gloria
Altman, Josh and Altman, Matt
Anaya, Raul
Annenberg, Wallis
Anschutz, Phil
Aparicio, Mike
Arana, Santiago
Arkley, Peter
Astani, Sonny
Attanasio, Mark
Auerbach, Alan
Babione, Jeff
Bagdasarian, Ed
Ball, LaVar
Ballmer, Steve
Bane, Dan
Barrett, John
Barrack Jr., Thomas
Barry, Tom
Bass, Adam
Batchlor, Elaine
Batrack, Dan
Bauman, Bill
Beck, Brandon
Beckerman, Dan
Beiser, Scott
Belldegrun, Arie
Bendheim, John
Bentley, Jason
Benton, Andrew
Berggruen, Nicolas
Bergman, Alan
Berman, Dan
Berman, Stephen
Bernards, Doug
Bernstein, Gail
Bernsten, Randy
Beutner, Austin
Bird, Terry W.
Birkeland, Kullen
Bishop, Leah
Black, Stanley
Block, Gene D.
Boeckmann, H.F. "Bert"
Boehly, Todd
Bohnett, David
Boutrous Jr., Theodore J.
Bowers, Doug
Bowling, Peter
Bradway, Robert A.
Branca, John
Bricault, Paul
Broad, Eli
Brodkin, Karen
Brodkin, Phil
Brooks, Matthew
Brown, Kathleen
Brown, Karen K.
Bryant, Kobe
Buchman, Lorne M.
Buckley, Michael
Burke, Kevin T.
Burke, Michael S.
Burke, Stephen, B.
Burkle, Ron
Buss, Jeanie
Butier, Mitchell
Butts Jr., James T.
Callis, David
Cano, Javier
Carsey, Marcy
Carter, Shawn "Jay-Z" & Beyonce
Carter, Troy
Caruso, Rick J.
Casey, Michael J.
Chang, Do Won "Don" Chang & Jin Sook
Cheng, Dunson K.
Chernick, Aubrey
Chernin, Peter
Chervin, Ted
Cho, Yang Ho
Choi, John
Choi, Roy
Clayton, Janet
Coelho, Ken
Cohen, Andrew
Cohen, Noel
Coleman, Victor J.
Coley, Soraya M.
Conoley, Jane Close
Cook, Lodwrick "Lod"
Coppola, Arthur M.
Cortazzo, Chris
Covino, William
Cushman III, John C.
D'Arcy, Brian
Dailey, Jeff
Daley, Elizabeth M.
Danhakl, John G.
Davis, Gray
Deckebach, Mary
de Givenchy, Olivier
De La Hoya, Oscar
de Toledo, Philip
DeGeneres, Ellen
Derhake, Joseph
Dezzutti, Bert
Di Carlo, John L.
Dilfer, Jacky
DiNapoli, Mark
Diamandis, Peter
Dickerson, Carl
Dockmanovich, Mike
Doumani, Roy
Dow, Kevin
Drake, Eileen
Dunford, Gene
Dunn, Darryl
Ehrhart, Kevin M.
Eisner, Michael
Ellis, James
Ellison, Larry
Emanuel, Ari
Enany, Ahmed
Favreau, Jon & Vietor, Tommy & Lovett, Jon
Feit, Adam
Feldman, Lew
Feltheimer, Jon
Firestone, Scott
Firtel, Ken
Fisch, Eric
Fisher, David I.
Flint, Deborah Ale
Flynn, Steve
Forchelli, Andrew
Forster Jones, Sally
Foster, Bob
Fox, Michael
Francais, Rob
Freedman, Jim
Freer, Randy
Friedman, Joshua S.
Friese, Donald
Galperin, Ron S.
Garcetti, Eric
Geffen, David
Gehry, Frank O.
Gianopulos, Jim
Gilmore, Tom
Girardi, Tom
Glaser, Patricia L.
Glassman, Jeffrey L.
Gold, Jonathan
Gold, Stanley P.
Goldenberg, Adam & Ressler, Don
Goldman, Kenneth L.
Gomez, Archbishop Jose Horacio
Goldsmith, Russell
Gores, Alec E.
Gores, Sam
Gores, Tom
Govan, Michael
Grainge, Lucian
Graves, Timothy R.
Grazer, Brian
Graziano, Bob
Greenberg, Jeffrey B.
Greif, Lloyd
Gross, Bill
Grossman, Marshall
Guber, Peter
Guerin, Vera
Gundlach, Jeffrey
Gustavson, Tamara Hughes
Haddad, Emile
Hakami, Hooman
Hamai, Sachi
Hankey, Don
Harman, Jeri J.
Harrison, Diane F.
Havner Jr., Ronald L.
Hegarty, Brian
Hernandez, Daniel
Hernandez Jr., Enrique "Rick"
Hernandez, Tracy
Hicks, Rusty
Hilton, Rick
Hilton, William Barron
Hochman, Rod
Holmes, Brian D.
Holthouse, Philip
Horn, Alan F.
Horne, Lewis C.
Hsu, William
Huerta, David
Hueston, John C.
Humig, Peter
Hutchins, Mark
Huvane, Kevin
Hyland, Jeff
Iger, Robert
Iino, John
Irani, Ray
Iovine, James
Isakowitz, Steven J.
Jackiewicz, Thomas E.
James, LeBron
Jenner, Kylie
Jernigan, Rob
Jibilian, Jack
Johnson, Earvin, "Magic"
Johnson, Michael O.
Joseph, George
Kadisha, Neil
Kane, Stefanie
Kantor, Michael "Mickey"
Kaplan, David
Karsh, Bruce
Kasten, Stan
Katzenberg, Jeffrey
Kayne, Richard "Ric"
Kennedy, Kathleen
Kerrick, Michelle
Kieffer, George
Kightlinger, Jeffrey
Kilroy, John
Kim, Kevin S.
Kimmel, Jimmy
Kirman, Aaron
Konetzke, Michael
Kotick, Robert
Kreiz, Ynon
Kresa, Kent
Kroenke, Stan
Kuba, Shaul
Kutcher, Ashton
Kyncl, Robert
Lacy, Clay
Langley, Donna
Lansing, Sherry
Lapidus, David
Larian, Isaac
Larsen, Brad
Larsen, Jonathan
Larson, Stephen
Lear, Norman
Lee, Brian
Lee, Jaime
Lee, Stan
LeGrett, Kevin
Lehman, Matthew
Leibovitch, Syd
Leichtman, Lauren
Lieweke, Tim
Levine, Mel
Loh, Marcel
Lourd, Bryan
Lovett, Richard
Lowe, Robert
Lozofsky, Dina
Luchs, Jay
MacDonald, David
MacMillan, Sarah
Mady, Edward
Maguire III, Robert F.
Maen, Lee
Maltzan, Michael
Mangel, Jay
Marks, Howard
Marks, Howard
Martin, Christopher
May, Gregory
Mayne, Thom
Mazza, Joseph
Mazziotta, John C.
McIver, Laura
Medina, Rudy
Meier, Richard
Merrill, Douglas
Merrill, Marc
McCann, Derek H.
McDonnell, Jim
Meruelo, Alex
Metchek, Ilse
Meyer, Bruce
Meyer, Ron
Mezger, Jeffrey T.
Mellon, Tamara
Michelson, Gary
Mikic, Marija
Milken, Lowell
Milken, Michael
Miller, Adam
Miller, John
Miller, Louis R. "Skip"
Miller-Phipps, Julie
Mills, Jade
Minerd, Scott
Miron, Michal
Moelis, Kenneth
Molner, Emery
Moonves, Leslie
Moore, Michel
Moore, Rachel
Morden Kichaven, Illyanne
Mosqueda, Laura
Mumper, Hans
Munger, Charlie
Munster, Bruce
Murdoch, James & Murdoch, Lachlan K.
Murdock, David
Murphy, Bobby
Murphy, Sandy
Musk, Elon
Myers, Christopher
Nahas, Caroline
Nathanson, Marc
Nazarian, Sam
Needleman, Steve
Nethercott, Bill
Nevins, David
Newcombe, Michael
Ng, Dominic
Nichol, Eric
Niemann, Patrick
Nikou, Andrew
Nissenbaum, Offer
Noonan, Tim
O'Brien, Robert C.
O'Donnell, Pierce
Olson, Steve
Orquiola, Cathy
Orrick, Everett
Pachulski, Richard
Palmer, Geoffrey
Pamiljans, Janis
Parent, Richard
Parham, Thomas
Parker, Sean
Parks, James R.
Pattiz, Norm
Penske, Jay
Perron, Edward
Pepler, Richard
Philbin, Ann
Phillips, Stacy D.
Pipkin, Chet
Porter, Gerald
Post, Jennifer
Pritzker, Anthony
Priselac, Thomas
Puck, Wolfgang
Rad, Sean
Radia, Nishen
Rajan, Ravi
Rapaport, Marc
Rapino, Michael
Rappaport, Kurt
Ratkovich, Wayne
Redstone, Sumner
Reese, Jason
Resnick, Stewart & Lynda
Ressler, Antony P.
Ressler, Richard
Rey, Joyce
Rhimes, Shonda
Rich, Michael
Riley, Bryant
Rising, Nelson
Ritchie, Michel
Rodriguez, Gregory
Rosenbaum, Thomas F.
Rosenberg, Michael
Rosenfeld, Jeffrey A.
Rosenthal, Bennett
Roski Jr., Edward P.
Roth, Steven F.
Rothenberg, Alan
Rothenberg, Dan
Rubinstein, Cary
Rusnak, Victoria
Saban, Haim
Sacca, Chris
Sager, Kelli
Saghian, Richard
Salinas, Maria
Salke, Jennifer
Sandberg, Sheryl
Sanders, Sandra
Sandler, Jonathan
Santana, Miguel
Sarandos, Ted
Sassoon, Sunny
Sayles, Tom
Schloessman, Kathryn
Schulte, Tom
Seacrest, Ryan
Segal, Nick
Seroka, Gene S.
Settle, Dana
Shah, Vivek
Shaheen, David
Shannon, Kevin
Shea, John
Shell, Jeff
Shemesh, Avi
Shotwell, Gwynne
Sigal, Sandy
Silbermann, Chris
Siminoff, Jamie
Simiril, Renata
Simmons, Christine
Sinclair, Jack
Sinnott, Robert
Sitrick, Michael
Skoll, Jeffrey
Smidt, Eric
Smith, Sean
Smith, Shane
Snider, Stacey
Snyder, Jerome, "Jerry"
Snyder, Lynsi
Snyder, Timothy Law
Soare, Anastasia
Soboroff, Steve
Sokoloff, Jonathan D.
Soon-Shiong, Patrick
Soteropulos, Gust
Spanos, Dean
Specht, Lisa
Spiegel, Evan
Spielberg, Steven
Staton, Brian
Stephens, Roger
Sterling, Donald
Sterling, Rochelle
Stern, Marc
Stone, Robert
Streisand, Adam
Streit, Steve
Stullich, Duane
Subramaniam, Chandra
Sugar, Ron
Suissa, David
Sullivan, Mike
Suster, Mark
Sweeney, Stender
Symons, Frank
Thiel, Peter
Travers, James
Tsujihara, Kevin
Tu, John
Tull, Thomas
Tutor, Ron
Udvar Hazy, Steven
Umansky, Mauricio
Upchurch, Jim
Uribe, Betty
Uygur, Cenk
Van Der Wel, Todd
van Rensburg, Deryck J.
VanderZanden, Travis
Vein, Jon
Viderguaz, Mark
Viviano, Paul
Wagner, Patricia
Walker, Daniel
Walsh, Jim
Washington, Hayma
Washington, Phillip A.
Wasserman, Casey
Wasserman, Stephen
Watt, Nadine
Wedbush, Eric
Weinstein, Mark
Weinstein, Michael
Weintraub, Richard
Wells, Randy
Wennes, Tim
Wesson, Herb
Whitesell, Patrick
Whitesides, George
Williams, Rayni
Winfrey, Oprah
Winnick, Gary
Wolpe, Rabbi David
Wooden, Ernest
Wooster, Randall
Worthe, Jeffrey
Yanover, Paul
Yortsos, Yannis C.
Young, Andre Romelle "Dr. Dre"
Yuse, Richard
Ziman, Richard
Zimmer, Jeremy