2018 ICONS | Iconic Overview: L.A. Goes Global
Entrepreneurial spirit finds way here, looks beyond backyard for opportunities
Friday, May 25, 2018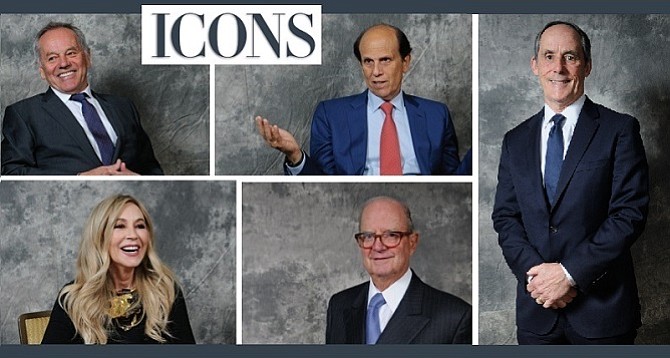 Soare started working at a Beverly Hills beauty salon shortly after she arrived in Los Angeles. She soon won a following for her skills at eyebrow shaping, and eventually opened her own salon on Bedford Drive.
"The beauty of this country and this town – the spice if you will – are the immigrants," Soare said. "We are the ones who can do things totally different, who can see things that others don't even think about. I knew that I wanted to prove that I'm good, that I can work hard, that I'm passionate and that I could do even better every year…There was nothing to stop me from doing what I dreamed about."
L.A. launch
Cushman, who is now chairman of global transactions for Cushman & Wakefield, spoke about how he got his start as a broker in downtown Los Angeles in 1967, "when it was really little more than a village."
He immediately set to work leasing what was then the biggest single commercial project ever in the U.S.: the Atlantic Richfield Plaza – now named for City National Corp. His success there helped launch his reputation as one of the area's premier commercial brokers.
The plaza, he said, was one of three projects that helped transform downtown into a world class city center; the other two were the Music Center in the early 1960s and Staples Center in 1999.
Now, Cushman said, downtown Los Angeles has transformed once again through multifamily residential development into a 24-hour "work, live and play" center. Los Angeles also is flourishing as a gateway to the Pacific Rim; he cited as an example Korean Air Lines' $1.5 billion investment to build the Wilshire Grand Center. And he said the city is attracting a lot of global media attention for its high-tech activity.
China links
For Priselac, coming to Los Angeles wasn't his idea; he agreed to move from Pittsburgh at the insistence of his new wife, Jody, who is originally from Los Angeles. He secured a recommendation from his hospital boss in Pittsburgh and landed at Cedars-Sinai Medical Center as an assistant administrator in 1979, just as the hospital started to transform into a regional powerhouse.
Priselac rose to become Cedars' chief executive in 1994, making him one of the longest-serving chief executives of a major Los Angeles area institution.
He focused most of his remarks on the future of health care, but also offered another indicator of L.A.'s emergence as a global city. Priselac told that crowd that Cedars-Sinai has for years been engaged in the international market, referring to medical tourism, which brings patients from foreign countries such as China to seek out hospitals in the U.S.
For reprint and licensing requests for this article, CLICK HERE.