ICONS 2018: Wolfgang Puck
Founder, Wolfgang Puck Worldwide Inc.
Friday, May 25, 2018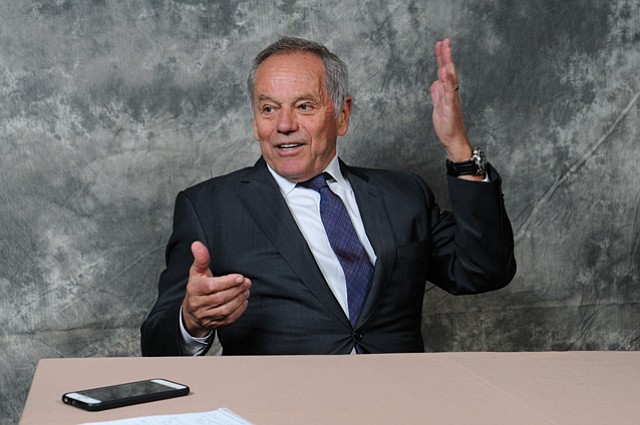 Celebrity chef and restaurateur Wolfgang Puck did not finish high school, but from an early age – 14 to be exact – he knew he wanted to be a chef. He left his native Austria for France and landed in the United States in 1973, opening up Spago in 1982. Spago was a hit, and its celebrity clientele helped pave the way for more restaurants and ventures into other business lines, including catering, TV and cookbooks. His Wolfgang Puck Worldwide now generates approximately $650 million in annual revenue.
Where is L.A. right now as a community unto itself? As a U.S. market? A global city?
Los Angeles is an internationally recognized city for great restaurants and great ingredients. You cannot disassociate the two – I think it really starts with the product. One of the things that I really liked about L.A. was all these [farmers] markets. I really believe L.A. has become a global city – everyone from everywhere wants to live here.
Where was the city in those respects when you started your business?
Forty years ago, it was a sleepy city. In downtown we have so many chefs now who open locations there and, in a way, it has become a new hotbed for new restaurants.
You mentioned L.A. has become a force in the restaurant industry. Has your business also been driven by the clientele here?
I think one of the great things about L.A. was that everything here was accepted more easily than say, New York. When I opened Spago and wrote "California Cuisine" on the menu, nobody knew what it was. That's something we created here –we have all these different cultures in the city, and we have all these great local ingredients. So we used a little from the Japanese, from the Chinese, a little bit Italian, French, all mixed together. A that time it wasn't normal for a cook like me, from Austria, to cook Chinese food, so it was interesting how we opened that door.
How do you stand out in a place like L.A. that has a vibrant foodie culture replete with food trucks? How do you compete?
We opened a restaurant called Rogue. We release menus every Monday – it's a ticket system so you need to book a week ahead. Every week we sell out in 15 minutes. The whole week is booked up. It's great.
What's been a big failure in your business journey so far?
Prev Next
For reprint and licensing requests for this article, CLICK HERE.