2018 ICONS | Iconic Overview: L.A. Goes Global
Entrepreneurial spirit finds way here, looks beyond backyard for opportunities
Friday, May 25, 2018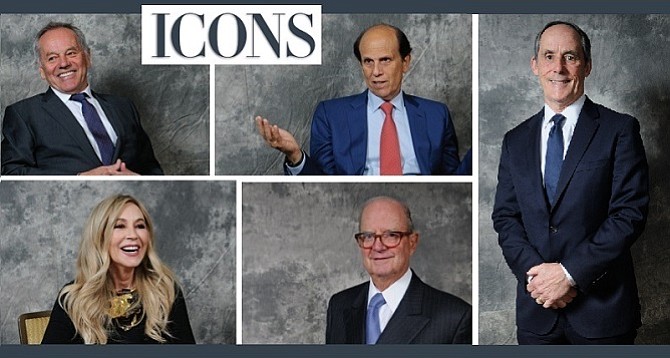 L.A.'s emergence as a global city took center stage last week at the Business Journal's second annual Icons event, highlighted by two European immigrants who launched business empires here and a local hospital executive marketing treatment services to the growing middle class in China.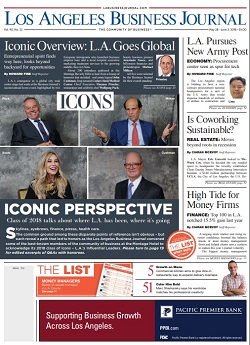 About 200 attendees gathered at the Montage Beverly Hills to hear from a lineup of honorees that included: real estate legend John Cushman; long-tenured Cedars-Sinai Medical Center Chief Executive Thomas Priselac; restaurateur and celebrity chef Wolfgang Puck; beauty business pioneer Anastasia Soare; and billionaire financier and philanthropist Michael Milken.
All five were selected by the Business Journal for their overall standing in the local business community, with Milken making his second appearance as an L.A. business icon.
Each shared insights about their careers and the city that has been so pivotal to their success.
This year's ICONS:

Thomas Priselac, president and chief executive, Cedars-Sinai Medical Center

John Cushman III, chairman, global transactions, Cushman & Wakefield

Wolfgang Puck, founder, Wolfgang Puck Worldwide Inc.

Anastasia Soare, founder and chief executive, Anastasia Beverly Hills
Immigrant draw
Coming to Los Angeles and then making their mark here was a common theme among the icons.
Puck and Soare recounted how they struggled growing up in their respective European homelands of Austria and Romania and made the leap to come to America, ultimately settling in Los Angeles.
Puck started working at a restaurant in downtown Los Angeles, and then became chef and part-owner at Ma Maison in West Hollywood, which he helped turn into a celebrity hot spot. In 1982, on his own, he opened Spago in West Hollywood, where the dining room saw a steady parade of celebrities ranging from Hollywood stars to heads of state. Spago relocated to Beverly Hills in 1997.
Puck soon took steps toward a business empire that extends from restaurants to catering and retail – and brings in an estimated $650 million a year in revenue – under the banner of Wolfgang Puck Worldwide Inc.
"I never set out to build a big brand when I arrived here, it really happened step by step," Puck said, giving part of the credit to L.A.'s celebrity culture.
"For me, L.A. now is the place to be," he said. "It has grown up, it has become a city of the world, in art, in music, in everything. Everybody wants to move to L.A."
Soare started working at a Beverly Hills beauty salon shortly after she arrived in Los Angeles. She soon won a following for her skills at eyebrow shaping, and eventually opened her own salon on Bedford Drive.
"The beauty of this country and this town – the spice if you will – are the immigrants," Soare said. "We are the ones who can do things totally different, who can see things that others don't even think about. I knew that I wanted to prove that I'm good, that I can work hard, that I'm passionate and that I could do even better every year…There was nothing to stop me from doing what I dreamed about."
L.A. launch
Cushman, who is now chairman of global transactions for Cushman & Wakefield, spoke about how he got his start as a broker in downtown Los Angeles in 1967, "when it was really little more than a village."
He immediately set to work leasing what was then the biggest single commercial project ever in the U.S.: the Atlantic Richfield Plaza – now named for City National Corp. His success there helped launch his reputation as one of the area's premier commercial brokers.
The plaza, he said, was one of three projects that helped transform downtown into a world class city center; the other two were the Music Center in the early 1960s and Staples Center in 1999.
Now, Cushman said, downtown Los Angeles has transformed once again through multifamily residential development into a 24-hour "work, live and play" center. Los Angeles also is flourishing as a gateway to the Pacific Rim; he cited as an example Korean Air Lines' $1.5 billion investment to build the Wilshire Grand Center. And he said the city is attracting a lot of global media attention for its high-tech activity.
China links
For Priselac, coming to Los Angeles wasn't his idea; he agreed to move from Pittsburgh at the insistence of his new wife, Jody, who is originally from Los Angeles. He secured a recommendation from his hospital boss in Pittsburgh and landed at Cedars-Sinai Medical Center as an assistant administrator in 1979, just as the hospital started to transform into a regional powerhouse.
Priselac rose to become Cedars' chief executive in 1994, making him one of the longest-serving chief executives of a major Los Angeles area institution.
He focused most of his remarks on the future of health care, but also offered another indicator of L.A.'s emergence as a global city. Priselac told that crowd that Cedars-Sinai has for years been engaged in the international market, referring to medical tourism, which brings patients from foreign countries such as China to seek out hospitals in the U.S.
Now, he said, the interaction with China is a two-way street: Cedars-Sinai's research division is using China as a market for clinical trials. And Cedars is partnering with a company in China to improve hospital operations in China.
"It's all about increasing globalization in health care and L.A. as a significant player in the world market, especially in Asia," he said.
Milken, reprising his role as an icon, tied L.A.'s role in the global marketplace to global demographic trends and citing a competition for human capital as the defining challenge of this century.
He noted that of the 421 scholarships handed out since 1989 by the Milken Scholars – a joint initiative of the Milken Institute and the Milken Family Foundation – 108 have been to students outside the U.S.
And he showed a chart in which Los Angeles has the largest populations of more a dozen nationalities outside their home countries.
"Los Angeles is a true melting pot of the world," he said. "Whether it's El Salvador, whether it's Indonesian, wherever it might be, these large populations have come to our city."
California critique
L.A's continued rise as a global city isn't a given, according to several of the honorees who issued critiques of the state's business climate as a factor that is holding the city back from reaching its full potential.
Cushman gave the most pointed and extended remarks on the issue:
"Taxation at the state level is a killer, as are the anti-business policies coming out of Sacramento," he said. "About 10,000 companies have left California in recent years. Gov. (Greg) Abbott from Texas comes to places like the Montage Hotel and picks off our businesses…We have to turn this around."
For reprint and licensing requests for this article, CLICK HERE.