2018 ICONS | Iconic Overview: L.A. Goes Global
Entrepreneurial spirit finds way here, looks beyond backyard for opportunities
Friday, May 25, 2018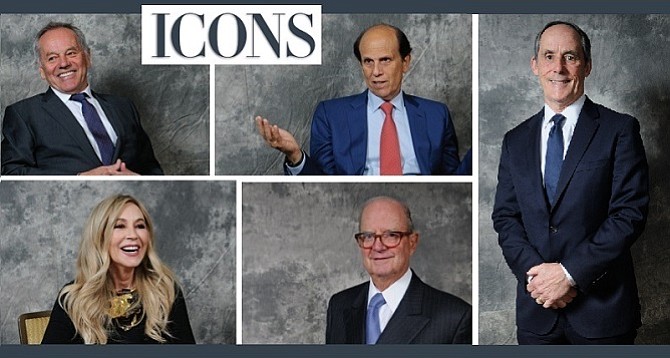 L.A.'s emergence as a global city took center stage last week at the Business Journal's second annual Icons event, highlighted by two European immigrants who launched business empires here and a local hospital executive marketing treatment services to the growing middle class in China.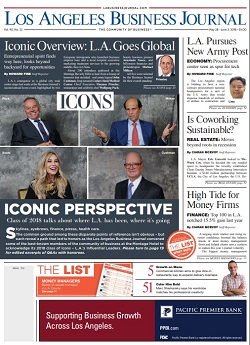 About 200 attendees gathered at the Montage Beverly Hills to hear from a lineup of honorees that included: real estate legend John Cushman; long-tenured Cedars-Sinai Medical Center Chief Executive Thomas Priselac; restaurateur and celebrity chef Wolfgang Puck; beauty business pioneer Anastasia Soare; and billionaire financier and philanthropist Michael Milken.
All five were selected by the Business Journal for their overall standing in the local business community, with Milken making his second appearance as an L.A. business icon.
Each shared insights about their careers and the city that has been so pivotal to their success.
This year's ICONS:

Thomas Priselac, president and chief executive, Cedars-Sinai Medical Center

John Cushman III, chairman, global transactions, Cushman & Wakefield

Wolfgang Puck, founder, Wolfgang Puck Worldwide Inc.

Anastasia Soare, founder and chief executive, Anastasia Beverly Hills
Immigrant draw
Coming to Los Angeles and then making their mark here was a common theme among the icons.
Puck and Soare recounted how they struggled growing up in their respective European homelands of Austria and Romania and made the leap to come to America, ultimately settling in Los Angeles.
Puck started working at a restaurant in downtown Los Angeles, and then became chef and part-owner at Ma Maison in West Hollywood, which he helped turn into a celebrity hot spot. In 1982, on his own, he opened Spago in West Hollywood, where the dining room saw a steady parade of celebrities ranging from Hollywood stars to heads of state. Spago relocated to Beverly Hills in 1997.
Puck soon took steps toward a business empire that extends from restaurants to catering and retail – and brings in an estimated $650 million a year in revenue – under the banner of Wolfgang Puck Worldwide Inc.
"I never set out to build a big brand when I arrived here, it really happened step by step," Puck said, giving part of the credit to L.A.'s celebrity culture.
"For me, L.A. now is the place to be," he said. "It has grown up, it has become a city of the world, in art, in music, in everything. Everybody wants to move to L.A."
Prev Next
For reprint and licensing requests for this article, CLICK HERE.