Hanjin to Sell Assets as Containers Pile Up, Long Beach Cargo Drops
Friday, October 14, 2016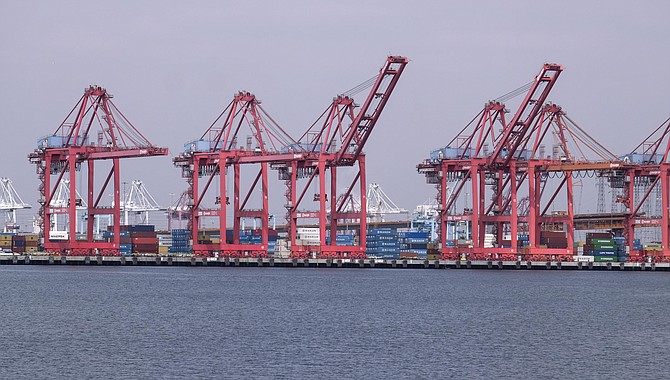 From empty containers piling up to a drastic drop in cargo numbers, the impact of Hanjin Shipping Co.'s bankruptcy filing this summer has continued to frustrate local businesses.
This week, as port officials and trucking companies tried to address thousands of Hanjin containers stacking up, the Port of Long Beach announced that September container volume declined 16.6 percent year over year after the Aug. 31 bankruptcy filing. The Port of Los Angeles, which has a much smaller Hanjin presence, saw cargo rise 2.4 percent last month from a year earlier.
Related Link: Stranded Hanjin Vessels to Get Aid from Hanjin Group
However, the fate of what had been the world's seventh-largest cargo carrier and its effect on local shipping operations could soon be resolved. A South Korean court said Thursday it would sell off Hanjin's major assets, including its Asia-to-United States network.
While that could reboot last month's lackluster cargo movement and resolve issues surrounding homeless containers, it could also mean a new owner for Long Beach's largest port terminal. Hanjin owns the biggest share of Total Terminals International, which operates Pier T – through which one-third of the port's cargo passes.
Related Link: Hanjin Creditors Move Up Meeting on Restructuring Plan

Before the court's ruling, Noel Hacegaba, chief commercial officer at the Port of Long Beach, said it was still business as usual at Pier T.
"At the moment, the operation at TTI continues," Hacegaba said this week. "They're current on their bills."
Hanjin has been a key player in the local shipping industry. Last year, it was the third-largest cargo carrier at the ports of Los Angeles and Long Beach, handling 5.3 percent of their combined 15.4 million containers, according to numbers from shipping data company Piers and the ports' cargo reports.
Cargo in limbo
Many L.A.-area companies rely on Hanjin to deliver goods manufactured in Asia, and as soon as one Hanjin-related problem has been resolved, another seems to take its place.
Sinking under the weight of $5.4 billion in debt, Hanjin-owned ships around the world were forced to drop anchor and wait, lacking the cash to pay docking fees or to unload cargo many U.S. retailers were waiting for. That included three ships bound for Long Beach that waited for a couple of weeks until the company got a cash infusion to allow its ships to deliver the goods.
Related Link: Dead in the Water
The relief was short-lived, however, because once the cargo containers were unloaded and returned to local ports, trucking companies discovered there was nowhere to put them. Hanjin was no longer sending empty containers back to Asia and other manufacturing centers for reloading.
At the beginning of the week, about 8,700 Hanjin-owned and -leased containers were "out on the streets of Southern California," said Gene Seroka, executive director of the Port of Los Angeles.
That created another problem: Most of those containers were on a truck chassis, reducing the number available for both ports from the usual 73,000, which meant cargo from other carriers also was getting backed up.
"Cargo is moving a little slower because chassis aren't as available as we'd like," Seroka said.
Related Link: Port of Long Beach CEO Departing
Hanjin later announced it would take some empty containers, freeing up chassis, at Pier T.
Stephen Ferguson, Long Beach equipment control senior coordinator at Hanjin Shipping in Chandler, Ariz., said the site would take up to 200 containers a shift over four days beginning this Wednesday, for up to 1,600 containers.
"Eventually we'll have more, but currently the list is set for tomorrow," Ferguson said Oct. 11.
That would be a relief for freight-forwarding and customs broker companies such as Carson's Krieger Worldwide, which handles about 1,000 client containers a month at local ports.
First, said Robert Krieger, the firm's president, "The amount of work to get cargo off of the Hanjin vessels was horrendous."
Related Link: Port Works to Keep Cargo Containers in Check
Now, pickup times for containers have doubled to about three days from ship to truck, he said.
"We can't tell exactly if there is one cause, but part of it might be the chassis are getting a little tight," he said.
The flow of Hanjin containers should end soon, at least until its assets are purchased, with the final company-operated ship expected to arrive in Long Beach on Oct. 23, according to the Marine Exchange of Southern California.
Managing editor Paul Eakins can be reached at peakins@labusinessjournal.com. Follow him on Twitter @Pauleakins.
For reprint and licensing requests for this article, CLICK HERE.