Hanjin Creditors Move Up Meeting on Restructuring Plan
Monday, August 29, 2016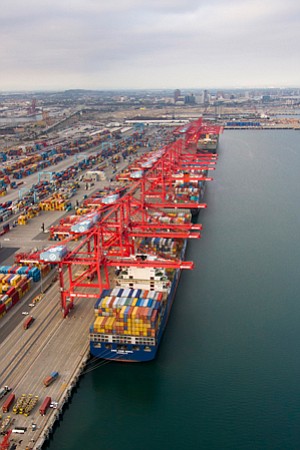 Hanjin Shipping's creditors have moved up their meeting to consider whether the cargo carrier's restructuring plan is enough to prevent the company from facing bankruptcy and court receivership.
According to The Korea Times, the date for creditors to vote on whether to put the shipper under receivership, originally set for Sept. 2, has been moved up to Tuesday, which has already begun in South Korea. The largest creditor, Korea Development Bank, had set a deadline of Sept. 4 for Hanjin to get its finances in order and come up with a $1.1 billion liquidity plan or face bankruptcy and court receivership.
Last week, Hanjin Shipping Co. Inc. presented its restructuring plan to Korea Development Bank, which The Yonhap News Agency reported includes "sales of more assets and a capital infusion by its major shareholders."
Some South Korean media have reported that the bank outright rejected the plan, but Hanjin denies that and says the bank has yet to make a decision.
Hanjin Shipping is the largest cargo container carrier in South Korea and owns a major terminal operator at the Port of Long Beach that handles about a third of the port's cargo traffic.
Yonhap reported that a key piece of Hanjin's plan, lowering charter rates for its ship leases, is coming together after Seaspan agreed to cut leasing rates on its ships used by Hanjin. The news service also said Hanjin has gotten global finance companies to agree to a delay in the repayment of loans.
Hanjin Shipping's parent company Hanjin Group had already pledged to give its subsidiary a $400 million infusion to help it meet its liquidity goal. Hanjin Shipping has also been divesting itself of non-essential assets to raise another $400 million.
The carrier has considered selling its Long Beach terminal to Hanjin Transportation, another business under the umbrella of Hanjin Group, though whether that is still on the table wasn't known.
That terminal, Pier T, is operated by Hanjin-owned Total Terminals International and is the largest by acreage at the Port of Long Beach, handling about 2 million TEUs (20-foot equivalent cargo containers) per year, about one-third of the port's total cargo. Hanjin is the primary carrier at Pier T, but several other shipping companies pay Hanjin for access.
It isn't clear whether the shipping company itself would continue using the terminal should it be sold. However, Port of Long Beach spokesman Michael Gold said last week that should Hanjin reduce its presence at Pier T, the port should be able to replace it with a new carrier because Pier T is one of the port's most modern terminals.
Read more: Hanjin to Present Restructuring Plan as Bankruptcy Deadline Nears
Trade, transportation, and manufacturing reporter Paul Eakins can be reached at peakins@labusinessjournal.com. Follow him on Twitter @Pauleakins.
For reprint and licensing requests for this article, CLICK HERE.