Coliving Companies Are Optimistic About Long-Term Prospects
Monday, August 10, 2020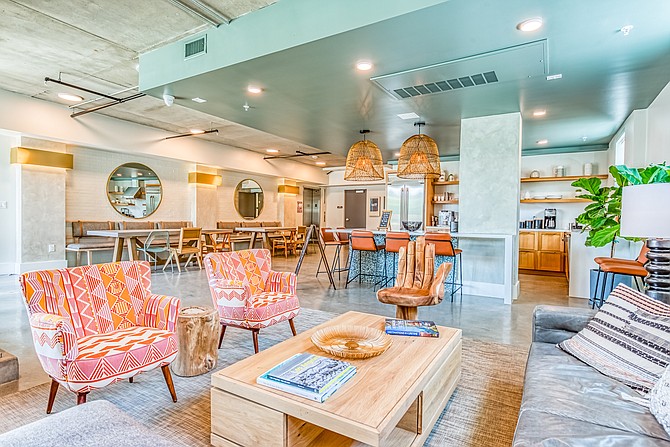 The coliving market is feeling the impact of Covid-19.
Take Hollywood-based Upstart, which has eight properties and limits renters to people who work in the arts and entertainment.
"The majority of our members are 18-25," said Upstart Chief Executive Jeremiah Adler. "When the stay-at-home order hit, essentially our entire community lost their jobs. Most people were gig workers working at bars, restaurants, clubs, theaters. ... Because we're a creative community, a lot of people lost their ability to pursue a career."
Adler said rent collection has been down since the pandemic began, and he estimated that 20% of Upstart's members have moved back to their hometowns "to wait out the pandemic"
Many who are still at Upstart locations can't pay. "We're not evicting people," Adler said. "From a business perspective, it poses unique challenges."
But it's not all doom and gloom in coliving communities, where renters usually lease a bedroom and bathroom with access to a shared living space. Coliving units are generally cheaper than Class A apartments in the same area and include utilities, internet and furniture.
Adler said things were rough in May and June, but Upstart saw improvement in July in terms of admissions and applications.
Arian Rejaei, an associate at Stepp Commercial, agreed.
"When the stay-at-home order was issued and at the beginning stages of Covid, in coliving and in general units, owners had a difficult time renting units," he said. "Since things have stabilized ... things have ramped up, and people are interested in considering living in coliving because it's a level of comfort as well as the amenities that make living in a pandemic a lot easier for a younger generation."
Stepp Principal Kimberly Stepp said that since the arrival of Covid-19, coliving operators have lowered prices, eliminated some fees and offered shorter lease terms to entice prospective residents.
"People want to be around people and have a community within their home and something more affordable," she said. "The desire for coliving is going to increase due to this."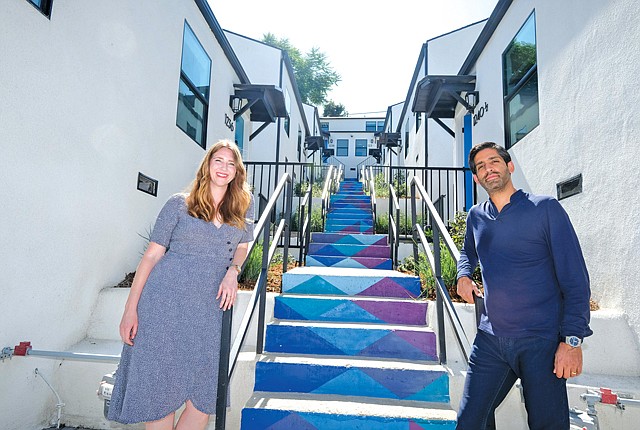 Existing projects have met with success. Node Echo Park, which opened last year, has been full since it opened, according to Node founder and Chief Executive Anil Khera.
"We've been really pleased with how it's gone," he said.
Common Living Inc., which recently expanded into two coliving buildings in L.A., has seen positive results despite the pandemic.
"May and June of this year were two of the strongest leasing months in the history of the company," said Common Chief Executive Brad Hargreaves.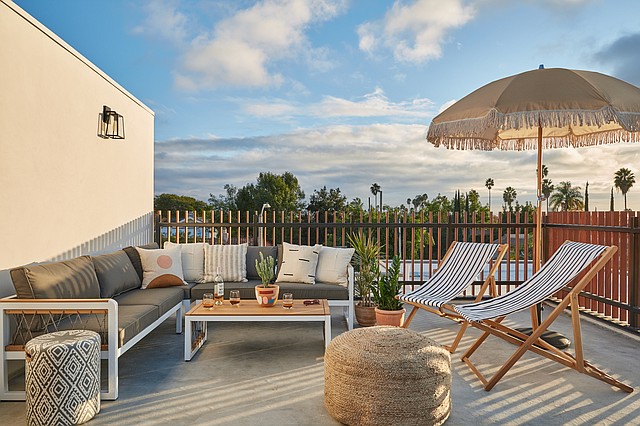 Events and safety
Collecting rent and keeping residents and workers safe is a priority for coliving companies, especially as many residents are sharing common areas.
Ollie, a New York-based company with experience in coliving, announced in May that it entered into an agreement for more than 500 bedrooms in L.A. and the Bay Area.
Ollie President Gregg Christiansen said the eviction moratorium may have made the area less appealing for short-term investors, but for long-term investors, it was still a desirable asset.
Covid has pushed back the opening of some of Ollie's buildings, but Christiansen said the group's North Hollywood location has been leasing quickly.
Ollie has installed hand sanitizing stations at all buildings and is looking to increase cleaning, among other pandemic-driven precautions.The company is also looking at more virtual as opposed to in-person events.
"You can have more interaction from a community standpoint, but it's not in person," Christiansen said.
Adler's Upstart has also had to change events. For example, instead of residents cooking family dinners, they are now ordering in.
"There's very specific and unique challenges posed to coliving when there's a societal shift toward social distancing," he said.
Upstart has also minimized touch points such as hand towels in bathrooms. Residents are also no longer able to use other Upstart locations.
Domos Coliving, which has a coliving conversion planned for 410 N. Rossmore Ave. in Hancock Park, is working on educating its residents and doing extra cleaning.
At the Hancock Park property, Derrick Barker, a principal at Domos, said the company will have touchless access, upgraded air filtration systems, and outdoor spaces for residents as well as temperature checks to let guests into the building.
"Fortunately for this building, we are able to go in and do a substantial amount of work to create a healthier environment," he said.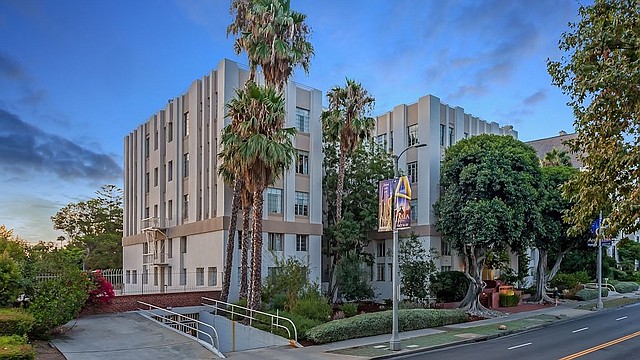 Expansion plans
Many companies are planning to expand their coliving footprint in L.A.
The county's high cost of living is a big reason why companies feel the coliving concept will do well here.
"Los Angeles is our largest city by pipeline," Hargreaves said. "We continue to see a lot of demand in L.A. and want to continue to grow there."
The company has 2,600 units under development in L.A. It has three buildings open in the city, two of them coliving properties.
Common is working with partners like Nuveen Real Estate to grow.
In the future, Hargreaves said Common is interested in doing both ground-up construction and conversion projects to bring coliving to L.A. The company's coliving units are generally 20% to 25% cheaper than a studio in the same area.
"The bulk of what we do is ground-up," he said. "Obviously, it's a lot easier to get perfect coliving layouts when you do ground-up, but ground-up takes a long time to deliver."
Hargreaves added that he saw "demand for tens of thousands of units in Los Angeles." He believes the city's lack of dependence on mass transit and its affordability compared to the Bay Area and New York will help it succeed post-Covid.
Ollie, meanwhile, has 1,500 beds under contract with plans to grow. For the L.A. market, the company is interested in areas like Hollywood, Koreatown and Echo Park.
Ollie's first two properties in L.A. aren't large, but Christiansen said he would like to create properties with 100-150 units, keeping rents 20% to 30% cheaper than studios in the same market.
"In each of the markets that we are in, our goal over a five-year period is to be around 1,500 to 2,000 beds," Christiansen said, adding that the company hoped to have 10,000 beds within five years.
Khera said Node was not ready to announce a new L.A. location, but it was "looking to expand significantly on the West Coast" and has an upcoming project in Seattle.
Large projects
Its next projects, Khera said, would likely be large projects with 100 to 200 beds. In the next five years, he is hoping to have more than 1,000 beds in L.A. and 5,000 beds in 10 years.
"We're seeing a lot of demand for (coliving) still," Khera said. "There's no upper limit. It's about finding the right beds and the right sites to do these projects."
Domos' Barker is looking to add 2,500 to 5,000 beds in L.A. in the next five years.
Daniel Alexander, also a principal at Domos, thinks a lot of that could come from renovating existing buildings.
"My preference would be a renovation because of the footprint," he said. "Ground-up construction is highly invasive to the environment, but it can serve a greater purpose since you have something purpose built. It's obviously easier to build something when you are creating it from scratch, but what better way to reuse our existing infrastructure."
Upstart's Adler said there may be big changes coming to the coliving industry. He said the company is pivoting away from the master lease rent arbitrage model where a company like Upstart leases for a long period from a landlord and then leases to tenants for shorter time periods.
"When Covid hit, and you have all of these lease obligations to your landlords, yet your members can't pay you, that poses an existential threat to a lot of companies. The entire industry is doing a hard pivot from rent arbitrage and leases to property management and ownership," Adler said.
Ken Kahan, founder and president of California Landmark Group, is behind C1, a project that opened in Marina del Rey last year with a coliving component, and C8, which also has coliving units.
He said the affordability of coliving units, even compared with traditional units in the same property, still makes it desirable, but he has some concerns with coliving, including the difficulties in getting financing for 100% coliving properties.
"I would be extraordinarily hesitant to do it unless they are simply a piece of our buildings," Kahan said.
"Talk about a challenging time to lease with strangers, but there is still activity. It's just at a lesser price point," Kahan added of the overall coliving market now.
Keep Reading: 2020 Coworking and Coliving Spaces Special Report
For reprint and licensing requests for this article, CLICK HERE.