Dog-matic
Healthy pet snack-maker Pawstruck is barking up the right tree
Friday, November 22, 2019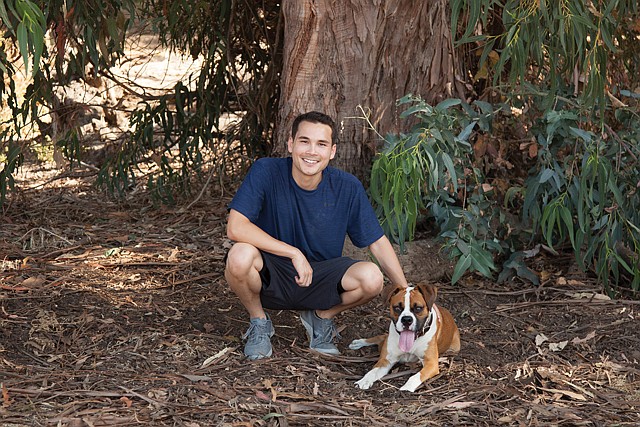 Kyle Goguen's ability to sniff out and pounce on emerging market trends resulted in Pawstruck, an ecommerce venture with a focus on healthy pet snacks, landing the No. 7 slot on this year's list of the Business Journal's fastest growing private companies.
"I'm very fortunate to have found an industry that's growing on its own without me doing anything," said Goguen, the company's founder and chief executive. "As humans are becoming more conscious of what they're putting in their own body, they're becoming more conscious of what they're putting in their animals' bodies because they're part of the family now more so than ever.
"Also, ecommerce is growing very, very quickly," he added. "So, I'm kind of lucky to have both aspects at the same time."
Pawstruck is a 5-year-old enterprise with 23 full-time employees, an office in Long Beach, and a warehouse in Kansas. It specializes in single-ingredient, natural products for dogs, such as cow ears, bones and antlers.
Pawstruck's website accounts for a portion of the company's ecommerce sales, including its monthly mystery box and other product subscriptions. The rest is sold through Amazon.com Inc., Groupon Inc., Walmart.com, and eBay Inc., and, the company hopes, soon via Chewy Inc. and Target.com as well.
Pawstruck posted $8.8 million in revenue last year, a 486% uptick from 2016, when it surpassed $1 million for the first time.
"I remember ($1 million) being a huge milestone because, especially early on, that sounded so out of the question," Goguen said. "Once we hit that, it was like, 'Okay all this time we've been putting in, it means something. It means that people care, that people enjoy the product and they keep shopping with us.' It really validated the whole business and the whole idea." 
To celebrate, there was "a quick pat on the back and then back to work" to get to $10 million, he said, adding that Pawstruck will close 2019 with an estimated $15 million in sales for the year.
Early training
Along with successes, the last five years have included several challenges and lessons learned.
Goguen's initial foray into ecommerce transpired when he was a jobless teenager. He stumbled upon a Craigslist ad that looked promising — selling refurbished electronics on eBay.
"This guy would buy returned electronics from places like Fry's or Best Buy by the container load, and then I was hired to weed through them, test them, figure out what was working, what wasn't working, and then take pictures and list it on eBay," he said. "It was my first experience with ecommerce in a loose sense, and I was really excited about it and passionate."
While at USC working on an engineering degree, Goguen got a puppy, a boxer he named Tyson.
"I grew up with dogs, but this was my first time I was in charge of training and buying all of the supplies and treats and food," he said. "And that was really where it hit me, that there was a gap in the market to some extent.
"I was trying to find healthier, natural, single-ingredient treats and chews for my dog online, and it was tough to find, which was inconvenient," he added. "Then when I would go in the store, they had most of everything, but it was out of my budget as a college student. So, I kind of put it on the back burner but always kept it in the back of my mind.
"Once I graduated, I decided to actually pull the trigger and create Pawstruck after doing a lot of research and seeing if I could make it, if the business was truly feasible."
Seed money for the venture came from a silent partner Goguen prefers not to identify. He started with about 50 products, sourced from manufacturers in the United States and South America.
Establishing relationships was a challenge at first, but as Pawstruck's sales grew, so did Goguen's ability "to get people to take (his) phone calls and start the conversation."
Another hurdle was naming the company — after deciding on a name with an available domain, he got a cease-and-desist letter from a Korean dog treat company disputing his trademark application.
"I strongly believe we would have beat them if we tried," Goguen said. "But our business was four months old, and we haven't sold anything, are we going to really fight them and pay the fees to do this? We ultimately decided not to, so we're back to the drawing board four months in."
Out of the way
He wore multiple hats while getting the business off the ground, which proved to be "an eye-opening experience."
"It took me a long time to hire help," Goguen said. "I'm pretty well-rounded, and I can do most things, which was good at the beginning — I could help design the website, do some graphic design and maybe some video editing and ship the product.
"It was great because I could keep our costs really low in the beginning, but it also caused me to really wait a long time to delegate, and that was a huge issue," he added. "I was definitely the bottleneck in terms of growth for our business. Once I realized I was getting in the way, I started to come up with a plan on who to hire next and actually execute on that."
Pawstruck still does not have a traditional C-suite, although there is a CCO —Tyson, the chief canine officer.
Goguen's focus now is on expanding the product offering as well as Pawstruck's presence on other online sales channels.
"Down the road, as we grow, it might make sense to try to go into (brick-and-mortar) retail too," he said.
Read more about the 2019 Fastest Growing Private Companies:
Center Stage: Luxury staging company Vesta Home keeps things fresh
Driving Force: Integrity Cargo Solutions connects shippers, truckers
Expansion Team: Outsourcing firm TaskUs grows by helping other companies scale
By the Numbers: A look at this year's top 100 fastest growing companies
The complete list of 2019's Fastest Growing Private Companies in L.A. County
For reprint and licensing requests for this article, CLICK HERE.