Center Stage
Fresh collections, fast results fuel growth at high-end staging company Vesta Home
Friday, November 22, 2019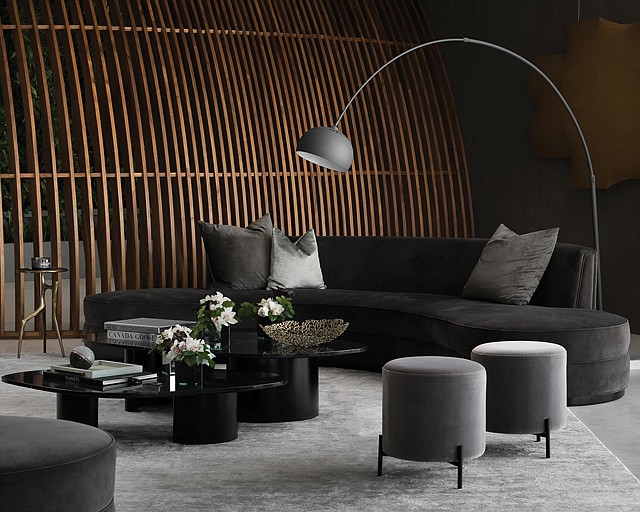 L.A.'s real estate market isn't just booming for brokers.
For home staging and interior design company Vesta Home, riding the region's strong residential market has been like grabbing a seat on a rocket ship.
The 3-year-old company saw revenue growth of 7,237% from 2016 to 2018, giving Vernon-based Vesta Home the No. 2 spot on this year's list of the Business Journal's fastest growing private companies.
According to Chief Executive Julian Buckner, Vesta Home has been growing at a rate of more than 100% a year since it started in 2016 and now has roughly 115 employees to keep up with the growing demand.
The company specializes in staging for high-end homes, with a focus on L.A., Northern California, Florida and New York. In Los Angeles alone, Vesta Home is working in 750 homes with a combined inventory value of $140 million.
"We created a company that is able to service a super high-end level of real estate," Buckner said.
Vesta Home's secret sauce, according to Buckner, is the company's commitment to using fresh furniture collections to stage properties.
That sets Vesta Home apart from many other companies, which use the same furniture again and again. Some even reuse furniture that's 10 to 15 years old, Buckner said.
"I can walk into a house and within two rooms know what staging company it's from," said Nourmand & Associates' Rochelle Maize. "With Vesta, they change their model so much that you can't do that."
Maize was No. 26 on the Business Journal's list of top residential real estate agents with $155 million in sales in 2018. She said she has been using Vesta more.
"With Vesta, they've been really amazing because if you bring them in early enough in your process in the project, a lot of times they will custom make furniture for the house," Maize said. "I'm using them more and more. They are so committed to customizing the houses, more than any company out there."
Vesta Home comes out with three to four furniture collections a year.
"There isn't the recognition of the furniture," said Brett Baer, head of sales at Vesta Home. "The houses don't look staged. They look like it came from an interior designer."
A lot of the furniture Vesta Homes uses for staging ends up being purchased by the buyers.
"We can sell that very high-end floor model piece of furniture at a discount," Buckner said. "We're creating a lifestyle for people, and you can't create that when you keep reusing furniture."
Buckner said 15% to 20% of furniture used in staging is sold, and he thinks that number will increase.
"We are focused on that going forward," he said. "We are working on more ways to market that furniture for sale. It's going to be a big push going forward."
The company operates on a business- to-business model, working with developers or listing agents. Buckner said 28 of the top 30 agents in Southern California — ranked by sales volume according to lists published by outlets such as the Real Deal and Hollywood Reporter — use the company's services. Vesta home charges a flat fee for the first three months and a monthly fee thereafter.
A fast start
Buckner came to Vesta Home by way of Showroom Inc., a tech company that enables interior designers to create their own branded furniture.
In August 2016, Vesta Home was launched as a subsidiary of Showroom.
The software side of the business didn't work out, though, and Showroom narrowly staved off bankruptcy, according to Buckner.
In 2018, Buckner purchased the Vesta Home portion of Showroom's business and has been growing it ever since.

Baer is a veteran of the home staging industry. For more than a decade he worked with his aunt, Meridith Baer, at Meridith Baer Home.
Brett Baer, his sister, Jaime Morse, and her husband, Caleb Morse, are in an ongoing legal feud with Meridith Baer Home. The company alleges that the trio stole staging property, trade secrets, and clients, and brought them to Vesta Home.
Brett Baer and the Morses have filed a countersuit. Brett Baer declined to comment on the lawsuits.
Buckner said Vesta Home had become a "victim of its own success."
"When we launched this company built on the shoulders of giants, we saw how others were doing this and how others were innovating and we came up with a different strategy for it," Buckner said. "We turned it upside down with our design. For the incumbent player who had been in that space, it created some resentment."
By design
Vesta Home doesn't just do home staging. Earlier this year, the company launched a private design arm, which Buckner expects to grow.
The company is also launching dedicated operations in San Francisco and New York.
Additionally, it is looking at a retail furniture brand that would be direct to consumer.
Meanwhile, the company is continuing its core staging business, growing its reach and investing in new design.
"We are constantly innovating our design," Bauer said. "We want to look different year in and year out."
For brokers, the need for staging is not going away anytime soon.
"It's one of the most important things (in selling a home)," said Tami Halton Pardee, owner of Halton Pardee & Partners Inc. and No. 3 on the Business Journal's list of top residential real estate agents with $482 million in sales in 2018. "Staging is really important. The return on investment is important for the seller."
Maize said homes can sell for 17% more if staged and often sell faster.
Pardee similarly said well-staged homes can sell for 7% to 13% more than their counterparts and move 20% faster.
Both agents say staged houses generate those results because many buyers are now younger and want to see what a home could look like before they buy.
Read more about the 2019 Fastest Growing Private Companies:
Driving Force: Integrity Cargo Solutions connects shippers, truckers
Dog-matic: Pet snack-maker Pawstruck wins with healthy alternatives
Expansion Team: Outsourcing firm TaskUs grows by helping other companies scale
By the Numbers: A look at this year's top 100 fastest growing companies
The complete list of 2019's Fastest Growing Private Companies in L.A. County
For reprint and licensing requests for this article, CLICK HERE.