Hyperloop One Hits Back at Former Execs In Latest Court Filing
Tuesday, July 19, 2016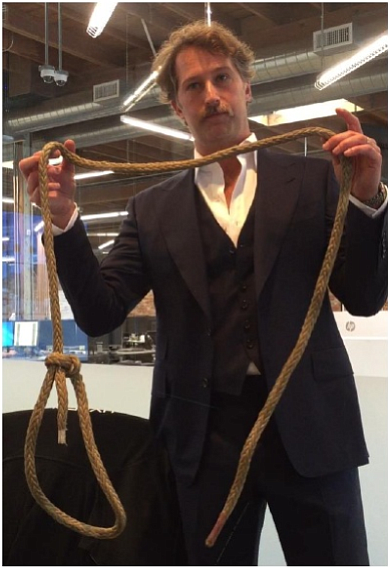 A week after being sued by four former company executives, next-gen transportation firm Hyperloop One struck back asking for $250 million in damages from what it's calling the "Gang of Four."
The cross-complaint, filed Tuesday in Los Angeles County Superior Court, claims former chief technology officer and co-founder Brogan BamBrogan and three other high-ranking employees breached their fiduciary duties to Hyperloop One and broke several contractual covenants with their actions.
Read More: Hyperloop on Wrong Track?
The filing alleges the group's actions were an "illegal and failed plot by four former Hyperloop One employees to take over the Company through a coordinated coup" and that "their sensationalized and tabloid ready allegations are meritless, categorically false, and offensive."
BamBrogan and the co-plaintiffs' lawyer, Justin Berger of Cotchett Pitre & McCarthy, said in a statement that the cross-complaint was a web of falsehoods that would be disproven as the case moves forward.
"Hyperloop One's cross complaint goes beyond revisionist history – it's pure fiction, and that will be shown by the evidence," Berger's statement reads.
Read More: BamBrogan Steps Down as Hyperloop Chief Technology Officer
The counter-claim addresses a litany of accusations made by the plaintiffs in their initial complaint including that company co-founder and board chair Shervin Pishevar and vice-chairman Joseph Lonsdale had used the company as their personal plaything. Instead, it paints a picture of incompetent employees who were actively undermining the company.
"BamBrogan's actions undermined Shervin and the Company, and aimed to jeopardize the Company's relationships with key investors of the highest quality and integrity who, as BamBrogan knew, were interested in making major additional significant investments in the Company and had been working for months to facilitate important meetings and commercial arrangements.
The cross-complaint also claims that BamBrogan had purchased "hyperlooptoo.com" as part of a broader plan to form a competing company although BamBrogan's counsel denied the allegation.
"It's true that Mr. BamBrogan purchased the "hyperlooptoo.com" domain, but he did this as a joke at the prompting of a coworker, and never intended to use it for business," a statement from Berger reads. "He did not register hyperlooptwo.com and does not know who did."
The cross-complaint also disputes the plaintiffs' contention that the business-side of the company was recalcitrant towards the engineering and tech requests. The filing states that leadership increased the employee share pool from 15 to 20 percent, redistributed some super voting shares, and added two seats to the board, one of which is dedicated to someone on the Hyperloop engineering team.
Hyperloop also addressed the actions of its former general counsel Afshin Pishevar – brother to Shervin – who BamBrogan alleged left a "hangman's noose" on his chair directly before the former CTO was ousted. BamBrogan went so far as to file for a restraining order against Afshin, but that was denied by Los Angeles Superior Court Judge Carol Boas Godson last week.
In the cross-complaint, Hyperloop claims the alleged noose was actually a "lasso" and that Afshin, who was dismissed from the company around the same time as BamBrogan left with his three co-plaintiffs, meant to imply that BamBrogan was "acting like a cowboy."
Related Links: Hyperloop One Sued By Co-Founder Over Assault, Financial Mismanagement Allegations
Legal reporter Henry Meier can be reached at hmeier@labusinessjournal.com. Follow him on Twitter @henry_meier.
For reprint and licensing requests for this article, CLICK HERE.