Hyperloop on Wrong Track?
Friday, July 15, 2016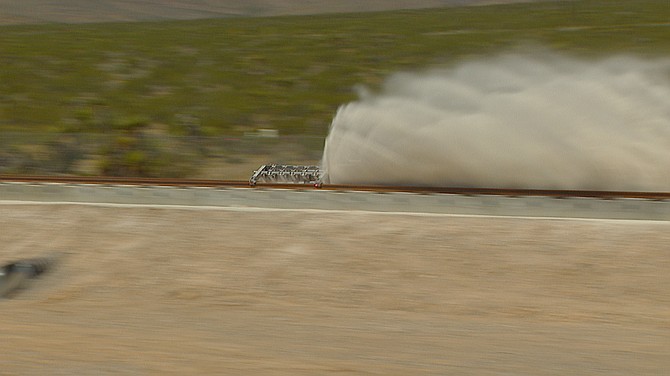 The shakeup at next-generation transportation company Hyperloop One – which is backed by $92 million in funding – spilled into the courts last week with former chief technology officer and co-founder Brogan BamBrogan accusing company leadership of harassment, financial mismanagement, and wrongful termination.
The suit, filed in Los Angeles Superior Court, contains a litany of sensational allegations, including charges that the downtown company's former general counsel, Afshin Pishevar, brother of board chair and co-founder Shervin Pishevar, put a "hangman's noose" on BamBrogan's chair as a threat shortly before the co-founder was forced out in mid-June.
BamBrogan has requested a restraining order on his behalf against Afshin Pishevar, though a judge denied that request last week.
Three other Hyperloop One executives were also allegedly forced out as part of the purge: Knut Sauer, David Pendergast, and William Mulholland. All are also plaintiffs in the civil suit.
The filing paints a picture of absentee corporate leadership and widespread turmoil at the company. Shervin Pishevar and Hyperloop One Chief Executive Joseph Lonsdale are portrayed in the complaint as largely uninvolved figures who treated the company as a vanity project.
"Over the course of Plaintiffs' employment, it became apparent that those in control of the company continually used the work of the team to augment their personal brands, enhance their romantic lives, and line their pockets (and those of their family members)," the filing reads.
Hyperloop One's attorney, New York-based Orin Snyder of L.A.'s Gibson Dunn & Crutcher, fought back against the allegations. In a statement, Snyder – who also reps tech heavyweights such as Apple Inc., Uber Technologies Inc., and Facebook Inc. – called the lawsuit frivolous and the product of disgruntled employees who tried to stage a coup and failed.
"(The) lawsuit brought by former employees of Hyperloop One is unfortunate and delusional," Snyder's statement says. "The claims are pure nonsense and will be met with a swift and potent legal response."
Hyperloop One is one of several companies competing to actualize ultrafast ground transportation technology inspired by Space Exploration Technologies Corp. founder Elon Musk. Sherpa Capital, Shervin Pishevar's investment vehicle, helped seed Hyperloop One and has been an investor in each funding round. The company closed an $80 million Series B round in May shortly before it successfully tested its first prototype track in Nevada.
Russian Connection
BamBrogan allegedly caused a stir by calling a number of Hyperloop One's Russian investors to explain why he wouldn't be attending meetings with them in June. The former chief technology officer said he explained his concerns about the company's direction to at least one of the investors. That individual is said to have discussed the issues raised by BamBrogan with Shervin Pishevar, directly preceding the alleged "hangman's noose" affair. While not explicitly identified in the complaint, the Russian investors are likely connected to Summa Group and the Russian government based on a June 21 memorandum of understanding between the parties relating to a Hyperloop One project in Moscow.
Family Ties
Company leaders allegedly used Hyperloop One as a vehicle for "nepotistic hires" that "quickly proved disastrous, and wasteful." These moves included co-founder and Chairman Shervin Pishevar hiring his brother Afshin as Hyperloop One's general counsel despite few qualifications; Shervin Pishevar dating the company's outside public relations representative (the two were later engaged for a period of time) and boosting her salary from $15,000 to $40,000 a month; and the hiring of an investment banking boutique owned by Chief Executive Joseph Lonsdale's brother to handle Hyperloop One's post-Series B round despite an alleged better offer from an established financial institution.
Minds vs. Money
BamBrogan claims that Hyperloop One's financial backers and business-side executives undervalued the technology and engineering team at Hyperloop One. From the beginning, Pishevar controlled 90 percent of the company's common stock with only 6 percent allocated to BamBrogan, a co-founder. The divide became more unbalanced last year when, according to the complaint, Pishevar converted a portion of his and fellow Sherpa Fund investor Scott Stanford's shares to a preferred class that gave them each 20-to-1 voting rights.
For reprint and licensing requests for this article, CLICK HERE.