UPDATE: Hyperloop One Sued By Co-Founder Over Assault, Financial Mismanagement Allegations
Tuesday, July 12, 2016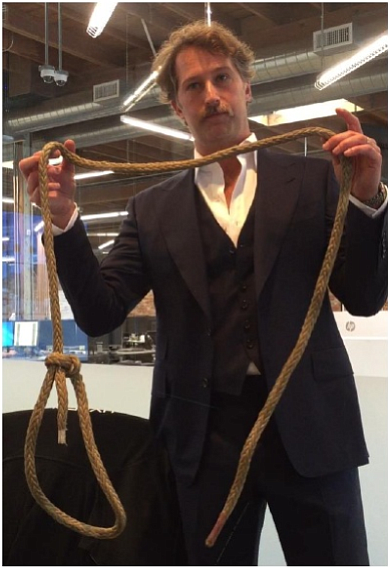 Editor's Note: This article has been updated with additional statements from attorneys for Hyperloop One and BamBrogan, and additional information about the lawsuit.
Hyperloop One co-founder and former chief technology officer Brogan BamBrogan sued the next-gen transportation company and its executive membership alleging his ouster in June came after a "hangman's noose" was left on his desk by the company's general counsel.
In a complaint filed Tuesday in Los Angeles Superior Court, BamBrogan and co-plaintiffs claim the threat came after BamBrogan was critical of Hyperloop One board chair Shervin Pishevar's management of the company, which the filings says was tantamount to a breach of fiduciary duty.

Read More: Hyperloop Looking to Connect Helsinki, Stockholm
"Over the course of Plaintiffs' employment, it became apparent that those in control of the company continually used the work of the team to augment their personal brands, enhance their romantic lives, and line their pockets (and those of their family members)," the complaint reads.
Hyperloop's attorney Orin Snyder, a partner at downtown's Gibson Dunn & Crutcher, dismissed the lawsuit in a statement as the work of disgruntled employees calling it "frivolous" and "almost a cliche (sic)."
"Today's lawsuit brought by former employees of Hyperloop One is unfortunate and delusional," Snyder's statement reads. "These employees tried to stage a coup and failed… The claims are pure nonsense and will be met with a swift and potent legal response."
Hyperloop One is one of the leaders in ultra-fast ground transportation technology inspired by tech mogul Elon Musk. The company has raised some $92 million and successfully tested a prototype in May.
The lawsuit, filed by Santa Monica-based Cotchett Pitre & McCarthy, follows BamBrogan's exit from Hyperloop One in June. His dismissal coincided with a broader corporate shakeup in the past several weeks, which included the replacement of the company's chief legal officer Afshin Pishevar, Shervin's brother. Afshin is allegedly the person who placed the noose on BamBrogan's chair.
The complaint alleges the executive shuffling came after a group of 11 "top employees" including BamBrogan sent a May 26 letter to Shervin Pishevar, board member Joseph Lonsdale, and chief executive Robert Lloyd expressing concern over "breaches in fiduciary duty they had witnessed." Instead of engaging with the group, BamBrogan found the aforementioned noose and the group was ultimately threated with "economic and legal warfare by millionaires with extensive networks," according to the complaint.
BamBrogan's attorney at Cotchett Pitre & McCarthy, Justin Berger, said in a statement that Hyperloop One's actions made it liable under California law.
"Plaintiffs and seven other top employees quietly approached the Defendants in May with reasonable proposals to set the company back on the right track," Berger's statement reads. "They were met with hostility, threats of costly legal fights, and a noose."
Related Links: Read more about Hyperloop One here.
Legal reporter Henry Meier can be reached at hmeier@labusinessjournal.com. Follow him on Twitter @henry_meier.
For reprint and licensing requests for this article, CLICK HERE.