Judge Denies Restraining Order Request Targeting Former Hyperloop One Lawyer
Thursday, July 14, 2016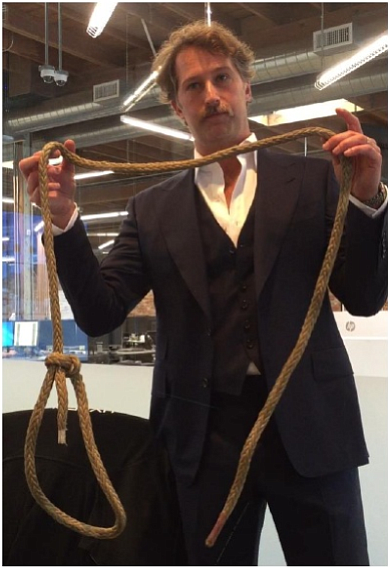 A swarm of allegations continues to buzz around futuristic transportation company Hyperloop One in the wake of an ugly personnel shakeup, but former general counsel Afshin Pishevar – brother of company co-founder and board chair Shervin Pishevar – got some good news in court Thursday.
After a minute-long hearing, Los Angeles County Superior Court Judge Carol Boas Godson denied a request for a restraining order filed by ousted Hyperloop One chief technology officer and co-founder Brogan BamBrogan against Afshin. BamBrogan asked for the restraining order after allegedly finding a "hangman's noose" placed on his chair by Pishevar in June.
Dave Willingham, a partner at downtown's Caldwell Leslie & Proctor, spent one sentence convincing Godson to reject the petition.
"This is a baseless accusation that was designed to bolster another lawsuit," Willingham said.
"I agree," Godson responded. "Request denied."
After the hearing, Willingham declined to comment.
BamBrogan's attorney, Justin Berger of Cotchett Pitre & McCarthy, said he respected the judge's decision but emphasized the ruling would not impact the larger civil suit filed Tuesday against Hyperloop One. That lawsuit alleges BamBrogan and several other executives were forced out after voicing reservations about how Shervin and Chief Executive Joseph Lonsdale were running the company.
"This is not just about a noose," Berger said. "This is a pattern and practice – layer upon layer of breaches of fiduciary duty, mismanagement, (and) mistreatment of employees."
Hyperloop One's attorney Orin Snyder of Gibson Dunn & Crutcher called the civil lawsuit "frivolous" and "almost a cliche (sic)."
"Today's lawsuit brought by former employees of Hyperloop One is unfortunate and delusional," Snyder's statement reads. "These employees tried to stage a coup and failed… The claims are pure nonsense and will be met with a swift and potent legal response."
Legal reporter Henry Meier can be reached at hmeier@labusinessjournal.com. Follow him on Twitter @henry_meier.
For reprint and licensing requests for this article, CLICK HERE.