Executive Education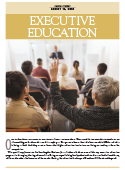 Custom Content from the Los Angeles Business Journal
---
One of the topics on many of our readers' minds is education. They want to explore the benefits of an advanced degree for themselves or their employees. They want to know about the latest trends in MBAs and what is being studied. And they want to know what higher education institutions are doing to stand apart from the competition.
This special supplement to the Los Angeles Business Journal takes a look at some of the top executive education programs in the region, sharing what each is offering as ways of taking local professionals to the next level of excellence, while we also take a look at some of the trends affecting the education landscape of Southern California and beyond.
---
Inside this supplement:
LMU Executive Education Programs Help Students "Level Up"
Looking to get ahead in today's competitive marketplace? Need to brush up your knowledge and skills on a particular topic? This fall, Loyola Marymount University offers a variety of one- and two-day business certificate courses to help professionals sharpen their mindset and skill set...
Read More
---
The Cal Lutheran Executive MBA
The Executive MBA from California Lutheran University's School of Management is designed for mid-career professionals who have already experienced some success and want to identify and achieve bigger goals in their careers...
Read More
---
Transforming Today's Leaders into Life-Long Learners
No two days are alike in the ever-evolving world of business. In fact, opportunities will come and go - it's just a matter of saying yes to the right one. The same can be said about pursuing a higher education degree...
Read More
---
Essential Legal Skills for Every Leader
Business professionals across industries and sectors regularly intersect with legal matters in various ways — from contracts and compliance, to strategy and negotiation. With a Master of Studies in Law from the USC Gould School of Law, forward-thinking practitioners and leaders are enhancing their business expertise with legal education...
Read More