Digital Estate Planning Services Cater to Consumers, Bypass Lawyers
Monday, May 3, 2021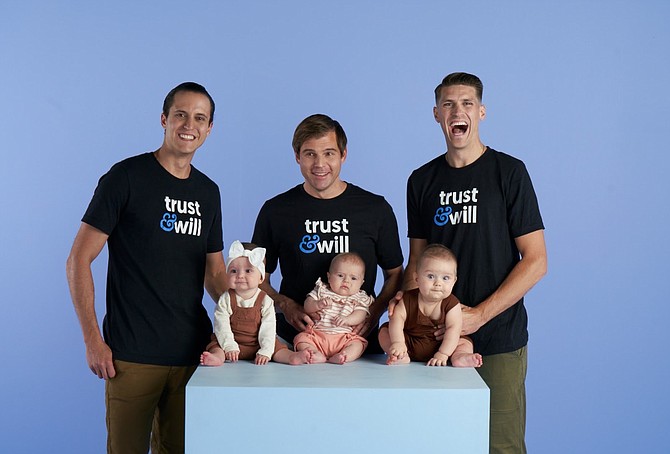 Diana Solis and her 63-year-old mother got the bad news that her uncle in Chicago had succumbed to a heart attack just as the Covid-19 pandemic was shutting down the world.

"It was a wake-up call for my mother to get things in order," said the 33-year-old Solis, who began the tough talk with her mother about what to put in her will. "It hit our family hard."

Solis, an actress who has appeared in "Jane the Virgin," "Lucifer" and "29 to Life," turned to a friend with San Diego-based startup Trust & Will, which aims to become the TurboTax of estate planning.
 
"Because of Covid, it was a little more difficult to meet with an attorney. The logistical and legal hurdles to meet were big," Solis explained. "My mother and I did everything online, in the comfort of our home."

Solis joins a growing crowd of consumers who are going online to make wills and map out estate plans. In the process, they're turning their backs on the traditional law firms that once dominated the industry.

Digital services like Glendale-based 
LegalZoom.com Inc. have soared in popularity during the pandemic, and the field is filled with a host of startups, including Santa 
Monica-based Wills Inc., which does business as Wills.com.

Vincent Hoonings came up with the idea for Wills.com after a messy estate planning process following the death of his father nearly six years ago.

He launched the website in December and has been shopping for venture capital funding from L.A.'s tech-rich Westside as well as Silicon Valley. The 31-year-old chief executive anticipates making a deal for seed funding by the end of the year.
 
Hoonings said it's easier to create an online will and digital estate plan from any digital device, where users can return to the dashboard to continue their edits or make amendments to existing documents.

"There is definitely a need for innovation in this space. It's been antiquated for too long, and the format has not changed much," Hoonings said of old process. "We differentiate ourselves by doing everything online, signed documents online and promote online notarization."

Attracting funding

Another online legal service, San Francisco-
based Rocket Lawyer Inc., on April 21 received $223 million in financing from Vista Credit Partners, the credit-investing arm of Austin-based private equity firm Vista Equity Partners Management.

"The pandemic amplified and accelerated demand for our cloud-based digital legal solutions as we enabled millions of legal situations to be documented and attorney advice and compliance to happen, without the need for physical presence," said Charley Moore, Rocket Lawyer chief executive, who founded the company in 2008.

On the eve of the pandemic, New York-based insurance giant MetLife Inc. acquired Willing, the Miami-based digital estate planning service owned by Bequest Inc. Since its inception in 2015, Willing has helped more than 500,000 families create wills, trusts and powers of attorney.  
 
Trust & Will, meanwhile, got a $15 million Series B round of venture capital last fall to fuel product development and sales growth.

The company, which was co-founded by Cody Barbo, Brian Lamb and Daniel Goldstein,  has raised a total of $23 million and doubled its headcount in the past year to 40-plus employees while building a user base of more than 200,000.
 
"We've been building out our business model over the past year, largely due to Covid. We've seen a drastic increase in modern ways to approach estate planning and how to do it from your house," said Patrick Hicks, head of legal with Trust & Will. "We are making it easier for everyone to do estate planning."

Giving this process a boost are new laws allowing some states to authorize notaries to conduct remote authorizations — an area that Wills.com and others are targeting.
 
Wills.com enables users to sign and notarize the documents electronically in states where that is permitted. Covid opened this market, prompting many states in the past year to jump in.

California is noticeably absent from that list, although lawmakers in Sacramento are weighing the merits.
 
The biggest holdup to digital growth could be notarization of documents filed with courts.
 
The Chatsworth-based National Notary Association said there are two kinds of notaries. The first is electronic notarization, which is essentially a traditional notarization, just with pen-and-paper swapped out for e-signatures and devices like a tablet or laptop.
 
The second kind is remote online notarization, which takes the entire notarization process digital. This option isn't permitted in California because of concerns about privacy and potential fraud.

Progress with notarization

Remote online notarization is allowed in 33 states, with a notary on one end of a video feed and the consumer on the other. Documents are uploaded to the consumer's computer, and the notary identifies the person based on state law and signs documents with an electronic signature.
 
"Yes, it seems like California would be a leader. This is an area where we have lagged behind," said Bill Anderson, vice president of government affairs for the National Notary Association.  

"Covid shed a lot of light on this. To do a notary, you have to get in a car, drive somewhere, or they drive to you. It's an effort. It's easier to be at home in your bunny slippers," he said.

Manhattan Beach-based estate planning attorney Robert Theofanis recognizes the rise of online wills and estate planning but prefers the personal touch.

"If you have simpler planning goals, then online might be the way to go. We can't live in a vacuum. A lawyer is going to lose to LegalZoom if you try to be LegalZoom," said Theofanis, 35. "In a nutshell, if you are comfortable putting in place an estate plan and talking to a robot, I can't compete with that."

Solis and her mother would agree.

Once they decided to take the digital route to estate planning, they huddled over a laptop, either on the stoop or on the porch bench in the front of the Solis home, discussing everything from finances to conservatorship of her 41-year-old sister, who has a disability.

"It took a couple of hours," Solis said. "It felt good, not stressful or intimidating."
Keep reading the 
2021 Professional Services Special Report
.
For reprint and licensing requests for this article, CLICK HERE.