Special Report: Banking & Finance Quarterly — Q1 2021 Data
Monday, June 21, 2021
After riding out the worst of the pandemic, banks are poised to make big strides in the second half of 2021. Merger and acquisition activity in the sector figures to accelerate as institutions with untapped emergency reserves look to make up for lost time. The Business Journal takes stock of where the industry is headed and gets an insider's view of a recently completed banking deal.
Banking and Finance Quarterly Features
Breathing Easier:
LA Banks Are Reenergized After Hunkering Down During Pandemic

The View From the Inside: 
First Choice CEO Franko Reveals Inner Workings of Enterprise Financial Sale
Banking and Finance Quarterly Q1 2021 Data
Top 5 Financial Institutions Ranked by L.A. County Market Share

Rank
Institution
% Market Share
1
Bank of America

16.38

2
JPMorgan Chase & Co.

13.75

3
Wells Fargo & Co.

12.92

4
MUFG Union Bank

8.5

5
CIT Bank

8.28

Ranked by share of deposits in L.A. County. Information as of June 30, 2020 (released annually in October.)
Top 5 Most Profitable L.A.-Based Banks

Rank
Institution
% Returns on Assets Q1 2021
1
BNY Mellon Trust Co.

13.0

2
International City Bank FSB

5.8

3
First Credit Bank

4.6

4
Bank of Whittier

3.0

5
CIT Bank

2.1

Ranked by return on assets for the quarter ended Mar. 31, 2021.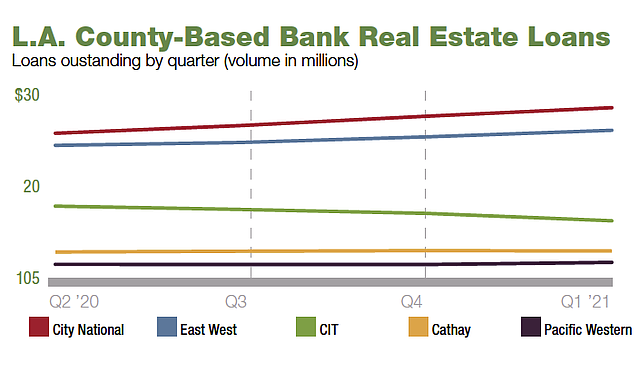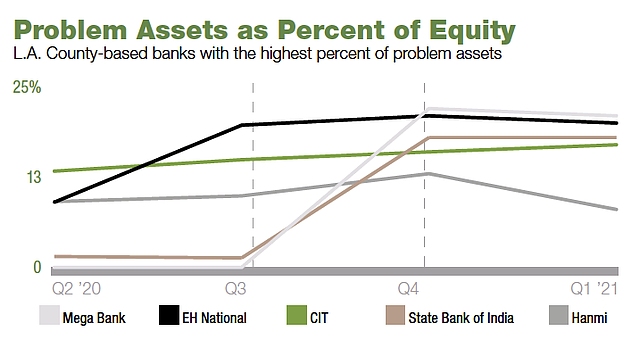 For the full Banking & Finance Quarterly special report and data, please see the
June 21, 2021, print edition
.
For reprint and licensing requests for this article, CLICK HERE.