2021 Economic Forecast & Trends Panelist: Alice Issai
Custom Content by the Los Angeles Business Journal
Friday, January 22, 2021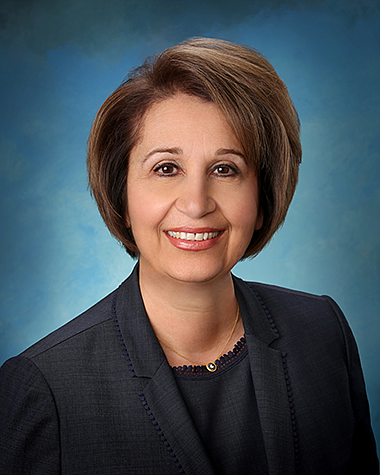 Alice Issai
President
Adventist Health Glendale

Alice Issai's goal is to bring Adventist Health Glendale to the forefront of healthcare in Los Angeles and beyond. She is inspired by the opportunity to create a hub for "destination medicine," with world-class services in oncology, cardiovascular medicine, neurosciences, orthopedics and more.

"My big vision is for us to become a true tertiary center, offering state-of-the-art, highly specialized care with advanced medical procedures that will attract patients from all over Southern California," says Alice—whose name is pronounced like uh-LEASE ih-SIGH. "I want us to be top-of-mind when people are seeking healthcare services."
Alice joined Adventist Health Glendale in July 2018, bringing with her an impressive record of healthcare leadership in the Los Angeles region. Previously, she was chief operating officer at three major medical centers: Keck Medical Center of USC (Keck Hospital of USC + USC Norris Cancer Hospital), UC Irvine Health, and Kaiser Permanente Los Angeles Medical Center. Before that, she was chief financial officer and chief strategy officer at Kaiser Permanente Los Angeles and vice president of finance at City of Hope.

Among her many leadership strengths, Alice excels at physician alignment/creating physician partnerships; visionary, strategic thinking; and building high-performing teams. She holds a master of business administration degree from Pepperdine University in Los Angeles and a bachelor of science degree in business administration and finance from Andrews University in Berrien Springs, Michigan.

In addition to her service to the community through the hospital, Alice is a board member of the American Heart and Stroke Association and has served as a team member on Adventist Health Glendale's ongoing medical missions to Armenia.

In her time here, Adventist Health Glendale has maintained its Leapfrog "A" grades for hospital safety, dating back to 2015; earned its first 5-star rating by the Centers for Medicare and Medicaid Services; and been recognized among the Top 5% of hospitals in California and Top 10% of hospitals in the Los Angeles area by U.S. News & World Report. These and other clinical and safety achievements have led to Alice being named to the Los Angeles Business Journal's LA500 list of the most influential leaders in the Los Angeles area and Top Women Leaders in Health Care.

"It is my personal mission to provide high-level, quality care for this thriving community that has been my home for 40 years," Alice says.

What does Alice want her community to know about Adventist Health Glendale? "As an Adventist Health organization, we practice whole-person care—body, mind and spirit," she says. "In our mission statement, we express those ideas as health, wholeness and hope. Going beyond just physical care sets us apart from other healthcare providers."

Alice and her husband have two children and two grandchildren, with whom she loves to spend her free time. An avid traveler who has visited 50 countries, Alice also likes to entertain guests in her home, which gives her a chance to indulge in another favorite pastime: cooking.
Return to EF 2021 main page
For reprint and licensing requests for this article, CLICK HERE.