Developers Scramble to Meet Demand for Studio Properties
Monday, April 26, 2021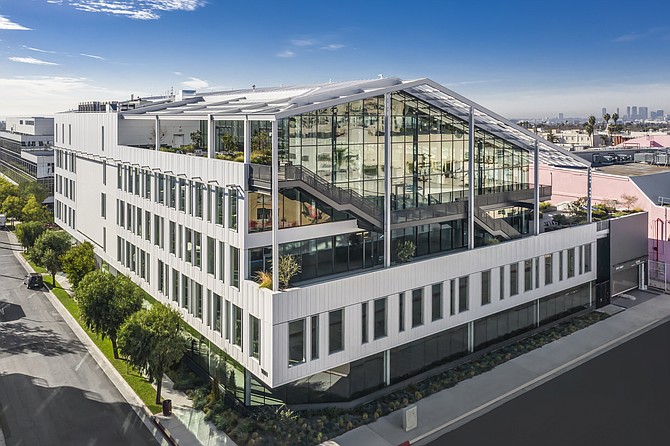 Streaming companies are on a real estate roll in Los Angeles — and the developers catering to them are betting big on their continued success.
 
Leasing activity has been fueled by streaming giants Netflix Inc. and Amazon.com Inc.'s Amazon Studios, which have inspired other streaming companies and production and post-production businesses to take on new space.

Developers are planning additional soundstages and offices in anticipation of more expansion.

Real estate experts agree that streaming companies are a bright spot in the L.A. market.

"The demand for entertainment industry office space, and studio space in particular, has outstripped general office and other business sectors like law firms simply because of the expansion of all these different streaming services," said John Tronson, a principal at Avison Young Inc. "They are growing at a very, very quick rate relative to a lot of other industries."

Newmark Group Inc. Executive Vice President Steve Kolsky added that L.A. has been "the main beneficiary" of growth by streaming companies and an increase in content creation.

"We're seeing the L.A. market hold up stronger, and I think a large contributor is this big percentage of companies that are in the entertainment industry in general, and specifically streaming service providers," Tronson said.

Demand has far outpaced supply for studio space, which is difficult to build, requires lots of land and must be located inside the Thirty-Mile Zone, an area within a 30-mile radius of Hollywood.

This limit is used by many productions, which could be required to pay workers more if they have to travel beyond that area.

Peter Hajimihalis, a vice president at Jones Lang LaSalle Inc., said soundstages in Los Angeles have been roughly 95% occupied since 2016. 

Turning the tide

The landscape has changed dramatically over the past decade.
 
"If you look back prior to 2007, we were at a place where much of the existing studio buildings and projects were starting to be viewed as functionally obsolescent, and you were hearing a lot of talk about redeveloping them for what then may have been considered a higher or better use," Kolsky said.
 
"In 2007, that was really the advent of what we call streaming, and that started to change everything," he said. "By 2015, those companies that were jumping into the streaming business were then committing to their own production and office space, and from that point on, we were off to the races. You add in the emergence of tech with entertainment and their commitment to content, and we've now found ourselves in a place where the demand outweighs the supply."

In 2014, Culver City-based developer Hackman Capital Partners made its first foray into studio space, acquiring Culver Studios and leasing 70% of the campus to Amazon Studios.

"We didn't know a lot about studios at the time, but we did know it was 15 acres of land in the heart of Culver City," said Michael Hackman, founder and chief executive of Hackman Capital.

"We'd seen this incredible growth of content creation and the demand for that around the world and the streamers stepping in to meet that demand and change the way the industry was working," he added.

Now other studios and production services are eager to be near Amazon in Culver City.
 
The same is true for Hollywood, where Los Gatos-based Netflix has signed multiple leases, including with Brentwood-based real estate firm Hudson Pacific Properties Inc., and ignited demand.  

"It becomes, 'Hey if it's good enough for Netflix, it's good enough for us,'" said Jeff Lasky, vice president of leasing at Hudson Pacific. "You have a limited amount of available, quality office opportunities in that market."

Added Tronson, "When Netflix moved into the Hollywood market, we had a tremendous amount of office space listed. A tremendous amount of people coming into the market from outside the market were coming because they were a service provider to Netflix, and Netflix wanted them close. That is a 180-degree change of course over the way it was 20 years ago when everybody was leaving Hollywood and going to the Westside." 

The big players

Hackman Capital now has an exclusive agreement with New York-based real estate investment firm Square Mile Capital on all of its studio acquisitions. Hackman does the day-to-day work, and Square Mile makes equity investments in the acquisitions. And the studio deals Hackman Capital completed prior to the agreement have been recapitalized to include Square Mile Capital.

"We've been focused for a long time on the intersection of technology and real estate," said Square Mile Capital Managing Director Jesse Goepel. "We looked at the surge of investment from all the content creators. The confluence of those factors is creating fundamental changes in what it means to be an owner in the space."
 
Zachary Sokoloff, a vice president at Hackman Capital, called the partnership with MBS Group a "critical component" to its success as MBS brought knowledge of running a studio to the table.

Hackman ended up adding half a million square feet of office space to Culver Studios. The company also purchased the land just in front of the property, which is now the Culver Steps, a mixed-use development with office and retail space.

From there, the company continued to grow its portfolio of studio space, purchasing Television City in Fairfax from CBS Corp. for $750 million in 2019 and MBS Group for $650 million the same year from New York-based Carlyle Group.

That purchase included MBS Media Campus, or Manhattan Beach Studios, and MBS Services.

Already this year, Hackman Capital and Square Mile have scooped up the Sony Pictures Animation Campus in Culver City for $160 million and formed a joint venture with Raleigh Studios to manage its campus in Hollywood and run operations at Raleigh's Saticoy Studios in Van Nuys.

Hackman Capital now has 45 soundstages in the L.A. area. It owns more than $4 billion worth of studio and media assets worldwide, which includes 71 soundstages, with 35 more planned.
 
Another big local player in studio space is Brentwood-based Hudson Pacific. The company made its first foray into studio space in 2007 when it purchased the Sunset Gower Studios in Hollywood. It purchased Sunset Bronson studio in 2008 and Sunset Las Palmas in 2017.

Last year, real estate bigwig Blackstone Property Partners purchased a 49% interest in Hudson Pacific's Hollywood Media Portfolio, which valued the portfolio at nearly $1.7 billion.

Expansion plans

Many of the properties these companies have purchased are being renovated.

"Victor Coleman (Hudson Pacific's founder) had a vision that he saw these properties in Hollywood at a time when Hollywood was going through a tough time, and he saw that there was going to be an opportunity in the long run to maximize the buildable square footage on those lots," said Bill Humphrey, senior vice president at Sunset Studios.

Last year, Sunset Gower Studios received approval from the city to nearly double in size. The campus, which is more than 530,000 square feet and includes 12 soundstages, will add roughly 480,000 square feet and two soundstages.
"We're trying to optimize our assets in terms of what we build," Humphrey said.

The company also recently completed Harlow, a four-story office property at its Sunset Las Palmas Studios. Post-production group Company 3 has already leased more than 70,000 square feet of the 130,000-square-foot building.

Hudson Pacific has already built other office buildings at Sunset Bronson.

Hackman Capital has also announced plans to renovate its studio spaces. Most recently, the company unveiled its $1.25 billion TVC 2050 proposal for Television City. Under the plan, Hackman will develop up to 1.1 million square feet of new office space, including up to 15 new soundstages.

The ripple effect

It's not just soundstages that are in demand, but post-production space, storage and office space for related companies as well.

"The major submarkets that were the biggest beneficiaries of this studio bonanza were Hollywood, Culver City and Burbank. All three of those areas have seen increased demand by associated companies, companies that want to do business with the major companies that are there," Kolsky said.

JLL's Hajimihalis agreed, adding that for every job on a soundstage, there are eight off of it.

"There's a ripple effect," he said. "We've had a lot of success leasing office space on studio lots."

That's part of the reason companies are developing so much office space at the lots.
Lasky, with Hudson Pacific, said the company purchased the Sunset Bronson lot with the intention of building office space there and started working on it shortly after closing on the sale.
 
"There's a lot of ancillary businesses related to that, post-production, marketing, legal, casting and all the way down the line. As the content business ramps up out of this, there's a natural expansion of all of these ancillary businesses," he said.

And despite the Covid-19 pandemic, Lasky said Hudson Pacific has been able to secure tenants at "rates that are attractive to us."

No slowing down

Looking ahead, developers and brokers expect demand to continue.
 
"There's no indication that (demand is) slowing down. We're seeing more and more players get into the digital streaming business. Most of them want to be in the L.A. area. There's a synergy that goes on," Avison Young's Tronson said.

The need for studio space is expected to outpace supply, especially with streaming companies signing long-term leases, making it harder for smaller groups to find studio space.

Hackman is working to double his company's portfolio of studio properties and is engaged on transactions "in every major market right now," nationally and internationally.

"Our intention is to continue to grow our portfolio and service our customers and expand all the studios we have purchased," he said.

Hackman is looking at major markets where content is made that are home to experienced crews.

Square Mile's Goepel added that the companies would continue to work on redevelopments in addition to acquiring stabilized properties.
 
"People recognize the benefits for studio use, so it is becoming more competitive, but we still have a lot of conviction," he said.

Hudson Pacific is also looking at additional opportunities, especially in L.A., New York, Vancouver and London — cities that Humphrey called the best markets for studios.

The company is not interested in industrial or warehouse conversions. It's focused on
purpose-built, Class A studio spaces or ground-up opportunities in good areas.
 
Humphrey called some conversions "substandard facilities" and thinks when production demand flattens out, they "won't be as attractive and won't retain their value."

And there's one other thing to be on the lookout for, Hackman said.
 
"Here's the warning sign: If we can't find ways to get these soundstages and these production offices built here, they will find ways to make productions (outside) of Los Angeles."
Keep reading the 
Q1 2021 Real Estate Quarterly Special Report
.
For reprint and licensing requests for this article, CLICK HERE.