Media Mogul Redstone Dies at 97
Originally published August 12, 2020 at 4:14 p.m., updated August 14, 2020 at 10:09 a.m.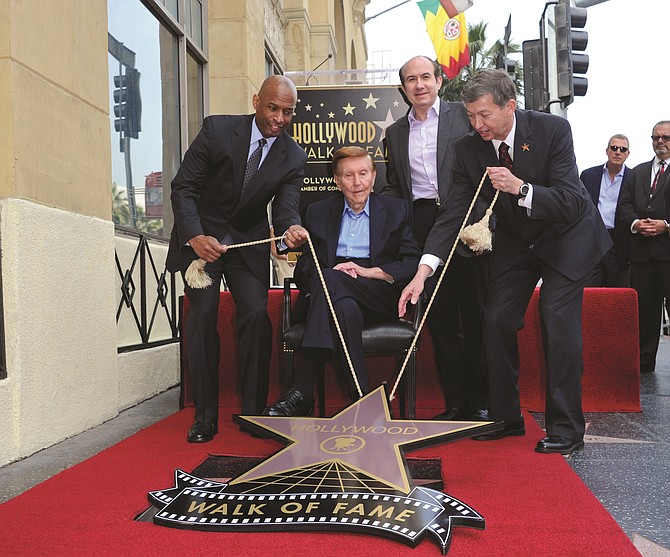 Media titan Sumner Redstone, who aggressively parlayed the drive-in theater chain founded by his father into one of the world's biggest entertainment conglomerates, died Aug. 11 at his home Beverly Hills.
He was 97.
Redstone controlled the expansive ViacomCBS Inc. empire, which boasts global brands such as CBS, Paramount, MTV, Nickelodeon, Comedy Central, CMT and Showtime.

His death was announced Aug. 12 by National Amusements Inc., the family-owned holding company that oversees ViacomCBS. The cause of death was not reported, but a person close to the situation told The New York Times that it was not related to Covid-19.
"My father led an extraordinary life that not only shaped entertainment as we know it today but created an incredible family legacy," Shari Redstone, his daughter and the chairwoman of ViacomCBS, said in a statement.
"Through it all, we shared a great love for one another, and he was a wonderful father, grandfather and great-grandfather. I am so proud to be his daughter, and I will miss him always," she added.
The fortunes of her father, who ranked No. 19 on the Business Journal's list of Wealthiest Angelenos in 2019 with a net worth of $3.7 billion, took a significant hit with the decline in ViacomCBS stock.
By the end of July, it was estimated that Redstone's wealth had dropped to $2.4 billion. Redstone owned 80% of National Amusements, whose holdings included beneficial ownership of 80% of ViacomCBS' Class A voting common stock. Shari Redstone is now firmly in control of the company.
CBS Corp. had split from Viacom Inc. in 2006, but the companies were brought back together in a deal overseen by Shari Redstone. Since then, Covid-19 has affected much of the entertainment industry.
ViacomCBS, whose stock had already been struggling, was hit hard by pandemic-driven changes and production shutdowns. National Amusements was affected by theater closures that also hurt the company's online ticketing, bar and restaurant businesses.
Redstone, who was born in Boston, was a legendarily tough and tenacious figure, famous for saying he'd never die.
In 1979, he clung to a third-story ledge outside his hotel room during a fire at Boston's Copley Plaza Hotel. Redstone suffered burns over 40% of his body and underwent multiple skin graft surgeries.
He was also known for his hands-on management style. As chairman of National Amusements, Redstone was so intimately involved in the 400-screen theater chain during the 1980s that employees joked to Channels magazine that he personally hired the ushers.
In 1987, Redstone outbid Viacom management with bank debt, junk bonds and an issue of preferred stock, leveraging $461 million to acquire 83% of the company, which at the time had a market capitalization of nearly $3.4 billion.
For Redstone, the acquisition was about cable systems and TV stations rather than its programming.
"What did I know about MTV?" he quipped in an interview with Channels at the time. "All I knew was that I couldn't stand looking at it."
He referred to Viacom as "the only company I ever fell in love with — and I'm not used to overstatements."
In 1994, Redstone paid $10 billion for Paramount Communications, and in 2000 he bought CBS for $36.5 billion. Six years later, he spun out CBS into a stand-alone company.
Redstone was also known for his difficult, even hostile, remarks about competitors. And inside the company, he could be scathing in public meetings. Nevertheless, turnover was low for the entertainment industry, and when his executives were asked privately how they felt about Redstone, they would say their relationships with him were different.
"He had an obsession with Viacom," said Tom McGrath, who worked for Redstone for 11 years, rising to the post of president at Paramount Enterprises, overseeing Viacom's theme parks, music publishing, licensing and international divisions.
"He loved the company. And the people at the company loved him back," added McGrath, who is now the L.A.-based chairman of Crossroads Live, a global producer and distributor of Broadway-style entertainment. "Always curious. Always challenging. Always pushing you to excellence. It was exhilarating, exciting while he was in charge."
The final phase of Redstone's life was dogged by controversy and lawsuits.
In 2016, following concerns by shareholders over his mental and physical fitness, he resigned as executive chairman at CBS Corp. and as board chairman at Viacom.
In December 2018, a Los Angeles judge declared Redstone mentally incapacitated and in need of a guardian to protect his legal interests, largely due to the efforts of his daughter.
For reprint and licensing requests for this article, CLICK HERE.