LA Airports See Massive Drop in First-Half Traffic
Monday, August 10, 2020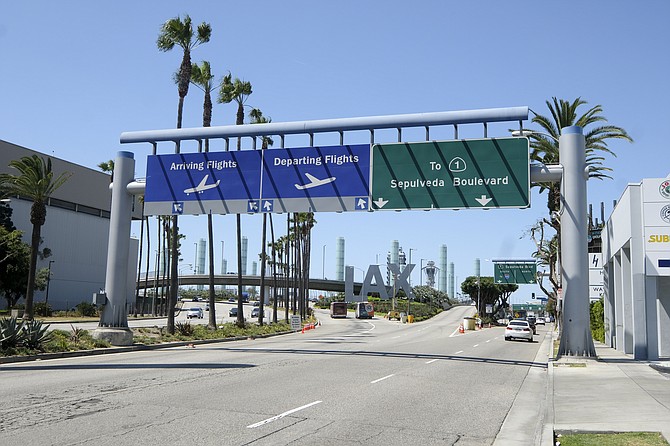 Passenger traffic at the four airports serving Los Angeles County plunged 58% during the first half of 2020, their worst six-month performance on record as Covid-19 slammed the air travel industry.
For the six months ending in June at Los Angeles International, Long Beach, Burbank Hollywood and Ontario International airports, a total of 21.1 million passengers went through terminal gates, down from 50.4 million for the same period last year, according to figures supplied by all four airports.
That's the steepest drop in the history of these commercial airports, and it's substantially bigger than the declines that followed the Sept. 11, 2001, terrorist attacks. In 2001, passenger traffic fell about 10% from 2000 levels, according to historical passenger statistics from the airports.
This year's drop would have been even worse had it not been for relatively robust passenger traffic in January and February, which was roughly on par with the first two months of last year.
After that, the bottom fell out. April was the worst month as the economy and air travel industry were in nearly full lockdown mode. Cumulative April passenger traffic at the four airports fell a whopping 95.9% to 348,621 passengers.
At Long Beach, just 6,300 passengers went through the gates in April. That's roughly 210 passengers per day. When split between arriving and departing passengers, that was less than one full planeload arriving and departing each day.
May was a little better, with passenger traffic at all four airports doubling over April to 696,920, but that was still down 92.2% from May of last year.
June showed more incremental improvement as the total number of passengers approached 1.3 million. But that was still down 86.1% from June 2019.
Concerns about July
LAX, of course, is still the driver of the region's air traffic with the overwhelming majority of all passengers. For the first six months of 2020, passenger counts at LAX were down 58.9% from the same period last year, to a total of 17.7 million.
June passenger totals provided the first significant hope for the airport in months, according to Sean Burton, president of the Los Angeles Board of Airport Commissioners.
"These (June) numbers showed that monthly passenger volume at LAX passed the 1 million mark for the first time since March, continuing what has been a slow but steady recovery from the 65-year low that we reached in April," Burton said in opening remarks at the board's July 30 video meeting.
"However, LAX passenger traffic was still down 87.1% compared to June 2019," Burton said. "As a point of reference, passenger volume in June 2020 was similar to the average month in 1965, so the numbers are staggeringly low in comparison to recent years."
Burton was less optimistic about July, as the nation was coping with a renewed surge in coronavirus cases. He cited Transportation Security Administration statistics showing "an average of 25,755 passengers screened through our LAX checkpoints daily, a decrease of 80.2% versus July of 2019 though an improvement over June by about 7%.
"Unfortunately, after an incremental increase in our passenger numbers these past few months, we have seen passenger numbers level off in the last few weeks," Burton continued. "This is not entirely unexpected as many states, including California, are facing spikes in positive tests as well as an increase in fatalities due to complications from Covid-19."
Jet Blue departs
At Long Beach Airport, June's passenger count of 24,150 was down 92% from June 2019. And first-half 2020 totals were down 56.7% to 742,676 passengers. On top of these drops, the airport had to deal with even more bad news as New York-based air carrier JetBlue Airways Corp. announced July 9 it was leaving the airport entirely as of October and relocating most of its flights to LAX. Just five years ago, JetBlue was the dominant airline carrying more than 80% of all passengers at Long Beach.
Long Beach Airport officials said after Jet Blue's announcement that they expect all of JetBlue's slots to be taken up by other airlines. And, in late July, they announced that Atlanta-based Delta Air Lines Inc. would be resuming service to Salt Lake City this month with two daily flights. That would increase to five daily flights in October.
"We are pleased that Delta will resume some of their flights earlier than expected," Cynthia Guidry, Long Beach Airport director, said in the announcement. "We know the road to recovery for air travel is long, but we are prepared to meet the demand as it grows." 
Meanwhile, at Ontario International Airport, the story has been air cargo — tonnage for the first half of 2020 jumped 18.3% to 431,000 compared to the same period a year earlier.
That was enough to push cumulative air cargo tonnage at the four airports into positive territory for the first six months of 2020 compared to 2019, registering a gain of 2.4%.
Ontario International Airport Authority executives pointed to increased demand from consumers ordering goods online, along with the airport's proximity to huge warehouses in the Inland Empire.
Starting in May, air cargo tonnage at LAX also posted year-over-year gains, nearly wiping out steep losses earlier in the year as factories shut down in China due to Covid-19. For the first six months, air cargo tonnage was only down 2.5% at LAX.
For reprint and licensing requests for this article, CLICK HERE.