Corporate Citizenship & Giving Guide: The Jeffrey Foundation
Custom Content by the Los Angeles Business Journal
Tuesday, November 19, 2019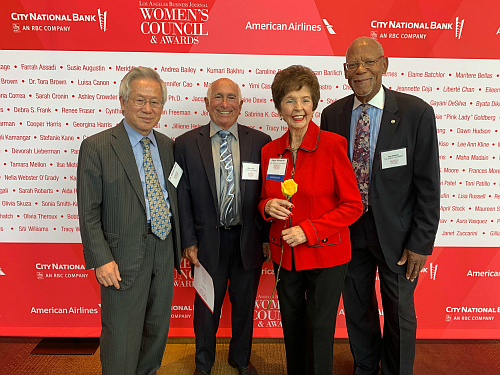 The Jeffrey Foundation:
5470 W. Washington Blvd., Los Angeles, CA 90016
323.965.7536
info@thejeffreyfoundation.org
thejeffreyfoundation.org
Mission Statement
The Jeffrey Foundation is committed to serving children with special needs and their families through its therapeutic education and recreational programs and through its family support services. The challenges of a child with special needs can be insurmountable. The Jeffrey Foundation, through high-quality programming and support services, helps both the child and the family to successfully meet the challenges posed by developmental disabilities, autism, multiple handicaps, poverty, abuse, abandonment and neglect.
Service Area
Located in Service Provider Area (SPA) 6 of Los Angeles County, we serve a 10-mile radius of The Jeffrey Foundation Center.
Fast Facts
What percentage of total revenue goes to cause (after operation expenses)?
85%
What was your greatest community impact in 2019?
Being able to provide our programs to the children and families who need our help the most. Our motto is, "greater fulfillment for children with special needs & their families."
Leadership
Executive Leadership
Alyce Morris Winston
CEO & Founder
Board of Directors
Alyce Morris Winston
The Jeffrey Foundation
Marcia Brickley
MDB Health Choices
Tonia M. Agron
Philanthropist
Joanna Kermani
Philanthropist
Niloo Bahadori
Manufacturers Bank
Warren Finn
Philanthropist
Minas Fournouzian
Forest Lawn
Ben Blakley
Culver City Kiwanis Club
Honorable Diane Watson
Philanthropist
Fundraising Events (or Areas of Funding)
• "Songs for Jeffrey" Fundraiser honoring The Jeffrey Foundation held October 13, 2019 from 2:00pm – 5:00pm and hosted by Joanna and David Kermani, co-hosted and entertainment provided by Tenor of the Americas, Maximo Marcuso
• Annual Harvest Festival held 10/31/19 from 10:00am – 12:00pm and 2:00pm – 4:00pm
• "To Jeffrey with Love" a Wine Tasting and Book Signing Holiday Event featuring Founder and Author, Alyce Morris Winston. Hosted by and held at Cisco Home in Culver City, co-hosted by Suz Landay, Hancock Park Circle of Love Chair on Tuesday, November 19, 2019 from 5:00pm – 7:00pm
• Annual Children's Holiday Party held December 21, 2019 from 1:00pm – 3:00pm held at The Jeffrey Foundation's main campus providing a magical time for children and families of the community along with a special guest appearance by Santa Claus who will be passing out a gift to every child in attendance
Volunteer Opportunities
The Jeffrey Foundation relies on the generous time commitments of our dedicated volunteers. We have local high school, community college, and university students who register to donate their time, gain practicum hours and experience, and assist in increasing our capacity to serve the community. Additionally, the Pepperdine Foster Grandparent Program refers wonderful people of many skills and backgrounds that bring with them decades of experience, care and love. For more information regarding volunteering, contact us at info@thejeffreyfoundation.org and note VOLUNTEER in the subject line.
Giving Opportunities
Here are some great opportunities to make a difference:
• Matching Gifts – For those whose employer will match your charitable donations.
• Legacy Gifts – Include the Jeffrey Foundation in your bequest
• Tributes – Donate in honor or in memory of a loved one.
• Volunteer – Register to help with fundraisers or at the center.
• Organize a Fundraiser – In your community or with your service club or company.
• Give In-Kind Donations – Your time, talent, goods, or gift certificates.
• Join our Business/Advisory Council or become an Active Board Member.
• Become a Member of our "Circle of Love" Annual Membership is $200.
• Scholarships – Provide a scholarship for a child with special needs for our Summer, Fall, Winter, or Spring Extended Day Camps.
Goals for 2020
• Continue working on launching The Jeffrey Foundation's Work Based Learning and Community Integration Program for our young adult clients.
• Expand and upgrade our facilities to provide the best learning environment for our children.
• Secure continuous funding for our "Making Parenting a Pleasure" program to ensure that parents can continue to participate in family enrichment programming to improve their community supports, available resources, and parenting skills.
For reprint and licensing requests for this article, CLICK HERE.