MBA Guide: California State University, Northridge - David Nazarian College of Business and Economics
Custom Content by the Los Angeles Business Journal
Friday, May 10, 2019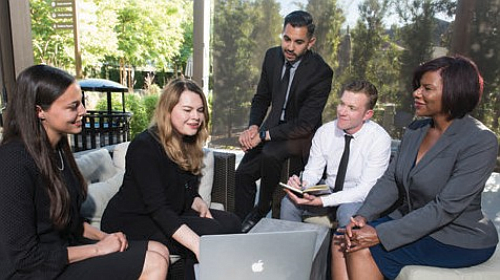 Mid-career professionals improve management and leadership skills, enjoy professional advancement and have more fulfilling careers when they earn an MBA in the part-time evening program at California State University, Northridge's AACSB-accredited David Nazarian College of Business and Economics.
Students develop business acumen in finance, strategy, marketing, operations, economics, human resources and entrepreneurship. Better decision-making results from training in data literacy, analytical reasoning and critical thinking. The program cultivates communication and teamwork skills, along with a commitment to ethical, legal and social responsibility – all within the context of global and multicultural awareness.
Graduates describe their highly qualified professors as a highlight of the program, noting their ability to combine academics with real-life applications. Faculty, who are handpicked for excellent teaching, research and business credentials, facilitate active learning by integrating and applying rigorous academic and theoretical training to practical situations. Professors leverage students' business experience, lead their analysis of data and situations in the business world, run business simulations, and engage them in client-based projects. Small class sizes allow each student to engage fully in this process.
A cornerstone of the active-learning approach in the students' last semester is a feasibility study or business plan for a local organization. Students' knowledge, skills and hard work, combined with a commitment of college resources, generate high-quality outcomes in this integrative learning experience that also builds economic prosperity and societal well-being in the community. Each team has its own faculty advisor. Workshops guide their progress and a dedicated business librarian supports them.
Nazarian MBA students are a diverse group of intelligent and accomplished professionals from the San Fernando Valley, Los Angeles County and Ventura County regions. Recently ranked by The Wall Street Journal as among the top three universities nationwide for diversity, few MBA programs can equal CSUN's in graduating MBAs prepared to work and lead in a diverse and global business environment.
Part-time, flexible MBA. Classes are held Monday through Thursday from 7:00 to 10:00 p.m., and occasional Saturdays. Students typically take two courses per semester. Those with an undergraduate degree in business, or who have earned our one-year Graduate Certificate in Business Administration (GCBA), usually complete 33 units of core and elective MBA courses in two years, including summer. Students without an undergraduate degree in business or GCBA typically complete 15 units of foundation-level classes in the prior year. However, completion times range from one to five years, as students reduce or accelerate their academic load commensurate with career and family demands.
For reprint and licensing requests for this article, CLICK HERE.
Prev Next