MBA Guide: California Lutheran University - School of Management
Custom Content by the Los Angeles Business Journal
Friday, May 10, 2019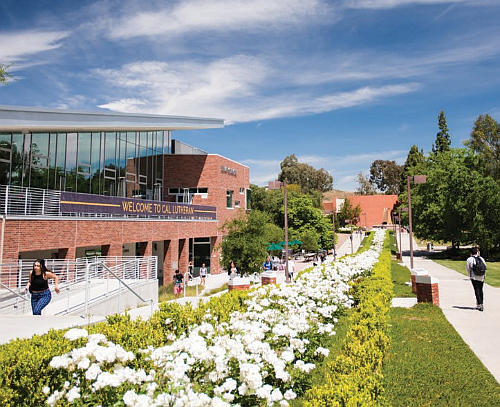 People who want to give themselves an edge in the business world have a variety of programs to choose from at California Lutheran University.
The Executive MBA, launched in 2016, is an accelerated weekend-based program designed for busy managers and leaders of corporate and nonprofit organizations who want to enhance their ability to drive globally sustainable business transformations.
The curriculum is interdisciplinary, experience-driven, and organized around five key areas: Leading Operations; Managing Processes; Creating and Leading +Business Strategy, as well as Developing People/ Talent. Classes are offered online and over weekends on the main campus in Thousand Oaks. The program can be completed in 18 months.
The university also offers a traditional MBA for students who require additional scheduling flexibility or those with limited work experience as well as an online MBA and an MBA in financial planning. With evening and weekend classes offered online and in Thousand Oaks as well as at the centers in Woodland Hills, Westlake Village and Oxnard, programs offer flexibility for students to create schedules and pursue goals that work best for them. Students can pursue a general MBA or follow specialization tracks in corporate finance, human capital management, international business, information technology management, marketing and entrepreneurship.
Launched in August, 2017, the One Year Master of Science in Management (MSM) provides a way for those who earned bachelor's degrees in non-business areas to gain fundamental business management skills to advance their careers.
Graduate programs in Cal Lutheran's School of Management frequently offer executive-level tours to countries such as China, France, Austria, or the United Kingdom. The university's renowned Center for Entrepreneurship provides service and programming, including the Hub101 incubator, Start-Up Weekends, and the ongoing Entrepreneur Speaker Series, to students and community members. The School also houses the Wall Street Journal-recognized Center for Economic Research and Forecasting (CERF) as well as the Center for Economics of Social Issues (CESI). In addition, the School of Management offers 10 certificates in topics ranging from Supply Chain Management to Financial Planning and Data Analytics.
Students in the School of Management benefit from small class sizes and opportunities to work closely with faculty, engage in experiential learning, and to connect with other professionals from among their peers or our high-level advisory councils and industry partners. Graduates of the Cal Lutheran MBA program work with some of the leading employers in the region.
NAME OF INSTITUTION
California Lutheran University
NAME OF BUSINESS SCHOOL OR PROGRAM
Prev Next
For reprint and licensing requests for this article, CLICK HERE.