Meetings & Events Guide (September 17): Embassy Suites by Hilton – Los Angeles Airport South
Custom Content by the Los Angeles Business Journal
Wednesday, September 19, 2018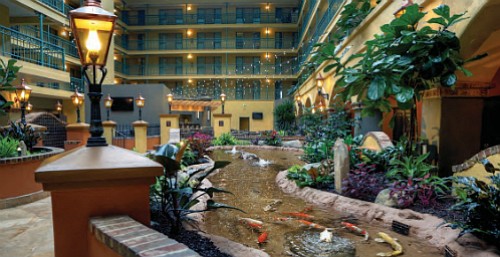 Experience the Difference at Embassy Suites by Hilton – Los Angeles Airport – South is the perfect venue for your small meeting or event. It is minutes from LAX but away from the congestion of Century Boulevard. An ideal location for your attendees nestled in the coastal community of El Segundo, it's the antidote to the crowds and urban sprawl of downtown Los Angeles. It is also adjacent to the 105 freeway with close proximity to the Los Angeles Air Force base and the many defense, aerospace, bio-med and tech companies located in the area.
Spacious two-room suites, free made to order breakfast each morning, complimentary evening reception every evening and free 24 hour transportation to/from LAX are among the highlights of this outstanding and accessible venue. The Mediterranean inspired atrium and courtyards with lush landscapes, waterscapes and a koi pond further sets the location apart from a typical hotel.
With 10,000 square feet of flexible meeting space and high quality, creative menus, Embassy Suites can deliver an outstanding experience whether for a corporate meeting, retreat, or social event. The personable and dedicated team provides an unparalleled level of service, including an on-site Conference Services Coordinator to take care of all the details. Free daytime parking for meeting and event attendees is yet another value add that is hard to beat!
As for the surrounding region, your overnight guests are sure to enjoy the quaint and friendly community of El Segundo. The venue is minutes to the beach and a plethora of award-winning restaurants and trendy shops nearby.
Embassy Suites offers competitive group rates and can provide an array of team building and other fun experiences for your attendees. Also available are unique excursions to area attractions and nearby beaches, including scavenger hunts and building sand castles! The expert Group & Meeting Specialists will be your partners to ensure that your event is a success.
The Hilton Honors Event Planner Program is another plus when you hold qualifying events such as meetings, conferences, weddings and other special occasions.
Please contact Marvin Navor at (310) 469- 0022 or via Marvin.Navor@hilton.com so the Embassy Suites team can arrange a tour and review the many options that can make your next meeting or event a fun and a memorable experience.
For more information, visit laxsouth.embassysuites.com.
For reprint and licensing requests for this article, CLICK HERE.