2018 Intellectual Property & Licensing Law Roundtable: What Businesses Need to Know
Custom Content by the Los Angeles Business Journal
Tuesday, November 27, 2018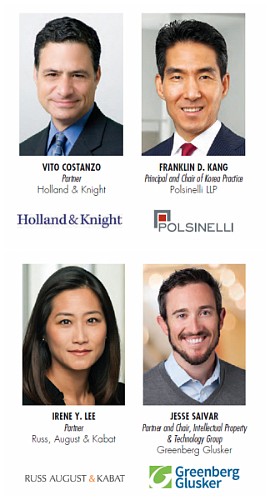 What are some of the most meaningful recent changes to the intellectual property law landscape?
LEE: After a long and arduous journey, the Music Modernization Act (MMA) passed the House and the Senate, both unanimously, and was signed into law by the President just a few weeks before the November election. The MMA is designed to reflect the current music industry landscape: according to the 2018 Music Consumer Insight Report, released by the International Federation of the Phonographic Industry (IFPI) in October 2018, 85% of music consumers aged 16 - 64 listen to music through on-demand streaming services like Pandora, Apple Music, and Spotify. Under the MMA, we should see more transparency in tracking copies of music that are streamed and downloaded, and it promises to streamline the process of determining, collecting, and distributing royalties from digital services providers to songwriters and artists. (Currently, songwriters' royalties are determined based off of a law created in 1909.) Under the MMA, songwriters should be better able to negotiate fairly and avoid situations where streaming hits make significant revenue but an absurdly low amount goes to the writers and artists.
KANG: Over the past several years, we have seen a significant reduction in the number of patent suits being filed in district courts, due in part to legal changes and conditions that have made it more challenging for patentees to successfully assert patent infringement claims. For example, it has become increasingly more difficult to file patent infringement suits in the Eastern District of Texas (a patentee-friendly venue) without a substantial risk of venue transfer. In addition, there is a greater risk of cost-shifting in cases where the patentee loses the case. Lastly, the party asserting infringement is very likely to be faced with an inter partes review (IPR) petition, which, if instituted, can increase the likelihood of the asserted patent being invalidated by the Patent Trial and Appeal Board (PTAB), increase litigation costs for the patentee, and delay the time to trial if a stay pending IPR is granted. The reduction of patent suits has in turn increased price competition among law firms, making clients and firms rethink traditional billable hour fee arrangements in favor of alternative fee arrangements (AFAs).
Is there pending new IP legislation coming soon? If so, does this stand to help or hinder existing businesses?
SAIVAR: There is a privacy law storm cloud on the horizon - it's dark and it's descending upon us quickly. Businesses throughout the country need to start preparing themselves now for the California Consumer Privacy Act (CCPA) taking effect in 2020. Many companies are still trying to make sense of and comply with Europe's recent General Data Protection Regulation (GDPR). Unfortunately, I believe the CCPA is going to prove to be a bigger burden on US businesses than the GDPR has been. The GDPR only affects businesses dealing with European citizens; the CCPA can affect any business meeting certain criteria that has California consumers (which, presumably, is any national business). In addition to affecting a broader range of companies, some of the requirements under the CCPA are more burdensome than those in the GDPR while other aspects of the law are vague enough to create uncertainties. California is attempting to position itself as a global leader in protecting the data of its residents. While most people seem to feel that increased data security is a good thing, California is essentially forcing businesses around the U.S. to go from relatively lax laws on data security one day to some of the most comprehensive laws in the world the next. While consumers may benefit from the increased protections of the CCPA, I fear that lawyers may end up being the biggest beneficiaries.
Prev Next
For reprint and licensing requests for this article, CLICK HERE.