Snack Attack: SnackNation Uses Data-Driven Approach to Promote Growth
Fastest-Growing Private Companies 2018
Friday, November 9, 2018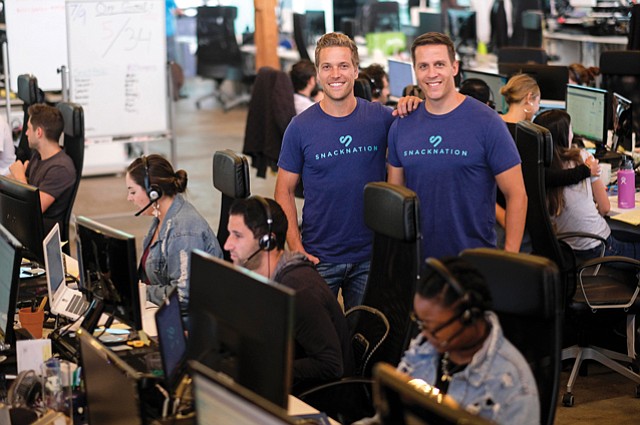 Around 50 new snack brands are incorporated into Culver City-based SnackNation's supply chain every month, creating a situation that could easily be chaotic if it weren't for the company's data and analytics software.

Co-founder Sean Kelly even bills SnackNation as a "data and analytics insights company disguised as an online snack marketplace."

The company made its debut this year and is ranked No. 3 on the Business Journal's list of fastest-growing companies, reporting $16.9 million in 2017 revenue, up 831 percent from the $1.8 million in sales the company reported in 2015. The company was co-founded by Kelly and Andy Mackensen in 2014 and raised this summer a $12 million Series B round led by 3L Capital Holding.
SnackNation, despite its name, does not make any of its own snacks, instead aggregating customized snack boxes it delivers to its customers, which include both individual and corporate accounts. The company uses an e-commerce marketplace to take orders. Consumers can select varying-sized boxes filled with assorted healthy snacks, including offerings from Vegan Rob's, Clif Bar & Co. and Provisionaire & Co., which does business as Field Trip Jerky.
It counts 500 L.A.-based companies as clients out of the 5,000 offices it serves, including Culver City-based Sony Pictures Entertainment Inc. Other office clients include Microsoft Corp. and The Rocket Science Group, which operates email marketing service MailChimp. SnackNation also has thousands of home clients, according to Kelly. Boxes range from $99 to $350 per month for corporate clients, and the individuals pay anywhere from $5 to $20 monthly.
Data insights
The company's end user customers aren't its only clients, however. With the recent acquisition of San Mateo-based EdgiLife Media Inc. and its Love With Food brand, SnackNation has doubled down on its data analytics offerings to its other customer base – emerging brands.
"We have a proprietary recommendation engine behind our snack curation," Kelly said. "We measure everything from customers who prefer sweet, savory, combo, crunchy, soft snacks, to rotation preferences and payments preferences. We have all these data and insights into our clientele and market."
The data that informs the "curation" as the company calls it, not only helps it create different types of boxes for customers but also provides brands with useful data on their products.
Food brands' entry point to SnackNation comes via its tasting panel where a group of 12 company employees sample anywhere between 100 to 200 new snacks per month and select approximately 50 new ones that are put into rotation. On the logistics end, things can get complicated.
For reprint and licensing requests for this article, CLICK HERE.
Prev Next