Blazing Trail: Fast-Casual Restaurant Chain Blaze Pizza Continues Quick Rise
Fastest-Growing Private Companies 2018
Friday, November 9, 2018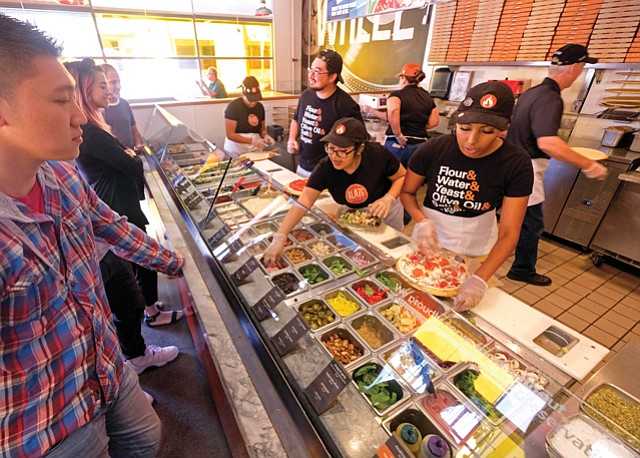 Blaze Pizza tweeted to its 56,000 followers Oct. 20 that it was selling a "special King James-inspired pie," in homage of LeBron James' Los Angeles Lakers home debut, with a commemorative pizza box replete with a crown and James's jersey number, 23.
A few minutes later, James retweeted Blaze's announcement to the basketball star's own Twitter followers – which number 41.9 million.
James' use of his mammoth social media presence to promote Blaze plus his reported 10 percent company stake, is one of a few reasons industry experts put forth for the fast-casual restaurant's rapid growth, explanations that also include the company's selection of franchisee operators and store location strategy.
Founded in 2011 by Rick and Elise Wetzel, who also created Wetzel's Pretzels, and headed by Chief Executive Jim Mizes since 2016, Blaze has become a regular feature on the Business Journal's list of fastest-growing private companies.
It placed No. 24 in the 2018 tally with a self-reported 178 percent growth in yearly revenue between 2015 and 2017.
The 7-year-old, Pasadena-headquartered restaurant chain was previously ranked No. 1 on the 2016 list, growing its revenue to $32.8 million in 2015 from $800,000 in 2012.
Blaze subsequently jumped to $185 million in 2016 revenue and $279 million in 2017 sales.
The pizza chain has expanded by other measures, including growing to 8,000 employees in 2017 from about 4,000 employees in 2015. Approximately 1,000 company employees work in Los Angeles County.
Pizza popularity
Blaze's growth is part of a trend toward fast-casual dining.
According to the Port Washington, N.Y.-based market research company NPD Group Inc., the total number of restaurants dropped 2 percent nationally to 647,000 in 2017.
Restaurants, however, that NPD Group categorized as fast-casual climbed 4 percent during the same time period, to a total of 25,100.
"The growth that is happening in the restaurant business is occurring with fast-casual restaurants," said Sharokina Shams, spokeswoman for the California Restaurant Association. "These restaurants are popular from the practical standpoint."
In fast-casual, the customer comes in and goes through an assembly line in which usually two workers prepare a sandwich, burrito, or in Blaze's case, thin-crust personal pan pizza.
A Blaze personal pizza at the franchise's Mid-Wilshire location cost $8.95 before tax, and during a recent mid-afternoon trip to the locale, took five minutes to assemble and then cook.
Fast-casual pizza chains, including Blaze, are different from fast-food pizza mainstays such as Domino's Pizza Inc. because they provide a "decent dine-in experience," said Salar Sheik, of the West Side's Savory Hospitality Consulting.
Blaze's growth, however, cannot be solely attributed to riding the fast-casual wave as it is one of a handful of recently formed fast-casual pizza chains.
The Wetzels created Blaze in 2011, and in the same year, 800 Degrees Pizza was founded on Los Angeles' West Side, Pieology Pizzeria got its start in Orange County, and Pie Five Pizza Co. Inc. was launched in Austin, Texas.
One year later, Pizza Rev, owned by Pie Squared Holdings, opened its first location in Northridge.
Each of these pizza chains has expanded to some extent; 800 Degrees had 50 restaurant locations as of 2017, and Pizza Rev operated 26 restaurants, according to the Business Journal's yearly tabulation of top Los Angeles County franchisers.
However, those restaurants' growth is dwarfed by Blaze, which had 241 locations by 2017, and 40 in L.A. County alone.
Expansion plans
Mizes said in an interview that the store now has locations in 42 states, and it has expanded internationally to Canada, Saudi Arabia, Kuwait and Bahrain.
"A real key to our success," according to Mizes, "is having partners that are well-capitalized."
Blaze has aggressively sought franchisee operators with prior experience in fast-casual or fast-food dining.
"They are focused on getting experienced managers who have operated other franchises as opposed to getting people from culinary school," Sheik said.
For example, Blaze has worked with Larry Levy, of Chicago-based Levy Restaurants Inc., whose work includes food services at facilities from downtown's Staples Center to Walt Disney World.
Levy operates Blaze restaurants in Chicago and Miami, and Blaze has also opened operations at the Staples Center and Walt Disney World Resort.
Blaze has also quickly expanded onto college campuses, said Mizes, who was formerly Blaze's chief financial officer and previously worked for Noah's Bagels Inc.
"College kids love pizza, especially late at night," Mizes said, noting that about 10 percent of Blaze's locations are on college campuses.
Another factor for success, Mizes noted, has, indeed, been James who bought into the company in 2012 at about the same time James' frequent business partner, Boston Red Sox Chairman Tom Werner, also invested in Blaze.

"LeBron was very important," Mizes said. "Millions of people follow his every word and every tweet."
James stepped down from his role endorsing McDonald's Corp. in 2015, and his only restaurant pitches − including tweets, Instagram posts, and other promotions − are now for Blaze.
Customers, for instance, waited hours in line at Blaze's Culver City location this July amid rumors James would show up at the restaurant. James never showed, but the customers did get free pizzas to celebrate him signing with the Lakers a week prior.
Mizes declined to state what percentage of the company is owned by James, Werner, the Wetzels or other investors, including movie producer John Davis and journalist Maria Shriver.
Multiple reports stated that James owns 10 percent of the company, and an October 2017 ESPN.com story valued Blaze at $250 million.
Mizes would not confirm the valuation. If the figure is correct, it would mean Blaze is substantively far away from an initial public offering.
Mizes said the company would go public after its valuation hits $1 billion.
The restaurateur said Blaze has no particular future plans, besides more international growth, including potential expansion to China.
"We only know one speed," Mizes said, "And that is very fast."
For reprint and licensing requests for this article, CLICK HERE.