Blazing Trail: Fast-Casual Restaurant Chain Blaze Pizza Continues Quick Rise
Fastest-Growing Private Companies 2018
Friday, November 9, 2018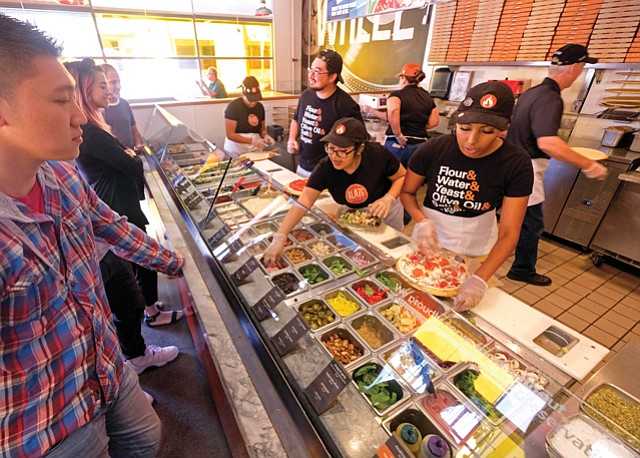 Blaze Pizza tweeted to its 56,000 followers Oct. 20 that it was selling a "special King James-inspired pie," in homage of LeBron James' Los Angeles Lakers home debut, with a commemorative pizza box replete with a crown and James's jersey number, 23.
A few minutes later, James retweeted Blaze's announcement to the basketball star's own Twitter followers – which number 41.9 million.
James' use of his mammoth social media presence to promote Blaze plus his reported 10 percent company stake, is one of a few reasons industry experts put forth for the fast-casual restaurant's rapid growth, explanations that also include the company's selection of franchisee operators and store location strategy.
Founded in 2011 by Rick and Elise Wetzel, who also created Wetzel's Pretzels, and headed by Chief Executive Jim Mizes since 2016, Blaze has become a regular feature on the Business Journal's list of fastest-growing private companies.
It placed No. 24 in the 2018 tally with a self-reported 178 percent growth in yearly revenue between 2015 and 2017.
The 7-year-old, Pasadena-headquartered restaurant chain was previously ranked No. 1 on the 2016 list, growing its revenue to $32.8 million in 2015 from $800,000 in 2012.
Blaze subsequently jumped to $185 million in 2016 revenue and $279 million in 2017 sales.
The pizza chain has expanded by other measures, including growing to 8,000 employees in 2017 from about 4,000 employees in 2015. Approximately 1,000 company employees work in Los Angeles County.
Pizza popularity
Blaze's growth is part of a trend toward fast-casual dining.
According to the Port Washington, N.Y.-based market research company NPD Group Inc., the total number of restaurants dropped 2 percent nationally to 647,000 in 2017.
Restaurants, however, that NPD Group categorized as fast-casual climbed 4 percent during the same time period, to a total of 25,100.
"The growth that is happening in the restaurant business is occurring with fast-casual restaurants," said Sharokina Shams, spokeswoman for the California Restaurant Association. "These restaurants are popular from the practical standpoint."
In fast-casual, the customer comes in and goes through an assembly line in which usually two workers prepare a sandwich, burrito, or in Blaze's case, thin-crust personal pan pizza.
A Blaze personal pizza at the franchise's Mid-Wilshire location cost $8.95 before tax, and during a recent mid-afternoon trip to the locale, took five minutes to assemble and then cook.
Fast-casual pizza chains, including Blaze, are different from fast-food pizza mainstays such as Domino's Pizza Inc. because they provide a "decent dine-in experience," said Salar Sheik, of the West Side's Savory Hospitality Consulting.
Prev Next
For reprint and licensing requests for this article, CLICK HERE.