Economic Forecast & Trends 2018: Southern California Economy Ends 2017 on a Roll
Custom Content by the Los Angeles Business Journal
Monday, January 29, 2018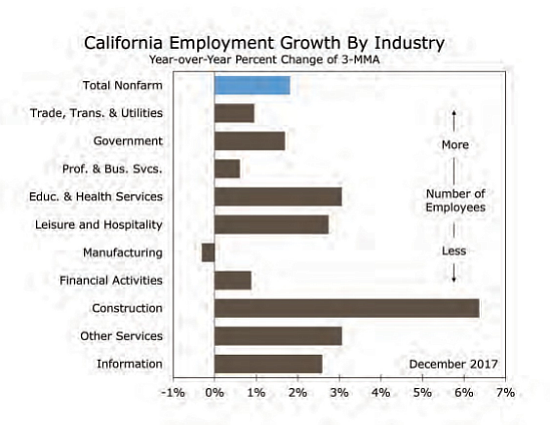 Largest four-month jobs gain since data series began in 1990
California's economy ended 2017 on a bit of a roll, with Southern California leading the way.
"The mix of California job gains in last four months of 2017 has been especially good news for Southern California businesses, where logistics, tourism, and construction play an outsized role," said Stender Sweeney, executive vice president and division manager for Wells Fargo Middle Market Banking in the Greater Los Angeles market.
Los Angeles added 28,600 jobs, while Orange County added 23,700 jobs. San Diego did not see the surge in hiring that greater Los Angeles did, adding just 7,600 jobs over the four-month stretch. That gain, however, is consistent with growth over the past year. Ventura Country posted a slight drop in employment over the past four months, although hiring remains up solidly year-to-year.
Statewide, nonfarm employment increased by 52,700 jobs in December, and revised figures now put November's gain at 53,700 jobs. The prior two months were not too shabby either, with 45,400 jobs added in October and 50,300 jobs in September.
The 202,100 jobs added in California over the past four months mark the strongest run of job growth for California since a consistent series of seasonally adjusted data were put together back in 1990.
The Golden State's unemployment rate has tumbled 0.8 percentage points over this period to 4.3 percent, with most of that drop occurring in just the past two months. With the most recent drop, California's unemployment rate has set a new record low, going back to when the current series began in 1976.
The Golden State's jobless rate still remains slightly above the national rate, however; something that has been in place ever since the Cold War ended, and the state's large defense industry began to downsize.
The late year 2017 surge in hiring was broad-based.
"Most California industries added jobs during the last four months of the year," said Sweeney, who is based in downtown L.A. "Employment was up across nearly all of the state's major metropolitan areas, too. The leisure and hospitality industry is a notable standout, adding more than 47,000 jobs."
Other notable gainers include transportation and warehousing, construction, and the information sector, all of which added jobs in significantly larger proportion relative to their employment base.
Despite the rash of natural disasters that hit the state over the past few months, California's labor market has continued to put up stellar numbers. The state has seen its strongest run of job growth over the past four months going back at least to 1990, and the unemployment rate has fallen to a modern era low.
For reprint and licensing requests for this article, CLICK HERE.
Prev Next