Lawyers Reap Prop. 65's Rewards
Special Report: Toxic Prop
Monday, May 13, 2013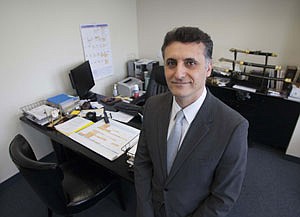 Reuben Yeroushalmi wakes up about 5 a.m. each day and spends the next 15 hours on a mission that enrages businesses: threatening to sue manufacturers for not warning of toxic substances in their products.
At his Beverly Hills office, he sorts through findings from a team of investigators who try to identify lead and phthalate in household products such as baby sandals and headphones. He has the results confirmed at an independent lab, then, because the product was not emblazoned with a warning label, he fires off a legal notice to the offending product's manufacturer. The business can pay a penalty to the state or fight a lawsuit from Yeroushalmi. But many of the businesses simply pay Yeroushalmi's firm to withdraw the lawsuit, and come into compliance by including a label or by removing the chemicals.
His actions have led some to call him a shakedown artist and a bounty hunter. Certainly he has been successful. Between 2008 and 2011, Yeroushalmi's main client, a local organization called Consumer Advocacy Group, won 85 settlements totaling $4.3 million, according to state records. Of that amount, 90 percent – about $970,000 a year – was for attorneys' fees.
The 45-year-old said he deserves to be paid for his work protecting consumers from dangerous chemicals and rejects criticisms of his niche in the legal industry.
"We're doing something for the public," he said. "I'm proud of making money this way."
Yeroushalmi is one of a small group of lawyers in California – including three or four active law firms in Los Angeles – who extract hundreds of settlements a year from manufacturers, distributors and retailers for violations of Proposition 65, the Safe Drinking Water and Toxic Enforcement Act of 1986. The law states that consumers must be warned when exposed to certain levels of toxic substances.
Under Proposition 65, civil penalties can reach up to $2,500 a day for each day of the violation. If such a penalty is paid, 75 percent is paid to the state's Office of Environmental Health Hazards Assessment and 25 percent to the plaintiff. But instead, the citizen plaintiffs often demand a payment to them in lieu of a penalty so they do not have to split money with the state. Critics point out that these settlement payments don't benefit the state or taxpayers, just the lawyers and the "citizen plaintiffs," which appear to work in concert with the lawyers.
Altogether, a couple dozen law firms in California have won 1,022 settlements totaling $62 million between 2008 and 2011, with each settlement averaging $61,000, according to records at the Attorney General's Office. Of that amount, 69 percent has gone to attorneys' fees, prompting criticism that attorneys are abusing the law for compensation.
"A cottage industry of attorneys has popped up," said Tom Scott, executive director of California Citizens Against Lawsuit Abuse. "It's not about the environment, it's not about safe drinking water, it's not about toxins, it's about money. … This makes ADA (lawsuits) look like a tea party when you look at the level of settlements."
ADA lawsuits – which deal with violations of the Americans With Disabilities Act – were similarly numerous until a state crackdown late last year.
But several attorneys interviewed by the Business Journal defended their practices. They say that it's costly to bring such cases and that there's nothing wrong with making money on work that protects consumers from harm. They also say that in many settlements, they are able to force manufacturers to remove toxic substances from their products.
"Some companies have decided to take the gambit that, 'We don't want to have a warning on our label because it will hurt our sales,'" said Daniel Greenbaum, an attorney in Sherman Oaks. "Consumers deserve to know."
Even within the small niche of Proposition 65 work, attorneys have different methods and approaches.
There are more than 900 chemicals regulated by the law, some of which consumers come in contact with daily: Some attorneys have targeted coffee vendors for failing to warn of the dangers of acrylamide, a naturally occurring substance in coffee. One Pasadena attorney, Miguel Custodio Jr., has filed scores of legal notices to restaurants and breweries for failing to warn of the adverse health effects of alcohol. (See related article that begins on page 1.) He did not respond to repeated requests for comment.
Identifying products
Greenbaum started filing Proposition 65 cases last year and already they account for about 25 percent of his work. He works with his client, an organization called Shefa LMV LLC, to identify products such as shoes and raincoats that are likely to contain toxic substances such as lead. State records show Shefa LMV was registered in February by Greenbaum, who declined to say who was behind the organization other than it was an individual "interested in consumer protection" who approached him last year.
They keep track of the state's changing list of regulated chemicals – once a new chemical is added, businesses have 12 months to post a warning or remove the substance.
"We're always on the lookout," he said. "Every month there are new chemicals listed."
Greenbaum pays workers minimum wage to go to stores and buy products he is targeting. If the items test positive, he sends a 60-day notice to the manufacturer and threatens to sue. The manufacturers are from all over the United States and might not be familiar with Proposition 65.
So far, his settlements have ranged between $5,000 and $50,000, and he has gotten one company to remove the toxic substances from its product.
Yeroushalmi, on the other hand, said the majority of his settlements result in reformulation of a product.
But he also said it's expensive to bring cases. He pays a team of investigators to examine products and sometimes bring him leads. He also employs 10 attorneys in two L.A.-area offices and has the cost of sending as many as 1,000 products a year to an outside lab. Sometimes, he claimed, his overhead can be as much as $100,000 a month, and in some years he has not been profitable.
"It's very expensive, time-consuming and risky to bring these cases," he said. "A lot of people don't find it profitable."
Michael Marcus, an officer of Consumer Advocacy Group, declined to comment.
Yeroushalmi said he would advise Consumer Advocacy Group not to comment because they are involved in so much litigation, adding that he did not believe it was involved in any other environmental work outside of Proposition 65. Its website states its mission is "to act in the interest of the public in pursuit of a clean, healthy, sustainable society by enforcing environmental laws for our maximum protection from dangerous chemicals."
The largest Proposition 65 plaintiffs' law firm, Chanler Group in Berkeley, has a team of 30 investigators who test 50 products a week, and more than 20 attorneys in eight offices. It even buys equipment for preliminary testing use in-house.
In addition to manufacturers, Chanler also has filed legal notices against retailers and distributors.
It has targeted lead in furniture and asbestos fiber in crayons, among other substances. In 2011 alone, it secured 150 Proposition 65 settlements totaling $6.9 million. Of that, $5.8 million, or 84 percent, went toward attorneys' fees. The rest was split between the client and the state.
Firm Managing Attorney Josh Voorhees said the fees were warranted.
"An average reader might think it's too much, but there's a lot of nonmonetary public benefit that is achieved in our clients' settlements," he said.
For example, the settlements typically call for elimination of use of the chemical or a notice to the public, such as a sign or label, disclosing its presence.
Proposed reform
Indeed, the high volume of work and high percentage paid to attorneys has drawn fire. Last week, Gov. Jerry Brown proposed an overhaul of Proposition 65 that would stop "unscrupulous lawyers" by limiting attorneys' fees and requiring more information to support claims before litigation begins.
That followed narrower legislation reforming Proposition 65 introduced this year by Assemblyman Mike Gatto, D-Los Angeles.
Anthony Caso, a law professor at Chapman University, said attorneys' fees were a major problem, along with the system in which lawyers benefit but not the state and its taxpayers.
"The question is: Is anybody checking to make sure that award is reasonable? We don't have a system that does that now," he said. "Businesses aren't going to complain too loudly because they're trying to buy their way out of future litigation."
Voorhees said his firm provides plenty of documentation supporting its fee claims, and that he supported more oversight of attorneys' fees.
Yeroushalmi is against the proposed changes, especially those in Gatto's bill, which would give some businesses such as restaurants 14 days to become compliant without having to pay significant penalties.
He chalked up the reform efforts to a long history of attacks on Proposition 65 attorneys by business interest groups. Yeroushalmi said such attacks discourage other attorneys from specializing in Proposition 65, but vowed to keep going.
"This doesn't faze me," he said.
Related Story: Businesses Seek 'Shakedown' Relief
For reprint and licensing requests for this article, CLICK HERE.