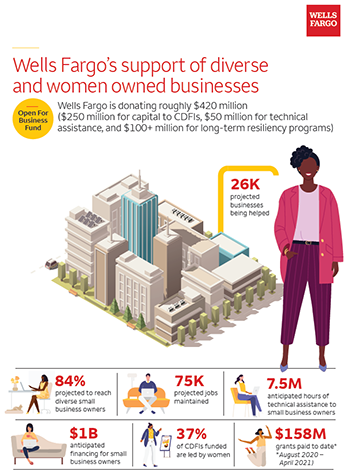 Celebrating the grit and resilience of women small business owners
I came to the United States as a Mexican immigrant at age 12. My life has taken me on many journeys, one of which is having the good fortune to spend my entire banking career at Wells Fargo.
Throughout my career, I've been blessed to have support from several women who had a profound influence on my life: my abuela (grandmother), who was the most influential in shaping my love of family, culture, and traditions; my mother, the most important role model in my life; my daughter, who holds the key to my heart and is the person I am most proud of; my sisters, who support and inspire me every day with their courage and wisdom; and my friends and colleagues, who are there for me in the best and worst of times, help me up when I am down, and celebrate with me when things are looking up.
In addition to my personal and career relationships, I am also blessed to spend time working with women business owners, helping support their goals. Hundreds of thousands of small businesses have had to shift their business models to survive and weather the COVID-19 storm. Women and diverse small businesses continue to be impacted more significantly. Yet by showing grit and resilience, many small businesses have found a way to stay open and continue to be there for the communities they serve while protecting their employees' jobs. Wells Fargo has played an important role in providing the resources to do that. I'd like to highlight a few of these businesses that we continue to support.
Here in Los Angeles, I recently had the opportunity to work with Beatriz Acevedo, the owner of SUMA Wealth. A multigenerational Latina, Beatriz recently launched SUMA Academy, a multi-platform financial education initiative to empower of Latino youth. Through her efforts, and the Wells Fargo Foundation's support, Generation Z and Millennials will receive culturally-relevant learning experiences to help break the cycle of generational wealth inequality.
Working with Beatriz and helping guide her financial needs has been a highlight for me over the past year as she serves as an example for how women can lead and thrive in the post-pandemic world.
It has also been rewarding for me to work closely with Ana Valdez, Executive President of the Latino Donor Collaborative (LDC), a locally based organization dedicated to evidence-based research that helps to elevate the national dialogue about the role of U.S. Latinos. Cofounded by Sol Trujillo and Henry Cisneros 10 years ago, LDC has developed reports and research that highlights the impact of Latinos across industries – including the Latino GDP report supported by Wells Fargo. Combining her business savvy and extensive nonprofit experience, Ana is guiding work that supports her lifelong drive to empower the Latino community.
As women business owners continue to navigate the year ahead, ongoing education and support is critical. The U.S. Small Business Administration (SBA) is a great starting point to learn about federal resources and programs. Traditional lending products such as 7(a) loans, 504 loans, and SBA express loans can provide access to capital such as relief programs like the Paycheck Protection Program. There are also free resources and tools to educate women business-owners on other credit and financing options.
Many local communities have programs available, too. In Long Beach, Zhe Scott, a small business owner, tapped into the Long Beach Economic Partnership's Small Business Resiliency Microgrant Program for a grant, technical assistance, and business coaching, with help from a Wells Fargo donation.
LOOKING AHEAD
As I look ahead, my optimism about opportunities for women-owned business owners and their communities is at an all-time high. They are the heartbeat of our city in so many ways, and their continued success is a big reason why Los Angeles will remain a thriving, dynamic city. I am excited to support your success and help identify opportunities for even more female business owners in the future.
Patty Juarez is head of Diverse Segments, Commercial Banking, Wells Fargo.
The opinions expressed in this document are general in nature and not intended to provide specific advice or recommendations for any individual or association. The opinions of the author do not necessarily reflect those of Wells Fargo Bank, N.A. or any other Wells Fargo entity. © 2021 Wells Fargo Bank, N.A. All rights reserved. Member FDIC. Fargo Bank, N.A. All rights reserved. Member FDIC© 2019 Wells Fargo Bank, N.A. All rights