Health Care Panel & Awards (Recap)
---
August 26, 2020
Free Virtual Event
---
Letter from the Publisher
Josh Schimmels
---
The Los Angeles Business Journal Celebrates the Top Health Leaders of the Region

The Los Angeles Business Journal proudly hosted the annual Health Leadership Awards as a free virtual event on Wednesday, August 26th.

Before launching into the virtual awards ceremony, the event brought together a diverse group of elite health industry insiders for a panel discussion about the state of health care, delivery of care, and the overall impact COVID-19 has had on the health care system and businesses in Southern California. Below are some quotes from the event's esteemed panelists:
---
SPEAKERS
Dr. James Kyle
Medical Director
LA Care Health Plan

"Our greatest challenge as a health plan in a pandemic is to support our providers and hold our provider network together."
---
Dr. Demetria Malloy
Medical Director
Anthem Blue Cross

"Anthem has taken a strategic approach to enhancing its operational infrastructure, increasing its focus on data and promoting innovative clinical programs that increase health equity."
---
Thomas Mone
Chief Executive Officer
OneLegacy

"The generosity of donor families and the compassion, skills, and commitment of our health care colleagues and our team members to make life-saving donations happen despite the pandemic, gives hope to patients in need and our entire community."
---
Denise Pines
President
Medical Board of California

"COVID-19 put health care organizations'responsiveness to the test, and those that had implemented sound strategies fared better. So many of our top health leaders in Southern California were ready."
---
Robert Stone
President & CEO
City of Hope

"Cancer doesn't stop for COVID-19. The lessons we have learned about innovation, speed, partnerships and resilience will have a dramatic impact on research and delivery of care."
---
HONOREES
---
HEALTH SYSTEM EXECUTIVE OF THE YEAR
Winner
John C. Mazziotta, MD - UCLA Health
---
HOSPITAL CEO OR PRESIDENT OF THE YEAR
Winner
Rod Hanners - Keck Medicine of USC
---
HOSPITAL EXECUTIVE OF THE YEAR
Winner
Karen Grimley - UCLA Health
---
TRUSTED ADVISOR OF THE YEAR
Winner
Dr. Miatta Snetter - U.S. VETS Outside the Wire
---
INSURANCE EXECUTIVE OF THE YEAR
Winner
John Baackes - L.A. Care Health Plan
---
HOSPITAL OR MEDICAL CENTER OF THE YEAR
Winner
Cedars-Sinai
---
EXCEPTIONAL COVID-19 RESPONSE AND CARE
Winner
Los Angeles Surge Hospital (LASH)
(Partnership of State of California, Los Angeles County, Dignity Health, Kaiser Permanente)
---
COMMUNITY CLINIC OF THE YEAR
Winner
Kheir Clinic
---
RESEARCH ORGANIZATION OF THE YEAR
Winner
Milken Institute
---
EDUCATIONAL OR INSTITUTIONAL PROGRAM OF THE YEAR
Winner
Keck Medicine of USC's Care for the Caregiver program
---
SERVICE PROVIDER OF THE YEAR
Winner
OneLegacy
---
For the list of Finalists:
click here
---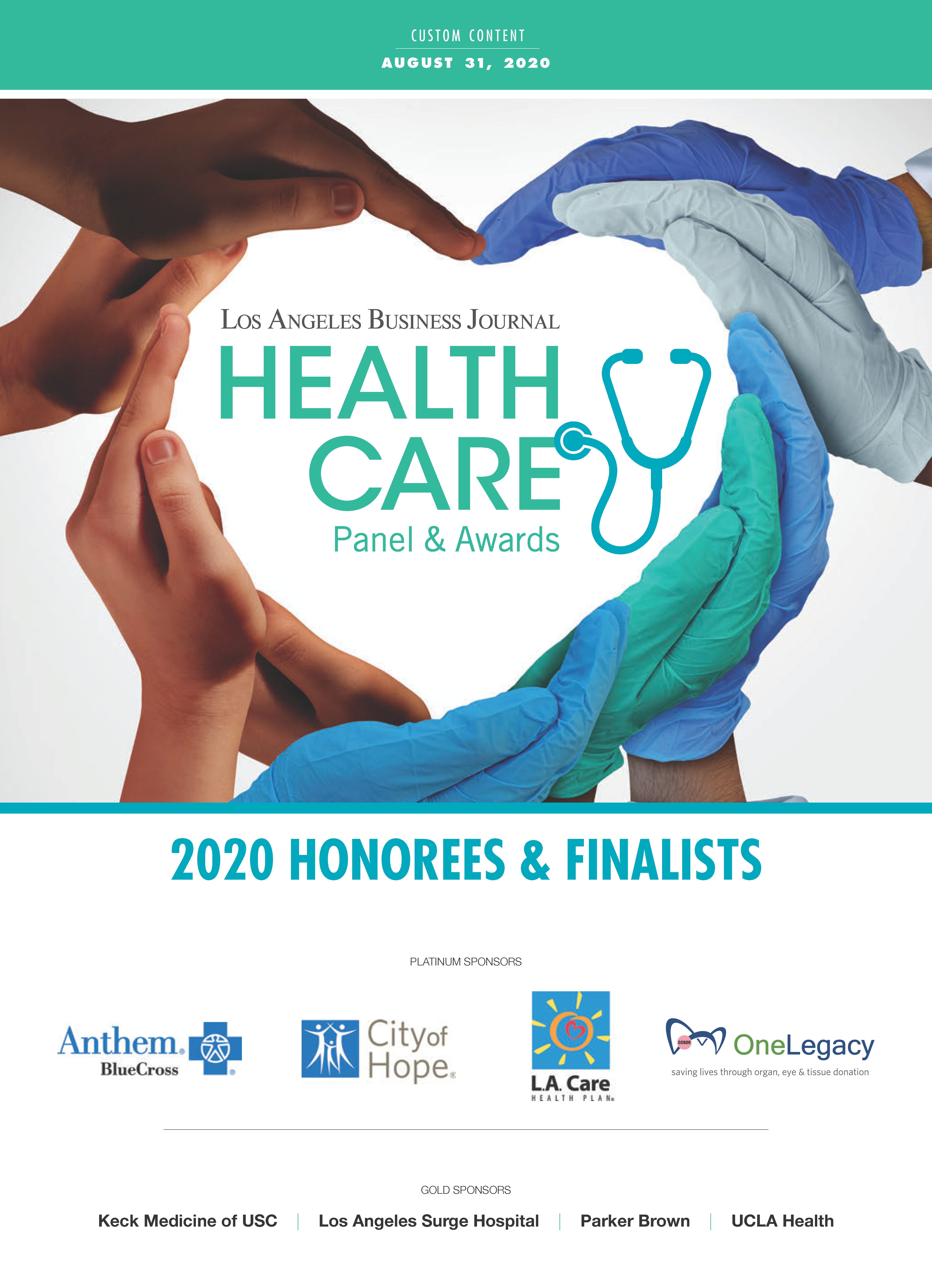 ---
Sponsors
PLATINUM
GOLD
---
If you're interested in sponsoring, speaking or partnership opportunities please call (323) 549-5225 or email us.
---
To return to HCPA main page click here