DineEquity Inc. Hires New Chief Executive as Sales Decline Continues
Thursday, August 10, 2017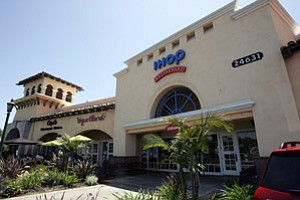 News of continued sales declines at DineEquity Inc.'s restaurants was sweetened with the company's announcement of a new chief executive and a third-quarter stock dividend during its second-quarter earnings call Thursday.
Investors reacted favorably, sending the stock price up more than 4 percent to $38.80 per share at the close of markets from $37.27 Wednesday.
The Glendale-based parent company of IHOP and Applebee's Neighborhood Bar & Grill said that Stephen P. Joyce, chief executive at Rockville, Md.-based Choice Hotels International Inc., would step into the top position Sept. 12. Joyce has been on the DineEquity board of directors since 2012.
"Throughout his three decades of senior leadership in the hospitality and restaurant industries, Steve has accumulated a wealth of experience in franchising, marketing, operations, finance and development," Caroline Nahas, lead director of the DineEquity board, said in a statement. "These skills ideally position him to execute upon and enhance our turnaround initiative for Applebee's and our growth plans for IHOP."
Board director Richard Dahl had been serving as interim chief executive after Julia Stewart stepped down from the position in February amid growing dissatisfaction among investors and franchisees over the company's performance.
The company's board of directors also declared a third-quarter cash dividend of $0.97 per share of common stock, payable on Oct. 6.
However, same-restaurant sales at domestic IHOP and Applebee's locations both declined this quarter, prompting the company to revise its expectations for both brands. Domestic same-restaurant sales at IHOP declined 2.6 percent, while those at Applebee's dipped 6.2 percent over the past quarter.
The company now predicts that IHOP's same-restaurant sales will decline 1 percent to 3 percent this fiscal year, compared to its previous expectations of sales remaining flat or increasing up to 3 percent. It expects same-restaurant sales at Applebee's to decline 6 percent to 8 percent, compared to its previous expectation of a decline of 4 percent to 8 percent.
Caroline Anderson is a staff reporter covering restaurants, retail and hospitality. She can be reached at canderson@labusinessjournal.com.
For reprint and licensing requests for this article, CLICK HERE.