Facebook Sending Message to Snapchat
INTERNET: Social media giant vies with upstart for millennials.
Friday, October 21, 2016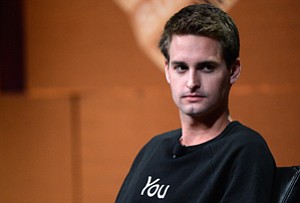 If you can't buy it, you can always try building it yourself.
Three years after Facebook Inc.'s $3 billion acquisition offer for Snapchat was rejected, the Menlo Park social network is busily trying to reverse-engineer its rival one feature at a time. And it has seen some success.
Facebook's Instagram platform earlier this month announced that its photo and video slide-show feature called Stories – a clone of Snapchat's feature of the same name launched in 2013 – had grown to more than 100 million daily active viewers in just two months. Facebook has also started testing a similar feature within its Messenger app in Poland and Australia.
Facebook's effort to reconstruct Snapchat's most appealing feature comes at a critical time for Venice-based Snap Inc., parent of the ephemeral messaging and content app. The company, helmed by Chief Executive Evan Spiegel, is reportedly eyeing a March initial public offering at a $25 billion valuation. That sum is based largely on the perceived worth of the app's youthful audience, which is enticing to advertisers. In September, it was reported that Snapchat had 150 million daily active users; the company said in March that about 23 percent of its monthly active users fell between the ages of 13 and 18.
Yet while Snapchat has become the vanguard of the social media scene, the threat posed by Facebook (market cap $377 billion) cannot be overlooked.
Instagram's Stories feature is a clear attempt to go after Snapchat's youthful market, and Facebook hasn't stopped there. It updated its WhatsApp messaging app this month to allow users to share drawings and cartoon figures with one another – again, something Snapchat did first.
While it has not yet started monetizing these features, Facebook sees value in younger users not only for their present-day advertising potential but also because it hopes to keep them as active users for years to come, a proposition Snapchat has not yet established.
"Copying a lot of Snapchat features is not so much them trying to bury Snapchat, but (Facebook) can see the writing on the wall," Will Thompson, associate director of New York digital agency Giant Spoon, said of Facebook's efforts. He noted that Snapchat's functionality has become favorite way for users to share video content. "There's no shame in blatantly copying something that's obviously going to be the future of how we consume content."
The short-term impact is clear, too: Snapchat is projected to generate $367 million in advertising revenue this year and nearly $1 billion in 2017, according to a report by eMarketer.
For reprint and licensing requests for this article, CLICK HERE.
Prev Next