Spruce Goose Hangar in Playa Vista Sells to Japanese Investor
Originally published December 22, 2016 at 4:36 p.m., updated December 23, 2016 at 10:55 a.m.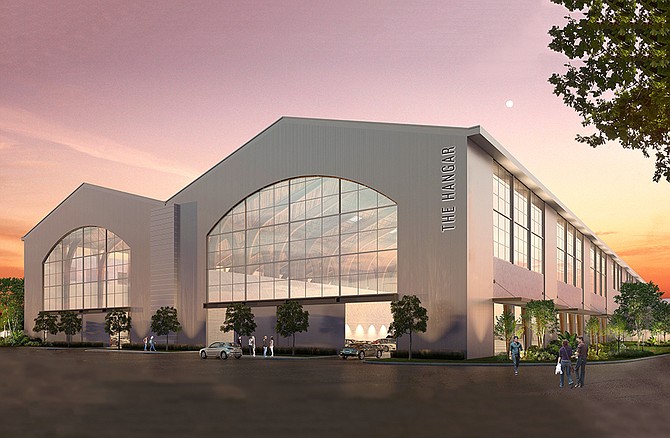 A Japanese investor has swooped into Playa Vista, purchasing the former Spruce Goose hangar that is leased to Google.
Holliday Fenoglio Fowler, the firm which represented the sellers, confirmed the sale had closed in a Thursday press release.
"It's a long-term, cash-flow play," said John Crump of Holliday Fenoglio Fowler, who represented sellers Ratkovich Co. and Penwood Real Estate Investment Management. "With the world-renowned tenant that we have there, there was interest from all parts of the globe."
Crump did not disclose the price or buyer's name. The buyer was represented by EGW Asset Management Inc., a real estate services firm based in Tokyo, according to the press release. Representatives at Ratkovich and Penwood did not respond to requests for comment, and a deed recording the sale has not yet become publicly available.
The value of the wooden hangar – which contains two sections measuring 750 feet by 100 feet under a roof peaking at 72 feet – is difficult to estimate, given that it is still essentially a raw shell. Google is at work on renovations that will eventually create 418,600 square feet of office space on three floors and a mezzanine, according to HFF's marketing materials.
The site sold as part of Hercules Campus West with a total of 358,000 square feet. If compared with other Playa Vista offices that have recently sold for values ranging from $740 to $840 a square foot, the property could potentially land a $300 million sale.
Crump said the property's appeal is connected both to its history, as the site where Howard Hughes built an enormous cargo plane in the 1940s, and to its tenant, which will promise years of reliable rent income.
"It was a very iconic property, with an investment-grade credit tenant," Crump said.
Google has the option to buy the hangar at the end of its lease, which is good for 16 years with three five-year options to renew. The tech giant also owns 12 acres of land next door, but has not yet announced development plans.
The Real Deal first reported that the parties were in advanced talks.