Property Owner May Pull Plug on Tech Mainstay
REAL ESTATE: Landlord says parties, late rent are grounds for eviction.
Monday, May 19, 2014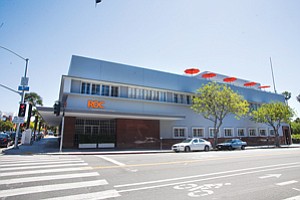 The facility attracted a range of tech and media companies, including Valley Girl Inc. and CliqueMe as well as support businesses. Downtown L.A. law firm Sheppard Mullin Richter & Hampton took a room there in order to provide legal services for startups; StartEngine moved in last year.
According to court documents, ROC agreed to pay a base monthly rent of $152,719, or $3.45 a square foot per month. It also agreed to pay additional costs including maintenance, parking, landscaping, taxes and other expenses.
Hudson Pacific, a major local landlord with a commercial portfolio of 6.2 million square feet, claims ROC fell behind on $436,000 in rent for the period stretching from last June to this February. It also objected to its alleged use of the patio for gatherings, and claimed that ROC was hosting events – large parties, wedding receptions and pet adoptions – that were in violation of the lease.
It sued in February in Los Angeles Superior Court, seeking repayment and repossession. The lawsuit is pending.
ROC argues that Hudson Pacific rejected the payments and is using it as an excuse to evict ROC; Hudson Pacific claims the payments were insufficient.
"Nonpayment of rent is a pretextual reason used by plaintiff to gain leverage in ongoing negotiations to buy out ROC's lease," ROC said in a court filing responding to Hudson Pacific.
ROC filed its own lawsuit against Hudson Pacific this month, saying the eviction was retribution for ROC's complaints about the status of elevator repairs in the building. Hudson Pacific disputes the claim.
David Toomey, a real estate agent at Cresa Partners, said Hudson Pacific could probably get a better lease rate for the building on the open market today than it did when it signed ROC in 2012. Class A asking rents were $4.48 per square foot in the first quarter of this year, according to Jones Lang LaSalle Inc.
"The market in Santa Monica has appreciated quite a bit in the last 12 months and so landlords are really starting to push the envelope," he said.
Prev Next