Why Intuit Paid $500 Million for Naming Rights at Clippers Arena
Monday, September 27, 2021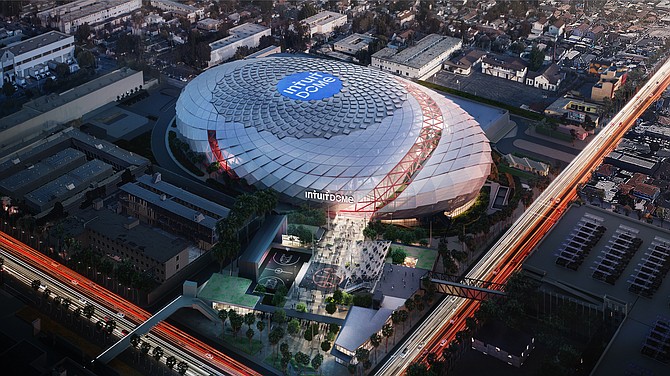 Last week's groundbreaking for the Los Angeles Clippers' soon-to-be home, the 18,000-seat Intuit Dome, went pretty much as you'd expect — that is, if you're familiar with the perpetually enthusiastic Clippers Chairman Steve Ballmer.

Pacing, talking, shouting, cheering and cheerleading, Ballmer practically bounced as the ceremony, complete with dancers, marching bands, Clipper players and a performance by Fitz and the Tantrums, progressed.
 
When it came time to actually break ground, Ballmer — shovel in hand, standing next to team officials as well as those representing the city of Inglewood and Intuit Inc. — was so anxious to get the process started that he clearly found it difficult to wait for the performative 10-second countdown. Finally, when he could not contain himself any longer, he exhorted loudly to Inglewood Mayor James Butts, "Let's get digging, mayor!"

It's easy to get the distinct impression that Ballmer wants the dome — he'd prefer you call it that, not an arena — built right now. The reasons are many, ranging from increased revenue possibilities to having a true home court after having to share Staples Center since 1999 with the Los Angeles Sparks, Kings and Lakers.
 
As you'd expect from the former chief executive of Microsoft, the $1.2 billion dome, scheduled to open for the 2024-25 National Basketball Association season, not only has the potential to significantly affect the look and future of Inglewood but features a dizzying array of technological innovations to enhance the fan experience: a 44,000-square-foot replay scoreboard, the ability for fans to purchase anything in the dome without having to stand in line or take out their wallets, and 1,500 touchless toilet fixtures, giving it the best person-to-toilet ratio — 12 to 1 — of any major sports venue.

"I've become a real obsessive about toilets," Ballmer said to big applause.

Equally jaw-dropping was the reported $500 million, 23-year deal between Intuit and the Clippers — a deal that will not only put Intuit's name on the dome but involve various partnerships in the community.

Calling it "one of the most energetic days that I've had in a very, very long time," Intuit Chief Executive Sasan Goodarzi said the company decided to partner with the Clippers because of the team's commitment to a great fan experience and its devotion to helping the community and leveraging technology in the arena.

"We're a technology company, and technology matters a lot," he said.

The partnership with the Clippers figures to give the Mountain View-based Intuit — the company behind QuickBooks, TurboTax, Credit Karma and Mailchimp, with offices in Los Angeles and San Diego — a long-term, higher profile with everyday folks.
Local jobs, global appeal
There was a time when a company wanting to increase its visibility would look to put its name on a skyscraper. Sports venues appear to have taken over that role. Consider that office supply giant Staples Inc. paid about $100 million in 1999 for the naming rights to the Clippers' soon-to-be former home. The company then renewed that into a lifetime deal in 2009.

JPMorgan Chase & Co. paid $300 million for the naming rights to the new home arena for the Golden State Warriors in 2016.

Though Goodarzi has said "this isn't about getting our name on a building," the advantages are obvious — not only countless mentions on game broadcasts, sports highlight shows and written game stories, but being visible to myriad fans in countless social media posts. The advantages of partnering with an NBA team has even more perks, given its global appeal that appears to expand each year.
 
This year, the league saw a 15% jump in subscriptions internationally to its NBA League pass TV service.

As Goodarzi noted, there are plenty of choices in California when it comes to partnering with a professional sports franchise, more than any other state, but there was something specifically about the Clippers that drew the two organizations together.

"We had three key criteria," Lara Balazs, Intuit's chief marketing officer, said. "We wanted to be involved with an organization that's obsessed with its fans as we are with our customers, an organization that's all about innovation … and an organization that would absolutely give back to the community it serves. This aligned perfectly."

The benefits of all of these efforts will be felt fairly soon. More than 7,000 jobs will be created during the dome's construction, according to the Clippers, and 30% of permanent jobs at the facility have been set aside for Inglewood residents.
 
For its part, Intuit has pledged $1 million over the next three years to Los Angeles Unified School District while expanding its Prosperity Hub in the area to provide job training to students, some of whom will be hired by Intuit.

Destination point
The long-term effect of the dome's debut could remake Inglewood itself.
 
The site of the dome, which Ballmer paid $66.2 million to own, is on Prairie Avenue just blocks away from SoFi Stadium, home to the Los Angeles Rams and Chargers. The National Football League stadium is mere blocks from The Forum, which Ballmer purchased for $400 million in cash from Madison Square Garden Entertainment Corp. in 2020 and is now exclusively a music and performance venue.
 
Given all that activity, entertainment, energy and money, there is the real possibility that Inglewood could develop its own version of LA Live, which has grown around Staples Center.

Contributing to that environment will be a dining and shopping destination called The Plaza, an 80,000-square-foot outdoor space featuring bars, restaurants and an 8,000-square-foot team store, anchored by a full-size, regulation basketball court.

It also figures to benefit Intuit — this is a partnership, after all — because the company will not only have the ability to market its products in the dome but also outside where, Balazs said, "we can bring our products to more people."
For reprint and licensing requests for this article, CLICK HERE.