Fun Facts About Beautiful Long Beach
Custom Content by the Los Angeles Business Journal
Monday, September 13, 2021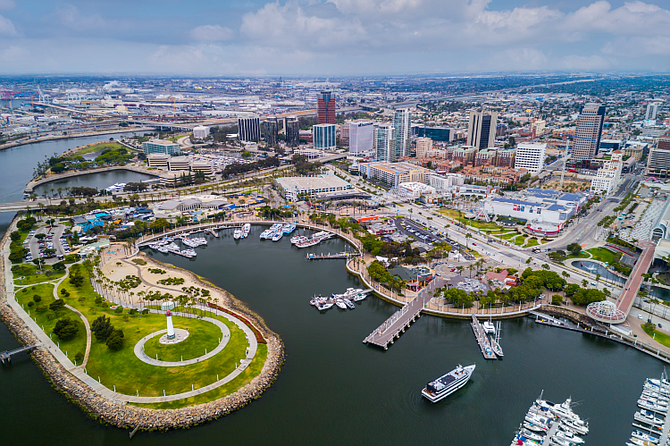 An ideal bridge between coastal Los Angeles County and Orange County, Long Beach is centrally located in the heart of Southern California. Here are some fun facts about the city.

The Size of the City
Long Beach is 50 square miles in area and is home to more than 460,000 people, making it the 7th largest city in the state of California.

Putting the Beach in Long Beach
Long Beach was originally named "Wilmore City," but because of its long, wide beaches it was renamed "Long Beach" in 1888. Long Beach is bordered by 5 1/2 miles of clean, sandy beaches. Walk, run, bike or blade on the smooth, fully paved bike path that spans the length of the beach from Downtown to Belmont Shore. Or enjoy an array of watersports such as swimming, sailing, kayaking or jet skiing. You can access the beach in the Belmont Shore / Alamitos Bay area of Long Beach, or from Downtown's marina green park or bluff park.

Long Beach on the Silver Screen
With its sparkling waterfront, diverse architecture and film-friendly weather, Long Beach has been a popular location for filming television and movies, including features such as Iron Man, Knight and Day, Transformers 2 and 3 and the latest Star Trek movie.
Located less than 30 miles from Hollywood production studios, Long Beach is the backdrop for several TV shows, including Miami for Dexter and CSI Miami. NCIS: Los Angeles, True Blood and Criminal Minds are also filmed in the city. It's not uncommon to see camera crews in Belmont Shore, Alamitos Bay Marina and on Shoreline Drive for coastal stand-in locations and downtown Long Beach's East Village Arts District or Third, Cedar and Pine Avenues for urban settings.

Long Live the Queen
The Queen Mary has been docked as the historic centerpiece of Long Beach Harbor since 1967. Although it is still afloat and even moves up and down with the tides, it no longer functions as a passenger ship.

Perfect Weather 
The temperature averages 74 degrees Fahrenheit year round with about 345 average days of sunshine.

Not Just Fish at the Aquarium
The Long Beach Aquarium of the Pacific is actually home to two whales... full-scale replicas of the world's largest mammal, the Blue Whale, which hang in the Aquarium's main hall. Although the Aquarium is currently not home to live whales or dolphins, over 12,000 other marine animals do call it home. Its residents include seals, sea lions, bat rays, sharks, bass, sea dragons, and much, much more. Don't miss the "Lorikeets" which will feed right out of your hand!

Public Transportation
Catch the convenient red Passport shuttle, which runs approximately every 5-10 minutes. It's free in the Downtown area and can transport you to all of the must-see Long Beach attractions, including the Queen Mary, Aquarium of the Pacific, Shoreline Village and Pine Avenue. For only $1.25, Long Beach Transit continues your journey to the attractions of Belmont Shore, Alamitos Bay and Cal State Long Beach. During summer months, the AquaBus is also available to transport you between selected sites in Rainbow Harbor. Also during the summer, you can hop aboard the new AquaLink catamaran for a swift journey to Alamitos Bay. If you have additional questions, friendly transit advisors are available by phone at (562) 591-2301. Or visit the Transit Information Center on First Street and Promenade.

Is the Queen Mary Haunted?
It's true that several people have claimed to encounter strange and unusual sites while on the Queen Mary. With almost seventy years of history as a luxury liner, WWII troop-ship, and now hotel and attraction, the Queen Mary has several stories within her steel walls. It has been told that wet footprints are commonly found near what was once used as the first class swimming pool. Odd because that pool has been dry for decades. There is also the occasional sighting of a long-ago worker who was crushed in one of the Queen Mary's watertight doors. Fact or fable? Explore the Queen Mary and decide for yourself.

About the Large White Dome…
The large white dome next to the Queen Mary, at 115 feet high and 400 feet wide, is definitely an eyecatcher. It is the world's largest, free-span aluminum geodesic structure and was specifically designed to house Howard Hughes' giant flying boat, the Spruce Goose. The Spruce Goose is no longer located within the dome, which now serves as the Long Beach Cruise Terminal at the Queen Mary. Carnival Cruise Lines has 2 cruise ships home-ported in Long Beach.

To plan your Long Beach experience, log onto
visitlongbeach.com.
Return to Index.
For reprint and licensing requests for this article, CLICK HERE.