Car-Loving LA in Midst of Largest Rail Construction Program in US
Monday, November 15, 2021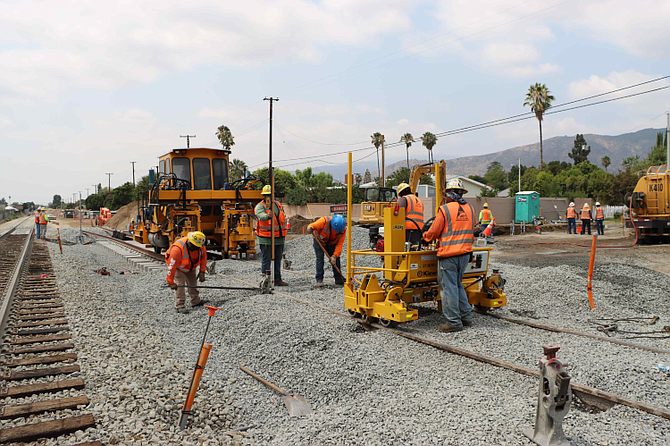 Since the middle of the last century, Los Angeles County has been known as the car capital of the world. But now, an explosion of rail construction projects underway and in the planning stages has made the county the center for the largest rail construction program in the United States.

Four major rail projects are now under construction in L.A. County: the Crenshaw-LAX line, three phases of the Metro D (Purple) Line subway extension mostly under Wilshire Boulevard from Koreatown to Sawtelle, a project connecting three rail lines through downtown, and an extension of the Foothill Gold Line in the East San Gabriel Valley.
 
A fifth rail project is also under construction: a specialized line for passengers arriving and departing from LAX that connects airport terminals with the Crenshaw-LAX line and a consolidated car rental facility.
 
Three more rail projects could begin construction in the next five years: a rail line through or under the Sepulveda Pass, an extension of the Green Line from Redondo Beach to Torrance, and a high-speed rail line from Las Vegas that would connect with the Metrolink commuter rail network to Union Station.

Four of the five rail projects under construction are under the direct or indirect supervision of the Los Angeles County Metropolitan Transportation Authority, or Metro while two of the planned projects are also under Metro's purview.

"For the modern era, this is a huge investment in rail transportation on the scale rarely seen in recent memory," said Jacob Wasserman, research project manager at the UCLA Institute of Transportation Studies. "You have to go back to the 1970s and the buildout of the Metro rail system in Washington, D.C., and the Bart system in the Bay Area to see anything comparable."

Two sales tax hikes enacted by voters — Measure R in 2008 and Measure M in 2016 — provided much of the funding base for these projects, allowing Metro to leverage even more in state and federal funds and to sell billions of dollars in bonds to immediately finance the projects.

Even more funding is on the way, thanks to Congress passing President Joe Biden's $1.2 trillion infrastructure spending bill Nov. 8, which allocates $66 billion for passenger and freight rail and another $39 billion for public transit. Some of that money will go directly to Metro through predetermined funding formulae. Metro is also in a good position to obtain more of that money through competitive bidding: The aforementioned sales tax dollars give Metro a leg up because they provide a guaranteed revenue stream for a local match.

The infusion of federal funds may also speed up other rail projects that are further out in the planning process. These include the Crenshaw Northern Extension that would connect the northern terminus of the Crenshaw-LAX line (at the E, or Expo, Line just south of the 10 freeway) with a Metro B (Red) Line station in Hollywood, and a light rail line known as the West Santa Ana Branch from Union Station to Artesia in southeastern L.A. County.

The California High-Speed Rail Line is also planned to go through Los Angeles County, with stations in Palmdale, Burbank and at downtown's Union Station. But, while planning and environmental review are under way, any high-speed rail construction in Los Angeles County is still many years away — if it happens at all. No funds have been earmarked for construction of this portion of the High-Speed Rail project.

Ironically, all of these rail construction projects are arriving or being planned in the midst of a decline in rail transit ridership in L.A. County — a decline exacerbated by the Covid-19 pandemic.

According to statistics provided by Metro, average weekday ridership on its trains fell 15% to about 296,000 in 2019 from 348,000 in 2016. Then, as the pandemic hit, average weekday ridership fell another 46% in 2020 to 160,000. For the first half of 2021, average weekday ridership was about 126,000.

Various factors have been suggested for the long-term decline, including the increased availability of used cars for previously transit-dependent Angelenos and the frequent lack of practical last-mile options for train commuters to get to and from their homes and workplaces.

Wasserman cautioned against overly investing in rail.
 
"Remember, the vast majority of people taking transit in L.A. County take the bus, so the rail system has drawn a disproportionate amount of funding and resources," he said. "Rail should be reserved for those instances where the congestion and density are high enough that there's a demonstrable time savings over other modes of travel."
METRO CRENSHAW/LAX TRANSIT PROJECT
COST: $2.15 billion
LENGTH: 8.5 miles
TYPE OF PROJECT: Light rail
NORTHERN TERMINUS: Metro Expo (E) Line Crenshaw Station, about two-thirds of a mile south of the 10 freeway
SOUTHERN TERMINUS: Metro Green (C) Line Aviation/LAX Station near the 105 freeway
NUMBER OF STATIONS: Nine, including aforementioned stations and Airport Metro Connector Station that recently began construction
CONSTRUCTION START: 2014
ESTIMATED OPERATIONAL DATE: Late 2022
PRIME CONTRACTOR: Walsh-Shea Corridor Constructors, a joint venture including Chicago-based Walsh Group and Walnut-based J.F. Shea Co. Inc.
STATUS: The project is running two years behind the original schedule. According to Metro's October project status report, construction is 99% complete. But the report states Walsh-Shea Corridor Constructors had staffing shortages that have delayed completion and testing.

METRO AIRPORT CONNECTOR PROJECT
COST: 
$900 million
TYPE OF PROJECT:
Multilevel rail station near 96th Street and Aviation Boulevard linking the almost-completed Crenshaw-LAX light rail line with the People Mover now under construction that will transport passengers to terminals at Los Angeles International Airport.
LOCATION: 
Near 96th Street and Aviation Boulevard in Westchester
CONSTRUCTION START:
Summer 2021 (preliminary construction work)
ESTIMATED CONSTRUCTION FINISH:
Fall 2024
PRIME CONTRACTOR:
Bids submitted; Metro board is expected to award a contract in the next few weeks. Sylmar-based Tutor Perini Corp. earlier this year announced it was the low bidder on the project.
NOTABLE PROJECT FEATURES:
The station will have 12 escalators and 13 elevators to link platforms for the Crenshaw-LAX line and the People Mover. It will also have a 16-bay bus plaza, a private vehicle drop-off point and a bicycle hub.
METRO PURPLE (D) LINE EXTENSION
(Includes three separate segments)
COST: 
Segment 1: $3.13 billion; Segment 2: $2.44 billion; Segment 3: $3.22 billion,
for total of $8.79 billion
TYPE OF PROJECT:
Subway
LENGTH:
Segment 1: 3.92 miles under Wilshire Boulevard between Western Avenue in Koreatown and La Cienega Boulevard in Beverly Hills; Segment 2: 2.59 miles between La Cienega Boulevard and Constellation Avenue in Century City; Segment 3: 2.56 miles between Century City and the West L.A. VA Medical Center. Total of 9.07 miles.
NUMBER OF STATIONS: 
Seven new stations and one existing station (Wilshire/Western)
CONSTRUCTION START:
Segment 1: 2015; Segment 2: 2019; Segment 3: 2019
PROJECTED OPENINGS: 
Segment 1: 2024; Segment 2: 2025; Segment 3: 2027
PRIME CONTRACTORS: 
Segment 1: Joint venture of Stockholm-based Skanska; Evansville, Ind.-based Traylor Bros.; and Walnut-based J.F. Shea Co. Inc.; Segments 2 and 3: Joint venture between Sylmar-based Tutor Perini Corp. and Torrington, Conn.-based O&G Industries Inc.
STATUS: 
According to the Metro October project status report: Segment 1: construction is 72% complete; Segment 2: construction is 46% complete; Segment 3: construction is 28% complete.
METRO REGIONAL CONNECTOR PROJECT
COST:
 $1.76 billion
TYPE OF PROJECT:
Subway link connecting three Metro rail lines: A (Blue), B (Red) and L (Gold), allowing passengers to travel between Azusa and Long Beach and between East Los Angeles and Santa Monica without transferring lines.
LENGTH:
1.9 miles
NORTHERN TERMINUS:
Little Tokyo/Arts District Station
SOUTHERN TERMINUS:
7th Street/Metro Center Station
NUMBER OF STATIONS: 
Four (three new; one existing)
CONSTRUCTION START:
2014
ESTIMATED CONSTRUCTION FINISH:
2022
PRIME CONTRACTOR: 
Regional Connector Constructors, a joint venture of Skanska USA's Civil West California District — a unit of New York-based Skanska USA, which in turn is a subsidiary of Stockholm-based Skanska — and Evansville, Ind.-based Traylor Bros. Inc.
STATUS:
According to Metro's early October project update report, construction is 85% complete, though running two years behind its original schedule.
NOTABLE:
The project will connect the cultural attractions of Bunker Hill and the historic Broadway Corridor to the countywide rail system.
FOOTHILL GOLD LINE EXTENSION
COST:
 $1.5 billion
TYPE OF PROJECT:
At-grade light rail with grade separations at six key intersections.
LENGTH:
9.1 miles
WESTERN TERMINUS:
Glendora
EASTERN TERMINUS:
Pomona, with possible extension to Montclair in San Bernardino County should additional funding materialize
NUMBER OF STATIONS:
4
CONSTRUCTION START: 
July 2020
ESTIMATED CONSTRUCTION COMPLETION:
First quarter 2025
PRIME CONTRACTOR:
Joint venture of Omaha, Neb.-based Kiewit Corp. and Centreville, Va.-based Parsons Corp.
STATUS:
As of August, design work had reached "substantial completion" while construction was 36% complete.
NOTABLE:
The Foothill Gold Line Extension project was originally planned as 12.3 miles from Glendora to Montclair. But when project bids came in much higher than budgeted in 2019, the Foothill Gold Line Extension Authority split up the project with the phase to Pomona going forward and a further 3.2-mile extension to Montclair put on hold.
SEPULVEDA TRANSIT CORRIDOR
COST:
 $6.1 billion for monorail proposal; $10.8 billion for heavy rail proposal
TYPE OF PROJECT: 
Two completely different rail proposals for transit through the Sepulveda Pass competing against each other: a monorail in the median of the 405 freeway or a heavy rail project with roughly 60% of the route underground and 40% aerial.
LENGTH: 
Monorail proposal is 12 miles; heavy rail proposal is 13 miles
NORTHERN TERMINUS:
Van Nuys Metrolink Station
SOUTHERN TERMINUS:
E (Expo) Line Station at Sepulveda Boulevard, with option to extend to Metro Airport Connector station in Westchester.
NUMBER OF STATIONS: 
Eight (for both proposals)
MONORAIL BID TEAM CONSTRUCTION PRIME CONTRACTOR: 
Skanska USA Inc. (a unit of Stockholm-based Skanska)
HEAVY RAIL BID TEAM CONSTRUCTION PRIME CONTRACTOR:
Bechtel Corp. of Reston, Va.
STATUS:
In August, Metro's board issued notices to each bidding team to proceed on design and other preliminary work. Metro plans to choose one of these bid teams in 2025; that team will move on to the full construction phase.
METRO C (GREEN) LINE EXTENSION TO TORRANCE
COST:
 $1.17 billion (estimated; figure in Metro funding document)
LENGTH:
Approx. 4 miles
NORTHERN TERMINUS:
Current Green Line terminus in Redondo Beach.
SOUTHERN TERMINUS:
Torrance Transit Center
PROJECT TYPE:
Light rail extension to serve as first rail transit line through much of the South Bay.
ROUTE ALTERNATIVES:
One alternative involves conversion of a freight rail line Metro already owns. The other alternative would involve new track along Hawthorne Boulevard.
STATUS: 
An environmental impact report is scheduled for release next year. After that, the route will be selected. Following project approval from Metro's board, a bidding process would begin to select the prime contractor. Estimated construction will start in 2026, with completion between 2030 and 2033.
LAS VEGAS TO SOUTHERN CALIFORNIA HIGH-SPEED RAIL PROJECT
COST:
 $8.4 billion
LENGTH: 
170 miles (first phase), 48 miles (second phase)
PROJECT SUMMARY:
High-speed rail project proposed by Miami-based rail developer and operator Brightline Holdings to connect Las Vegas with Southern California. The high-speed train would run down the middle of Interstate 15, reaching a maximum speed of 180 miles per hour.
FIRST PHASE: 
170 miles from the south end of the Las Vegas Strip to Victorville in San Bernardino County.
SECOND PHASE:
Victorville to Metrolink station in Rancho Cucamonga in San Bernardino County. Passengers would then connect via Metrolink to Union Station in downtown.
STATUS:
Brightline has acquired parcels for stations in Las Vegas and Victorville and last month signed an agreement with three California state agencies to extend the high-speed rail line in the median of Interstate 15 through the Cajon Pass ending at a new station next to the Metrolink Rancho Cucamonga station.
FUTURE TIMELINE: 
After several delays due to Covid, Brightline now says it plans to access California and Nevada bond programs next year. A construction start date has not been released. The project will take four years to complete.
For reprint and licensing requests for this article, CLICK HERE.