Openpath Helps Offices Reopen Safely
Monday, March 22, 2021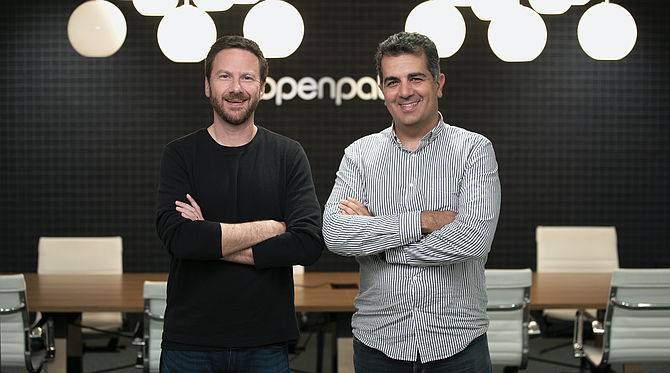 Culver City-based startup Openpath Security Inc. has been developing mobile-based door lock systems since 2016, but co-founder and President James Segil said the company's access systems are more necessary now than ever.

"We've got this product that we built because it was a real nice-to-have product," Segil said. "Then when (Covid-19) happened, it went from a good idea to a must-have idea."

Openpath's access control systems operate through physical sensors installed at entry points that can be controlled through mobile devices rather than badges, fobs or key cards.

Employees, residents and guests gain access by downloading a mobile app that passively interacts with these sensors so that authorized users can simply wave their hand when they are ready to enter.

The touchless system enables people to get in and out of offices without spreading germs around on locks and door handles, but Segil pointed out that it also gives building managers opportunities to customize access.

Should an employer require proof of vaccination for guest entry, for instance, this can be uploaded into Openpath's system, so people don't have to provide documentation on each visit.

Managers working from home can also unlock doors remotely, facilitating smooth operations in a hybrid work environment.

"You can set the door to be more secure or more convenient depending on what you need," Segil said. "When you combine that with an automatic door opener, it becomes really magical for the whole return-to-work philosophy."

The company announced the completion of a $36 million Series C funding round last year led by Greycroft that has allowed it to add staff and scale up its business in preparation for the reopening of office spaces in Los Angeles and beyond.

Segil said Openpath's systems have already been installed in a combined 35 million square feet of office space, as well as in residential properties and even event venues like the Forum.

Segil founded the company with Chief Executive Alex Kazerani and Chief Revenue Officer Phil Goldsmith. The trio formerly founded content delivery network Edgecast Networks Inc., which was acquired by Verizon Media in 2013.

Joining them as co-founders were Chief Technology Officer Rob Peters and Chief Security Officer Samy Kamkar. Peters is a former CTO at Verizon Media, and Kamkar is known for his many successful attempts to expose security vulnerabilities in mainstream software and consumer electronics products (including a notorious MySpace virus that bears his name).

Segil said the combined experience of Openpath's founders and a clever marketing strategy have contributed to the company's early success in finding customers eager to try its products.

"We've really built up awareness around this new and disruptive technology with the end-users," Segil said.
 
In other words, Openpath advertises its products to office tenants who can then convince building managers to purchase and install the company's access systems.

"That's a little different than other companies in our category," Segil said. "We go to companies and we say, 'This is the new gold standard in how you want people to access the built world.'"

Given the rising level of attention companies are paying to cybersecurity concerns, Segil said it's not hard to get businesses to see that physical security systems are also an important part of protecting valuable data.

"You think about all the time and money that goes into protecting someone's network, yet someone can just walk into the office and take a laptop with all the company's information," Segil said.

"Being able to lock down the physical elements as well as the cyber elements is super important," he added. "Those two things have to tie together."
For reprint and licensing requests for this article, CLICK HERE.