HydraFacial Preps for IPO
Monday, March 15, 2021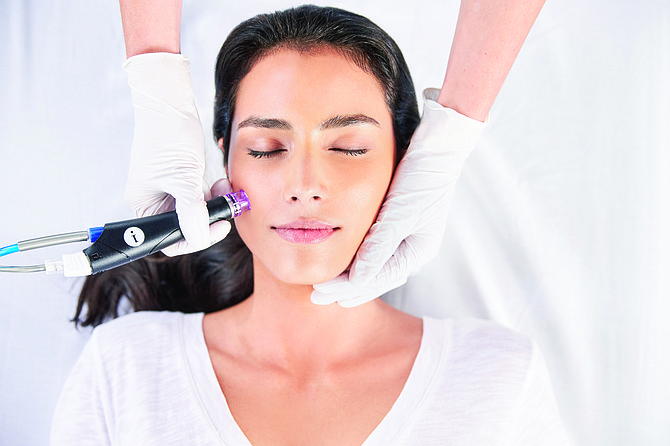 Less than a decade after its founders sold HydraFacial Co. for $40.6 million, the skincare-focused manufacturer traded hands again in December for $1.1 billion and is about to go public.
 
The valuation came as a part of the Long Beach-based company's merger with Vesper Healthcare Acquisition Corp., a blank-check company based in Miami Beach, Fla.
 
Brent Saunders, former chief executive of pharma giant Allergan, co-founded Vesper with Allergan co-worker Manisha Narasimhan, who's now serving as the SPAC's chief financial officer. The merger is expected to close at the end of the first quarter or beginning of the second quarter, when HydraFacial will be listed on Nasdaq under the ticker symbol VSPR.

HydraFacial Chief Executive Clint Carnell, an industry veteran who founded or managed several companies that were acquired under his watch, does not appear to be fazed by the change.

"I'm a big believer that the markets will reward you if you have a good vision, you communicate it well and you execute," Carnell said. "To me, going public is just a marketing event for the company, and I'm looking forward to (it)."

HydraFacial has about 500 employees and manufactures devices estheticians use to clean and hydrate skin using patented technology and serums, "in just three steps and 30 minutes," according to the company.

It imports components from China and performs final assembly at its facilities in the Long Beach area, totaling 150,000 square feet. The company has sold some 15,000 devices to date at a price of about $30,000 each, including 1,600 since the onset of the pandemic.
 
About half of HydraFacial's revenue comes from what the company calls "consumables," including single-use products such as the extraction tips that come in direct contact with a client's skin, as well as hydration serums and its Keravive scalp treatment. 

Forming partnerships

HydraFacial's devices work with hydration serums from several well-known brands, including Murad Inc., based in El Segundo; ZO Skin Health Inc., headquartered in Irvine; and Paul Nassif M.D. Inc., based in Beverly Hills.

Carnell likened HydraFacial devices to a Keurig coffee machine, which is compatible with coffee pods from Starbucks Coffee Co., Dunkin' Donuts or Keurig's own pods.

"Rarely do companies try to partner with other companies in the same category. They're always competitors," he said. "What we call ourselves is an 'and company,' so it's HydraFacials and other things that make your skin healthier."

The company's revenue stream also includes a scaled-down version of its bread-and-butter device that's in use at Clinique and Sephora skincare studios, including a location at the Grove in Fairfax.

"It's basically a baby HydraFacial," Carnell said. "It works for the lips and for the eyes and … it's a great service that we're expanding globally with Sephora."

Roger Ignon and William Cohen co-founded HydraFacial in 1997 as Edge Systems. They sold it to Weston Presidio and Main Post Partners in 2012 for $40.6 million, according to documents filed with the Securities and Exchange Commission.
 
The San Francisco-based private equity firms helped the company expand internationally and sell some 7,000 systems. By the time they were ready to exit in 2016, Edge Systems had 140 employees and was generating $48 million in net annual sales.
 
Revenue continued to grow under the ownership of Linden Capital Partners and DW Healthcare Partners, climbing to $66 million in 2017, $112 million in 2018 and $167 million in 2019.
 
The partnership also brought in Carnell in 2016 and changed the company name to HydraFacial in 2017. 

'Roaring out of the pandemic'

"Little did we know that what a bright future the company had in front of it," Carnell he said. "We renamed the company, we rebranded it, we added talent to the executive team, we launched globally and we invested heavily in training our providers."

The pandemic put a damper on sales growth, and revenues slipped to $119 million last year.
 
"We were in a big private equity transaction in the winter of 2019, early 2020, and when the pandemic hit, it really flattened the company," Carnell said, adding that despite being "deeply affected … we rebuilt the company with our partners, and we're not only surviving the pandemic, but we were roaring out of the pandemic."

Specifically, HydraFacial "played offense by setting up a scalable assembly and distribution in-house facility and implemented warehouse and logistics systems for future growth," Chief Financial Officer Liyuan Woo said in a prepared statement to shareholders.

Talks with Vesper's Saunders began on Oct. 3, and by Nov. 1, Vesper had sent HydraFacial and Linden a revised letter of intent to acquire the company. The purchase price consists of $975 million payable at closing, and up to $75 million, "payable upon the completion of certain identified acquisitions by the combined company."
 
Vesper Healthcare, Linden and DWHP will each retain an equity stake in the combined company, with Linden as the largest individual shareholder.

"We've had conversations (with Brett Saunders) over the years we've been friends, and when his SPAC went live, he identified us as the target," Carnell said. "It's wonderful for the company — not only do we have access to the capital markets in a public company, which I think is a great success story for greater Los Angeles, but we have smart capital with Brent Saunders as the former Allergan CEO helping strategically guide the company to its next phase of growth."

New product lines

Next steps for HydraFacial include "training to improve esthetician education and build loyalty, investing in targeted sales and marketing, expanding global footprint, and accelerating R&D efforts" to improve its offerings, according to the company.

New product lines will include additional serums, as well as Project Casa, a hand-held device that customers can use at home. Carnell likened it to a Wi-Fi connected electric toothbrush and said it will notify the user "when you need to get into your professional. … It won't replace the professional but what it will do it will give you great clean healthy skin on a daily basis."

Woo said the U.S. and Canadian markets represented approximately 70% of Hydra-
Facial's 2019 revenues, with the rest of the world at approximately 30%. International expansion will include opening regional headquarters in London and Shanghai later this year, coupled with a series of experiential popups offering treatments in major urban areas, including an upcoming collaboration with the Los Angeles Rams at SoFi Stadium in Inglewood.  

"In London, despite the lockdowns, our experience center currently has over 2,000 consumers booked for a HydraFacial treatment, and 85% of them have never had it," Carnell said. "We are in early innings with the story, and I couldn't be more excited for the global growth initiatives that we're doing."
For reprint and licensing requests for this article, CLICK HERE.