2021 CRE AWARDS: MIXED USE
Custom Content by the Los Angeles Business Journal
Monday, March 1, 2021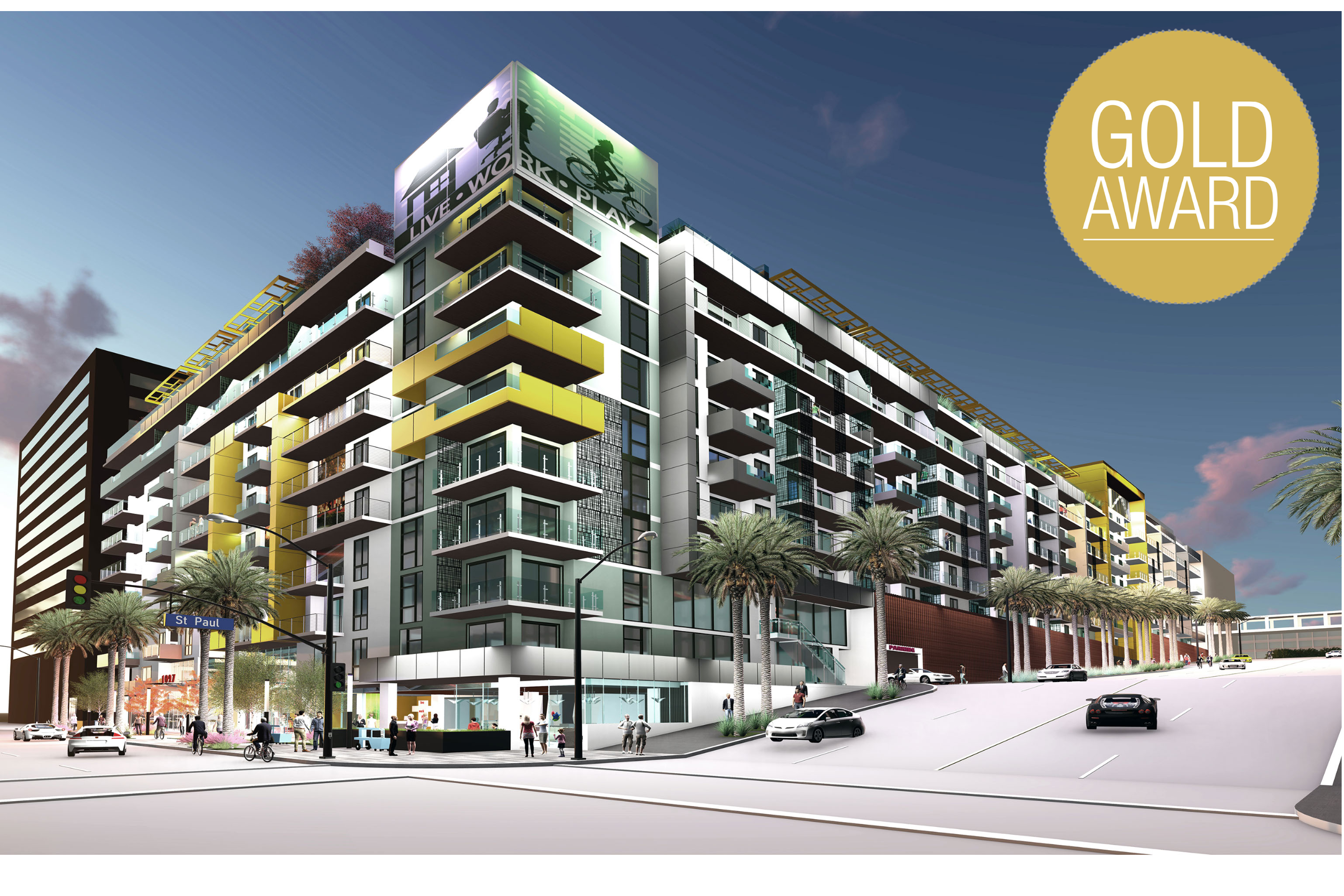 1010 WILSHIRE LIVE-WORK

Location: 
1027 Wilshire Boulevard, Los Angeles
Developer:
Amidi Group
Contractor:
Macrocons Inc.
Architect:
bijan & associates
1010 Wilshire offers residents fully live work apartments with luxury amenities, free utilities and guaranteed occupancy. The downtown LA development offers full-service, flexible, "Class A" office spaces in a professional and prestigious setting designed specifically for the needs of growing business.
During construction, the project's first challenge originated from its deep site, which is bounded to the south by Wilshire Boulevard and to the east by St. Paul Avenue. The Latter slopes up along its 475-foot length by over 30 feet. The design team extended the building all the way at Wilshire Boulevard finish floor elevation, cutting into the sloped site, providing a three-level parking garage in the rear behind the main entry on Wilshire Boulevard.
The long stretch of the structure presented other concerns to avoid a boring facade and provide sufficient natural light for the 376 live-work units of the mixed-use project. Three generous courtyards and the entire usable rooftop provide common open areas and multiple amenities for the residents. At street level, a restaurant, coffee shop, media room/theater, and a full-service spa add to the enjoyment of the occupiers.
At 1010 Wilshire, conducting business from home in a professional manner is possible.
AMP LOFTSLocation:
695 S. Santa Fe Avenue, Los Angeles
Developer: 
Greystar
Contractor:
Greystar Construction
Architect: 
Steinberg Hart
AMP Lofts is a seven-story complex consisting of 320 live-work units above 20,000 sf of ground-floor retail in the heart of the Downtown Arts District.  The project introduces two standalone jewel boxes that break up the scale of a large apartment building and fits in with the rhythm of the neighborhood's smaller scale boutique amenities and townhouses. The complex includes a large commercial courtyard with outdoor seating and upscale amenities such as a gym, pool, sauna, 5000 sf clubhouse, and workshop. There are also two levels of below-grade parking for a total of 420 parking spaces.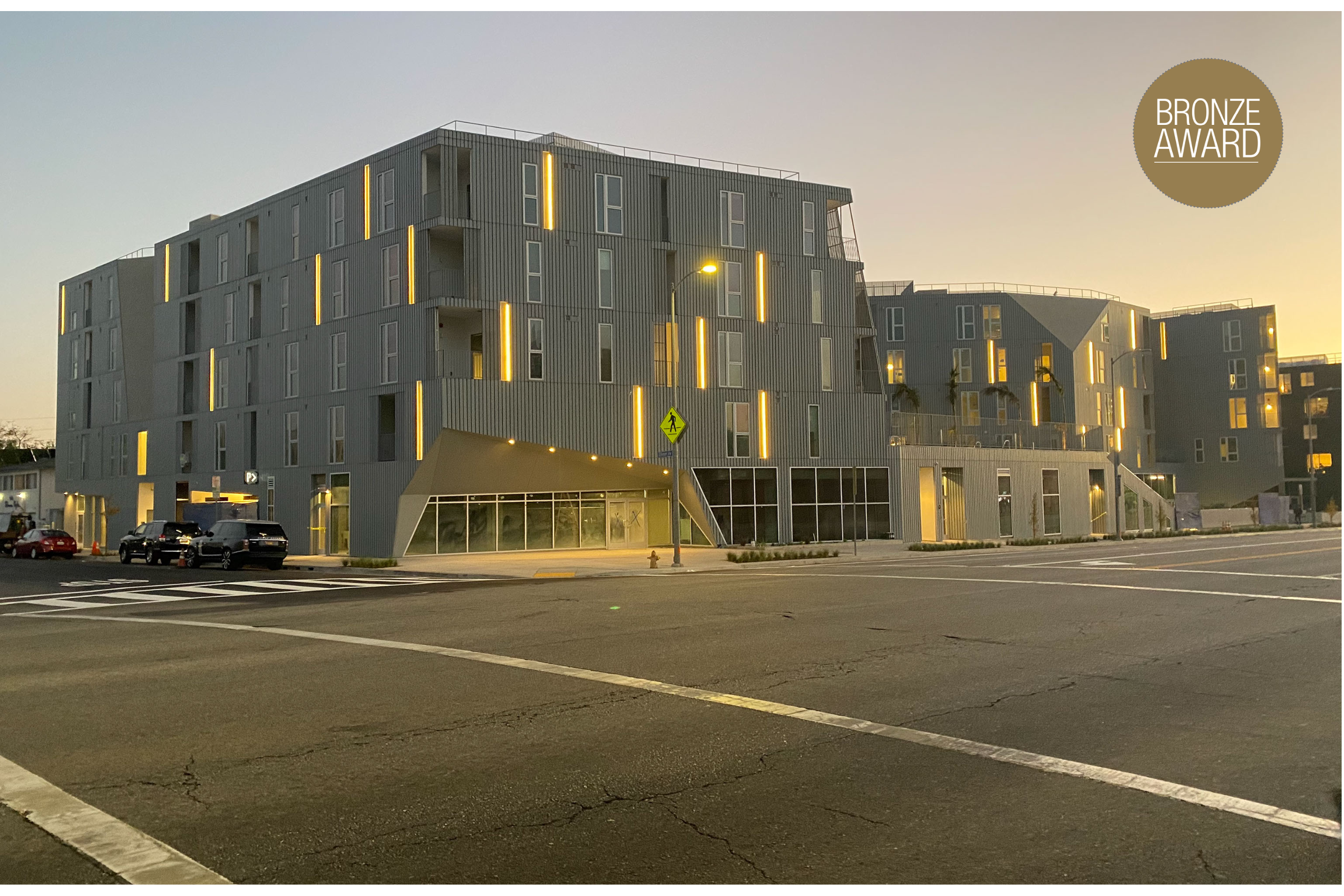 1500 GRANVILLELocation:
1500 Granville Avenue, Los Angeles
Developer:
CIM Group
Contractor: 
Suffolk
Architect:
Lorcan O'Herlihy Architects
1500 Granville is a multi-family, mixed-use building spanning 174,000 square feet. Located in West Los Angeles, the five-story complex has 153 units, 17,000 square feet of retail, and 308 spaces of subterranean parking. The design showcases residential and pedestrian experiences right at street level. The block-long parcel was once a car dealership, but now serves as an "urban village" for residents out walking or gathering in open community spaces. The building features a contemporary architectural design and offers a mix of studio, one-bedroom, two-bedroom and live-work unit floorplans.
Return to CRE recap
For reprint and licensing requests for this article, CLICK HERE.