Open Sesame Restaurants Succeed With High Quality, Low Costs
2021 Minority-Owned Businesses Special Report
Monday, February 22, 2021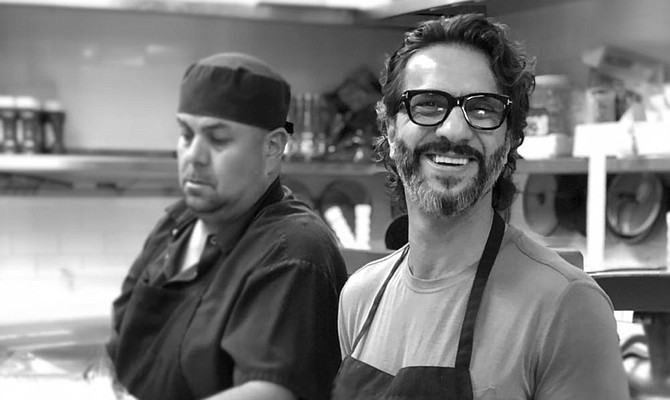 After escaping warn-torn Beirut in 1988, Ali Kobeissi yearned to conjure the aroma and the flavors of Lebanese cuisine at his new home in Long Beach.
 
A decade later, he welcomed the first guests at a Mediterranean eatery off 2nd Street in the Belmont Shores neighborhood. Kobeissi Inc., doing business as Open Sesame, provided the blend of authenticity, quality and affordability his competitors were lacking.

"They either got the food right but didn't get the ambience right, or they got the ambience right, but they didn't get the food right. And if they got both right, it was so expensive that you can't eat there more than once every five months," Kobeissi said. "I wanted to combine all that, and I knew I can do much better than what I've seen in the market up until that point."
 
His hunch was right. In 2000, a year after Open Sesame launched, he expanded into an adjacent space, and by 2005 the restaurant occupied four properties. One of them was several doors away but worked well for the overflow traffic.
 
In 2012, Kobeissi opened another restaurant in Manhattan Beach and sold it to a business partner five years later. He also tested a more casual concept with a scaled-down menu — OS Café — at Del Amo Fashion Center in Torrance.
 
Kobeissi quickly realized his casual food concept was competing with fast food chains with "huge buying power" that focused on the bottom line rather than the quality of food.

"My prices were way more expensive, and the demographics were not suitable for what I was offering," he said. "So, I walked away, lost a few bucks, wrote it off, and I'm happy."

Kobeissi had better luck with expanding to Fairfax where a second Open Sesame location has been thriving since 2014.

"I wanted a good reason to move to L.A. because I lived in Long Beach for too long," he said. "So, I opened it and moved to L.A., and this is my baby. I love this place — it's cute and small. … Of course, Long Beach is my cash cow."
 
The pandemic took some wind out of Kobeissi's sails last year with traffic across both locations dropping 35% during the shutdowns. Business has since leveled off at about a 25% reduction in revenue.
 
"We're very, very happy with that," Kobeissi said. "Most (restaurants) are more than 50% off or cannot simply sustain the loss."

A Paycheck Protection Program loan for about $500,000 helped him retain nearly half of his workforce of 130, which is enough to cover takeout and delivery orders as well as limited outdoor dining.
 
"The (current) model of the business does not require as much staff … and everybody's working a little harder to cover and sustain a healthy labor relationship to the sales," Kobeissi said, adding that he was also grateful for having understanding landlords who "worked with us and reduced the rent for the really bad months."

Aside from implementing survival tactics during the pandemic, little has changed at Open Sesame since its launch some 20 years ago.
 
The menu is nearly the same, with chicken tawook, lamb chops and spicy fried potatoes still among customers' favorites.
 
About 85% of Open Sesame's business comes from "die-hard" fans the restaurant staff knows by name, while the rest of the visits are "tourists and transients and people that live out of town."

For Kobeissi, being an immigrant was part of his success story.  

"The main advantage for me is that I did not take anything for granted," he said "Most people that are born here and raised here, they take this country for granted. But this country has so much to offer in terms of opportunities, and if you have the willingness to do something and the intention, the elements are all there."

Not having extended family nearby and their support was challenging, he said, adding that "other than that, it's been a beautiful journey. I wouldn't change a thing about it."
Keep reading the 
2021 Diversity: Minority-Owned Businesses Special Report
.
For reprint and licensing requests for this article, CLICK HERE.