Budding Architect Demar Matthews Wants to Elevate Black Neighborhoods
Black Entrepreneurs Month Special Report
Monday, February 15, 2021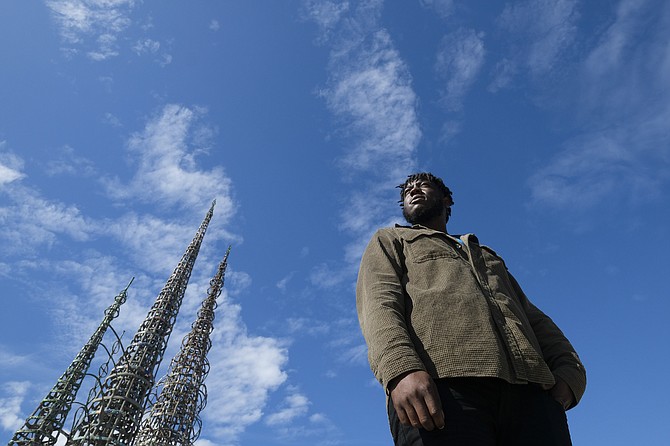 Demar Matthews was a senior at Woodbury School of Architecture in Burbank when he determined he would start his own design firm after graduation.

He wanted to try a way of doing business in which he would use his talent and training to improve the look, feel and function of Black neighborhoods — like Moreno Valley, where he grew up — and make money while doing it.

Matthews, 29, is off to a promising start.

In July, two months after earning his master's degree, Matthews launched Offtop Design from his apartment in Koreatown. He had no business experience but was willing to take the risk.

"I was fine getting tossed into the fire and messing up and saying, 'I'm new, and I'll be a little cheaper because I'm new,'" Matthews said. "There was a lot of learning on the go and calling people and networking to see how other small firms work."
 
He has quickly built a small portfolio that includes a half-dozen backyard homes across Los Angeles and a development project in Philadelphia. Revenue from those projects has enabled him to get to work on an artists' residence and community space in Watts that will, through its design, celebrate Black culture.

"Our neighborhoods — the ones that are typically the poorest — we need good design and architecture to do more than what it's doing for us," he said.
 
The project is an extension of his student thesis, "Discovering a Black Aesthetic in Architecture." It explores how, because of slavery, prohibitions on homeownership, racist lending practices and displacement, it has been overwhelmingly difficult for Black Americans to buy land on which to build, let alone fully develop a singular architectural style that speaks to Black identity. 

Seeking equity
As a student, Matthews learned of efforts to bring more architects of color into the profession, which is mostly white.

Of the more than 1,000 architecture firms in Los Angeles, only about 60 are owned, managed or led by people by who self-identify as nonwhite, such as Asian, Black, Latino or Native American, according to Steve Tanner, membership director of the Los Angeles chapter of the American Institute of Architects.
 
As Matthews explained to the online magazine Archinect in June, it would be "hypocritical to fight for equity in the profession" without doing the same in practice.
 
An article he wrote in Archinect in April 2019 about his experiences as a Black architecture student later landed Matthews his first Offtop Design contract.
 
The client had seen the article, Matthews said, "and asked if I wanted to help, and I thought, 'If I can get this one through, then I'm good.'"
 
But as Matthews put it, he had "no clue" how to come up with a quote for the job.
The quote he submitted was for two months of work. It wound up taking six.  

"That was my crash course. It was bad business, but I did it," Matthews said. "Ever since then, it's been all good."
 
He has since landed contracts for six more backyard-type projects, including additional accessory dwelling units — detached structures, also known as granny flats, that are built from the ground up or converted from an existing garage to studio space or supplemental living quarters — and a rooftop deck, the majority for Black homeowners. Matthews sees ADUs as one way for Black homeowners to build wealth as the units can be rented out as guest houses. In these projects, he peppers in elements that reflect Black art and norms, like intentionally not lining up the edges of adjoining walls. "When I think of how Black people move and dance, it's not straightforward," he said.  

But where Matthews sees real promise for his business is in development.
Last year, he came up with the design for a six-unit multifamily project on a site purchased with a friend and business partner in Philadelphia. Packaged with the entitled plans, the Philly site sold in December for $85,000, he said. They had acquired it for $2,000. 

A financial boost
That deal helped Matthews gain financial footing.
 
"I've been able to be comfortable and be able to hire interns and people to work with me and for me," including one full-time employee whose varied responsibilities include organizing community meetings for a project on 107th Street in Watts.

The project includes remodeling the property's existing shotgun house and detached garage, which will be turned into an artist's studio and residence; the construction of an ADU; and the addition of outdoor elements, like a public garden, free library and canvasses for local artists to display their work.

Established firms Steinberg Hart, Gensler and Studio-MLA have signed on as pro-bono architects of record, as Matthews is still working toward obtaining his architect's license.
 
He has raised $40,000 toward the $250,000 he estimates is needed for the project, which will be built on private land. Sponsors include HED, HMC Architects and Skidmore Owings & Merrill.
 
SOM Design Partner Paul Danna described Matthews' vision as "profound."

"The work represents an important advancement in our profession and artform, and we felt compelled to support him as a designer and the work he's doing in Watts and around the U.S.," Danna said.
 
Matthews wants to collaborate on the design with the community but knows what it should evoke — feelings of joy, confidence, resilience, resourcefulness — and has ideas of his own. They include putting patterns on the home's façade that mimic box braids and waves, and repurposing steel security bars that typically screen the windows of homes in the neighborhood.
 
"The steel bars are the biggest thing that makes your environment feel like a prison. I'm turning them into a focal point," Matthews said. "Black people turn bad things into a positive. We remix it and put our own thing on it."
Keep reading the 
Black Entrepreneurs Month Special Report
.
For reprint and licensing requests for this article, CLICK HERE.