Comfort Food Keeps Customers Coming to Dulan's
Black Entrepreneurs Month Special Report
Monday, February 8, 2021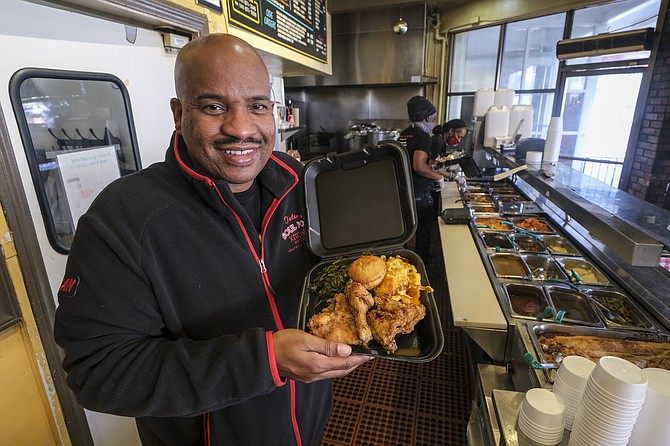 Terry Dulan went off to college to study computer systems, convinced that Dulan's Soul Food Kitchen, the restaurant his father, Adolf, poured his heart and soul into, just wasn't for him.
 
"He worked 16-hour days, and he would drive the delivery van and pick up produce … so I knew what was involved, the amount of commitment that you have to have when you're running a business, and restaurants are especially hard," Dulan said.

Yet when his father was ready to retire in 2015, Dulan walked away from a 30-year career on Wall Street to become his apprentice.
 
"I lived in New York, but every time I would come home, I would eat at the restaurant, and I was like, 'Wow this food is really good,' and I knew it would be just a terrible waste to let something like that go after all the work my father put into it," Dulan said. "He would personally welcome guests when they came into the restaurant, and he knew a lot of people by their first name. We had a real, community-based business.

"He mentored me for the last couple years of his life … and I just tried to be a sponge and soak up all of his knowledge," he added. "I'd pick him up, and we would ride together (to work) every day. It's one of the best decisions I ever made."

His first week in charge was "interesting" Dulan said. "I had a corporate background, and I was coming to kind of a mom-and-pop shop, and I started having meetings and trying to get status reports and taking notes and trying to figure out how to organize, but I had the wisdom not to try to change too much and to focus on the main thing, which was keeping the food good, not making any changes."

Dulan had a legacy to uphold. His father, a former social worker, opened an Orange Julius franchise in South Los Angeles in 1975. Two years later, he switched to selling burgers, which proved to be a more profitable venture.
"It was called Hamburger City, and at one point, he had five locations," Dulan said. "I worked there starting at age 11."

In 1985, Adolf Dulan converted the Marina del Rey location into a full-service restaurant he named Aunt Kizzy's Back Porch and focused on soul food: fried chicken, barbecue beef ribs, collard greens, okra, and corn and homemade biscuits, among other delicacies.
 
"It was an extremely successful restaurant for roughly 30 years," Dulan said, adding that the location closed in 2008 after the landlord tripled the rent. "A lot of the sports teams came through there, the Lakers, Kobe Bryant, college football teams, lot of celebrities, and just regular folk looking for good soul food."

A second act
But Adolf Dulan wasn't done. In 1999, while in his late 60s, he opened Dulan's Soul Food Kitchen in Inglewood. It had a menu similar to Aunt Kizzy's, but the set-up was cafeteria style. A second location in Gramercy Park followed in 2011, and Terry's brother Greg opened a third location— Dulan's On Crenshaw in Hyde Park. The restaurants' relatively small footprint and configuration proved to be a lifesaver during the pandemic.
 
"The very first thing I did was I ran out and got masks and sanitizer, and then I had the good idea to install take-out windows," Dulan said. "Before you used to come in the restaurant and choose your items. Now (customers) order through the window, and we hand them the food through the window. We had some really good days — the big holidays — and we continue to do pretty good because people also want to get out of their houses. You just can't sit at home all day, and the type of food we serve is comfort food, and we were known for serving a nice big portion. So, people would come and order a couple of dinners, and they would eat off that for three or four days, so they didn't have to cook, but they're getting a home-cooked meal."

Some 70 employees help run the three restaurant locations. A fourth one, near SoFi Stadium was in the works until "Covid changed a lot of plans," Dulan said.

"We seriously thought about it, and they wanted us over there, but things just became extremely difficult," he added. "Now, we just need to survive and get past this terrible virus. I think potentially in the future we might expand to another store, but we're not going to do too much because in order to maintain the quality of the product and keep everything the way my dad would have wanted, you don't want to expand too fast."
Keep reading the 
Black Entrepreneurs Month Special Report
.
For reprint and licensing requests for this article, CLICK HERE.