Year Ahead Special Report: Your 2022 Roadmap
Monday, December 20, 2021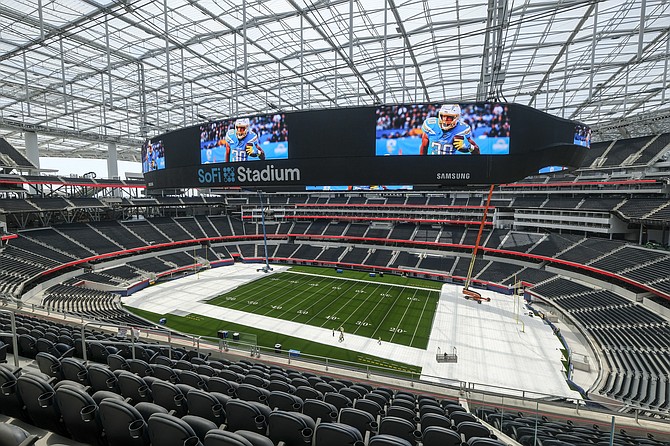 Tis the season for final planning, budget projections and preparations for the year ahead. As executives and team leaders review business plans, development timelines, product managers' Gantt charts and more, it's also time to double-check how upcoming events, initiatives going into effect and projects scheduled to be completed across L.A. County in 2022 could impact local companies. Some of these changes could open up new opportunities for nearby businesses as well. These are some of the key efforts that could overlap with company roadmaps in the coming year. 
2022

First Half of 2022

One Westside
The former Westside Pavilion, which is being converted to creative office space and leased to Google, is expected to be completed in the spring.

Fig + Pico
The massive two-tower hotel project downtown is scheduled to open soon but no exact date or month has been announced yet.

Hollywood Park
Some residential and retail components of the SoFi Stadium and Hollywood Park complex's phased opening are scheduled to be completed in the first half of 2022.

West Hollywood Rebrands as "Emerald Village"
Currently known as L.A.'s LGBTQ main street, West Hollywood plans to approve around 40 cannabis business permits in 2022 and launch a branding campaign as the "Emerald Village" to be known as a cannabis mecca similar to Amsterdam.

January

Jan. 1: SB 1383 Implementation
Businesses are supposed to be in compliance with SB 1383 starting Jan. 1 in order for the state to achieve a 50% reduction in organic waste, according to CalRecycle. That means companies will need to assess their need for organics collection services, such as for green waste, food scraps and food-soiled paper.

Jan. 25-27: Greater L.A. Homeless Count
The Los Angeles Homeless Services Authority will conduct the 2022 Greater L.A. Homeless Count Jan. 25-27. Results of the study could impact affordable housing plans, L.A. County homeless services programs and more.

February

Feb. 13: Super Bowl LVI
The Super Bowl comes to L.A. for the first time in nearly 30 years and will be hosted at SoFi Stadium. The big game has the potential to generate hundreds of millions of dollars in business for the host city.

March

The Grand
The $1 billion mixed-use development downtown is slated to open in March.

April

April 2: Clean Truck Fund Rate
The Port of Los Angeles will start collecting the Clean Truck Fund Rate as an incentive for businesses to transition to zero-emissions trucks operating at the San Pedro Bay complex. The rate will be $10 per twenty-foot equivalent unit hauled by nonexempt trucks.

April 28-May 8: Netflix Festival
Netflix, which has expanded its streaming production operations in L.A. over the past couple of years, is hosting its "Netflix Is a Joke: The Festival" in the spring. The festival will feature more than 130 performers at more than 25 venues in L.A., including Dodger Stadium.

June

June 7: Mayoral Primary Election 
The L.A. mayoral primary election will be held June 7. The top two vote-getters will move on to the Nov. 8 general election.

July

July 19: MLB All-Star Game
The 92nd MLB All-Star game will be held at Dodger Stadium.

Summer

6th Street Viaduct
The $588 million replacement bridge is scheduled to open in the summer of 2022.

I-15 Improvements
California and Nevada have pledged to have I-15 congestion fixed by next summer. The congestion is one of the reasons for the proposed high-speed rail project.

Second Half of 2022

Metro Crenshaw-LAX Line
The $2 billion, 8.5-mile light rail line is set to open in the second half of 2022. It will consist of nine stations, including the Airport Metro Connector Station.

Regional Connector-DTLA
Scheduled to open in the second half of 2022, the $1.76 billion subway project will connect three Metro rail lines — A (Blue), B (Red) and L (Gold) — allowing passengers to travel between Azusa and Long Beach and between East L.A. and Santa Monica without transferring.

November

Nov. 8: General Election
The two mayoral candidates who received the most votes in the June 7 primary will face off in the general election on Nov. 8. The gubernatorial election, with Gov. Gavin Newsom running for a second term, and the U.S. Senate election also will take place Nov. 8.

Proposals to raise the state minimum wage starting in 2023 with an aim to get it to $18 for all businesses by 2026 also could make the November election ballot.
 
LAX Terminal Openings
Portions of the $1.8 billion modernization project are set to open in 2022, including Delta Air Lines Terminals 2 and 3 improvements, as well as American Airlines Terminals 4 and 5 updates scheduled for completion in the fourth quarter.

2023

Lucas Museum Opening
Due to Covid-related delays, the Lucas Museum of Narrative Art in Exposition Park pushed its opening to 2023. Most of its construction is expected to be completed in 2022.

January

Jan. 9: College Football Playoff National Championship
The championship game will take place at SoFi Stadium and will "generate over 31,000 hotel room nights," according to the L.A. Rams
website.
 
April

LAX Landside Access Modernization Projects
Two major components of the LAX modernization project will enter the final construction phases to be completed in 2023: the Automated People Mover and the consolidated car rental facility.
Keep reading the 
2022 Year Ahead Special Report
.
For reprint and licensing requests for this article, CLICK HERE.