LAX Makes Headway on $14.5 Billion Modernization
Monday, August 2, 2021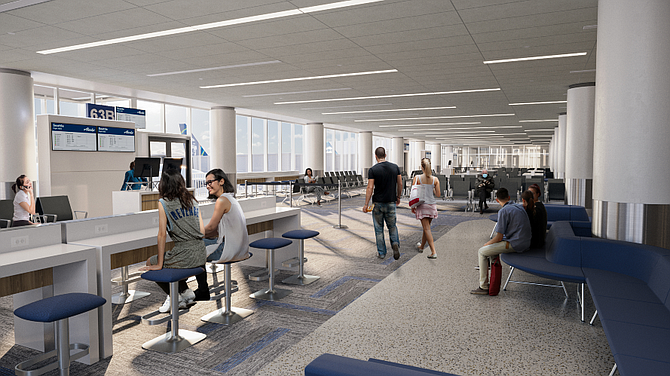 Last month saw several significant milestones on different fronts in the $14.5 billion effort to modernize Los Angeles International Airport.

On July 12, construction crews finished the concrete topping off for the massive consolidated car rental facility east of LAX, one of the main components of the $5.5 billion in airport access upgrades.
 
The topping off involved the final pour of more than 233,000 cubic yards of concrete used for the facility. When completed in late 2023, it will become the largest consolidated rental car facility in the world, with a total of 6.4 million square feet.
 
The facility is intended to consolidate operations of some two dozen car rental facilities now spread around neighboring communities, thereby eliminating roughly 3,200 daily shuttle trips to and from these facilities. It will also be the eastern terminus of the 2.25-mile, $2 billion automated people mover rail line connecting to the airport's central terminal area.

"The consolidated rent-a-car facility will be a game-changer for our airport when it opens in 2023, providing a streamlined rental car experience for the hundreds of thousands of travelers who rent cars each year," Justin Erbacci, chief executive of Los Angeles World Airports, said in the milestone announcement. "We thank all of the craft workers and project team members who have tallied more than two-and-a half million work hours to reach this significant achievement as we build a better LAX."

The consolidated car rental facility is being built under a $2 billion contract with LAX ConRAC Partners, a consortium of 11 companies. On the project finance side are two major partners: Toronto-based Fengate Capital Management Ltd. and PCL Investments USA, a unit of Edmonton, Alberta-based PCL Construction Enterprises Inc.

The general contractor is PCL Construction Services Inc., another unit of PCL Construction Enterprises. The lead architects are downtown-based AC Martin Partners Inc. and Pierce Goodwin Alexander & Linville Inc. of Houston.

The $2 billion contract is split roughly evenly, with the construction phase and operations phase each costing about $1 billion.
For reprint and licensing requests for this article, CLICK HERE.